News
Tracy Macuga Leads Public Defender's Office in New Directions
She Inherited Department With Morale and Turnover Issues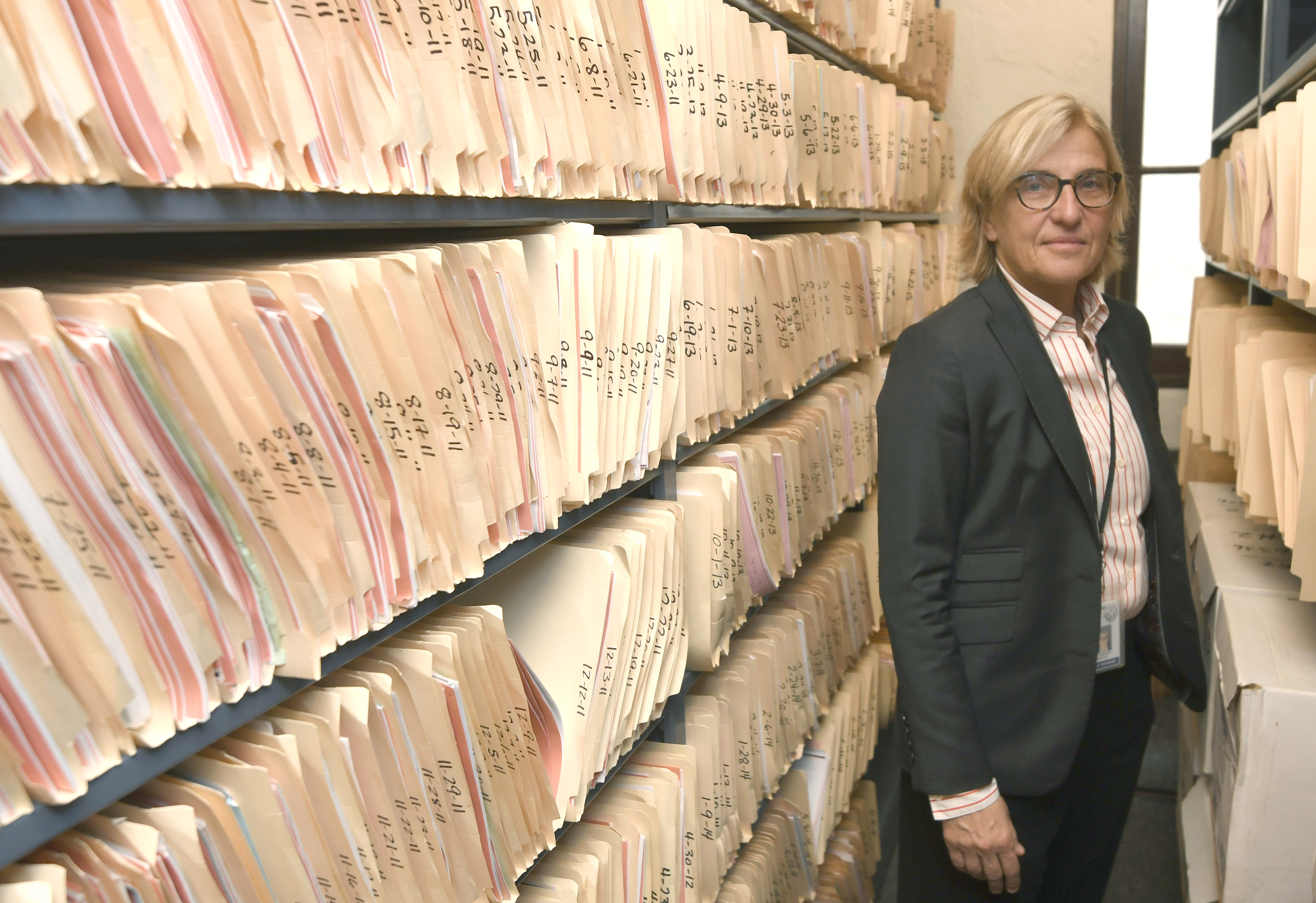 Most days in the dawn hours, Tracy Macuga opens her office on the third floor of the courthouse and puts on Louis Armstrong and Ella Fitzgerald. Overlooking the Sunken Garden, Santa Barbara County's Public Defender can see some of the city's well-known homeless men huddled by the steps in the chilly mornings. These are just some of the folks we are here to protect, Macuga said, referring to one man by name.
Last October, Macuga was appointed to head the Public Defender's Office, which has locations in Santa Barbara, Santa Maria, and Lompoc and is made up of 39 attorneys and 32 staff members.
In recent years, the department had morale issues and considerable turnover. Macuga emerged, by many accounts, as a dynamic professional who is, as Santa Barbara Undersheriff Barney Melekian put it, "no-nonsense about her work."
She brought 24 years of experience from posts in San Diego and Riverside. She replaced interim public defender Kenneth Clayman, who filled in for former public defender Raimundo Montes De Oca after Governor Jerry Brown appointed him a Santa Barbara Superior Court judge.
Macuga's roomy office is neat and fairly bare. There are few personal touches save for a poster of Stonewall, the gay community's demonstration against police raids in New York in 1969. Macuga, who is in her late fifties and is openly gay, jokes about posing in front of the poster for a picture. "You can't say I don't have a sense of humor," she said. "It's the only way I can survive."
In the Santa Barbara criminal justice world, it is common knowledge that Macuga was hired to bring a fresh perspective to the Public Defender's Office. Shortly after she arrived, a few attorneys left, including former chief trial deputy Jeff Chambliss, now in private practice in Ventura. She hired eight new lawyers, some of whom knew her from the past. (The hiring process was competitive, she noted.)
She contracted an immigration expert, Holly Cooper, a UC Davis law professor, to help attorneys advise undocumented clients about potential immigration-related consequences. She directed her attorneys to resolve or try cases that had been stagnant for years. She has personally litigated motions in arraignment court. And she worked the front desk during Fiesta so her staff could leave early to enjoy the street party.
By nature, public defenders are in a tough spot. While private defense attorneys get to pick and choose their cases, public defenders are assigned to represent everyone in need of their assistance, including the mentally ill individuals arrested on minor charges and the man who admitted to killing his parents and two kids with a kitchen knife.
And while the District Attorney's Office has access to a plethora of resources ​— ​police investigators and Sheriff's detectives ​— the Public Defender's Office must hire experts as needed. District Attorney Joyce Dudley stressed, though, that her prosecutors must prove cases "beyond a reasonable doubt." "The burden is on us," Dudley said.
Macuga never thought she would be a defense attorney. Originally from Chicago's South Side, she is one of five children. Her mother was a nurse; her father, a parole officer. After college, she moved west to attend California Western School of Law in San Diego. She had always planned to go into civil business law. "That's what I loved," she said.
But during the recession in the early 1990s, attorney openings were difficult to find. The job she found was at the Public Defender's Office. "These days, a lot of people want to do this" because they want to go into public service, she said. "That was not on my mind." She had not even taken a trial advocacy course in law school. But she has always loved people, she said, and everything "sort of all came together."
She later married Laura Shawver, the CEO of Cleave Biosciences, a San Francisco–based biopharmaceutical company that researches drug advancement for cancer. Shawver regularly visits Santa Barbara on Surf Air, the small airline that offers unlimited flights for a flat monthly fee. Macuga brushed off the suggestion that she and Shawver are a power couple. Her spouse is the power, she said, joking that public defenders are not usually seen as powerful.
Yet Macuga is seen as an innovator. One of her first actions was to review nearly every misdemeanor file. She wanted to get a sense of the types of cases and how long they had been in the court system. It is not uncommon for criminal cases to be postponed again and again. "Our clients have a right to a speedy trial," she said. DA Dudley attested that there have been fewer case continuances since Macuga took over.
Public defenders are known to have hefty caseloads. Macuga estimated each attorney might have 100 misdemeanor cases at once, which is fairly standard throughout California. It is not uncommon for the office to be buzzing on Sundays. "They are not here because of me," Macuga said.
This workload has raised questions for mental-health advocates, who complained that public defenders fail to return phone calls or emails, particularly to relatives of defendants who may be suffering from mental illnesses. "The client is sitting in jail, clueless about what their fate will be," said Suzanne Riordan of Families ACT!
Another activist with Families ACT!, Rod Pearson, said that after raising the issue with Macuga at a meeting two weeks ago, she called him within an hour. She gave him her cell phone number and said she would address the issue.
Asked about the unresponsiveness, Macuga said in some cases the defendants do not give consent for their attorneys to speak to their relatives. "Attorney-client privilege is sacrosanct," she said, adding, "I am very empathic to the families." Should they have consent, attorneys should be responsive, she said. "I hope six months from now we won't be having the same conversation," she said.
Several attorneys talked about a newfound respect between the Public Defender's Office and the District Attorney's Office since Macuga came on. At government meetings, Macuga and Dudley are often seen conversing. That congeniality trickles down to the managers and attorneys in court. "We certainly have different jobs," Dudley added. "I work for the people of the State of California. She works for her client. We agree to disagree at times."
Yet that relationship has allowed for some concrete changes. Traditional practice had been that prosecutors informed public defenders of all of the information they had on their clients' rap sheets. But Macuga made the case for why prosecutors should show public defenders the physical rap sheet. "She gave me the law, and I read the law and determined she was right," Dudley said.
Other changes are in the works. One idea is implementing video arraignment for defendants in County Jail. Inmates, therefore, would not have to get up at four in the morning to be transported from jail to the courthouse, where they sit in a holding cell for hours on end. When the new northern branch jail opens in 2019, Macuga said, "I think it is very possible we will go down that road." Macuga is also working with Dudley to digitize court documents. Many are still on paper and are xeroxed and walked around in manila folders.
As a general rule, many people think public defenders just represent criminals.
"A lot of people don't understand what we do," Macuga said, adding that public defenders face some of the most challenging issues in society. "We're onto greater things."