Living
The Thomas Fire and the Rise of Massive Wildfires
Thomas Fire Is Just Latest Megafire, Which Spark Renewed Interest in Prescribed Burns
Leave it to Andy Caldwell to play skunk at the garden party.
Last Tuesday morning, as county supervisors were getting an update on the Thomas Fire, California's latest and soon-to-be-largest megafire, the mood was somber and grim. Anyone wearing a firefighter's uniform was drenched in gratitude. The absence of finger-pointing was total.
Then Caldwell, conservative watchdog in chief for the Coalition of Labor Agriculture & Business (COLAB), took to the podium. "This is on you," he blasted, blaming the supervisors and environmental activists for the damage wrought by the Thomas Fire. "These are not just wind-driven fires ​— ​they are policy-driven fires."
What happened to prescribed burns, he wanted to know, that could keep such fires in check? "The guilty parties (activists, bureaucrats, and politicians) should be prosecuted for negligent homicide," he charged in a subsequent written statement.
Caldwell's organization in fact emerged from the ashes of 1990's catastrophic Paint Fire, aka Painted Cave Fire, when hundreds of burned-out homeowners found their efforts to rebuild stymied by overwhelmed bureaucrats they saw as hostile, indifferent, and incompetent. Caldwell, who is simultaneously confrontational, bombastic, and congenial, is a taste many in political life have made a point not to acquire. But the question he raised about prescribed burns is gaining new currency in the wake of the Thomas Fire and other fire-zillas, which are hitting California with increased frequency and devastation.
"There's definitely more interest from citizens, local governments, and county boards of supervisors," said Nic Elmquist, a fuels specialist with the Los Padres National Forest. He added that the U.S. Forest Service's new chief, Tony Tooke, enthusiastically supported prescribed burns in the southeastern United States and is expressing keen interest in reviving the practice out west.
Prescribed burning is a decidedly old-school practice designed to keep wildfires from running amok while also protecting reservoirs and dams from the massive siltation and sedimentation that follows. It's done by creating a patchwork of squares ​— ​a few thousand acres each ​— ​throughout heavily vegetated terrain by burning the brush. This doesn't stop fires from breaking out, but it slows their rate of growth and acceleration.
The last major burn conducted in Los Padres torched 35,000 acres between Santa Maria and Cuyama in 2012. But the practice's heyday had long passed by then, done in by the logistical challenges involved in pulling one off, not to mention the high costs, environmental opposition, and legal nightmares that ensue when the occasional controlled burn gets off its leash.
This renewed interest comes at a time when climate change is rewriting the meteorological rule books before our eyes. With temperatures climbing and rainfall on the wane, the number of megafires ​— ​which are classified as anything 100,000 acres or more ​— ​is spiking nationwide.
"Fires are starting later in the season than before; they're bigger than before, faster than before, hotter than before, more destructive, and more expensive," said Michael Kodas, director of environmental journalism at the University of Colorado and author of Megafire. In 1995, there was usually one megafire a year in the United States, but in the past decade, California alone has had one a year. In 2017, megafires claimed nearly 8.8 million acres of land throughout the United States. That's another record.
With snowpack melting sooner and summers lasting longer, California's fire season has grown by 50 days since 1980. Nationally, 84 percent of all wildfires are started by humans. In California, where development in the urban-wilderness interface is especially acute, that number is 90-95 percent. Until the Thomas Fire broke out, 12 of California's top 20 largest wildfires took place after 2000. Of those, six have struck since 2010.
Pushing this trend, Kodas said, is not just climate change, but what he called the United States' "zero-tolerance" approach to wildfires, leading to a policy and practice of all-out suppression. That's served only to increase the fuel load of the national forests, Kodas stated. "We need an attitude change."
On the question of prescribed burns, there's no shortage of attitude. Kodas, for example, believes they can be effective if done at the right time of year. But everyone sees "right" differently. For wildfire control, it's better to burn chaparral ​— ​the dominant life force in our backcountry ​— ​in the spring when it's cool, moist, and easier to control. But environmentalists contend chaparral is less likely to reseed successfully if the burning takes place in the spring rather than later in the year. This failure to reseed, they argue, makes chaparral more vulnerable to competition from exotic, non-native grasses, which, they point out, are quicker to ignite once on fire.
In Santa Barbara, old-time ranching families are familiar with controlled burns. Caldwell said the County Fire Department used to deploy a napalm thrower to initiate its burns. Santa Barbara City Councilmember Bendy White, who was involved in several burns 30 years ago, recalled working with one rancher who mounted a flamethrower on the back of his jeep. "It was a hoot," White said.
Environmentalists have opposed prescribed burns in court, and Los Padres ForestWatch and California Chaparral Institute blocked efforts to cut 600-foot-wide fuel breaks along portions of the Gaviota Coast. Not only do such burns destroy native chaparral, they argue, but they fail to provide the protection people so desperately want. For example, the Thomas Fire hopscotched over three prescribed-burn areas in Ventura County, said Rick Halsey, director of the Chaparral Institute, before heading west to Santa Barbara.
"Prescribed burns don't stop wind-driven fires," said Halsey. "What's destroying homes and killing people are fires driven by wind and heat." Protection against that, he argued, can best be achieved by creating defensible space around new or existing structures, building ​— ​or retrofitting ​— ​with fire-retardant materials, and installing outdoor sprinkler systems.
That's an arguable point, as is everything relating to prescribed burns. According to the Forest Service's fuel expert Elmquist, the Thomas Fire ran out of steam after it bumped into the area burned out 10 years before by the Zaca Fire and other areas burned out more recently by the Tea and Jesusita fires. By corralling the Thomas Fire into these spaces with newer, lighter fuels, firefighters successfully took much of the heat steam off.
But prescribed burns aren't easy to pull off. Under the Forest Service's criteria, a prescribed-burn plan has no fewer than 21 separate elements that have to be satisfied. "A lot of people aren't as comfortable with them as they used to be," Elmquist said. "A lot of agencies have to be involved."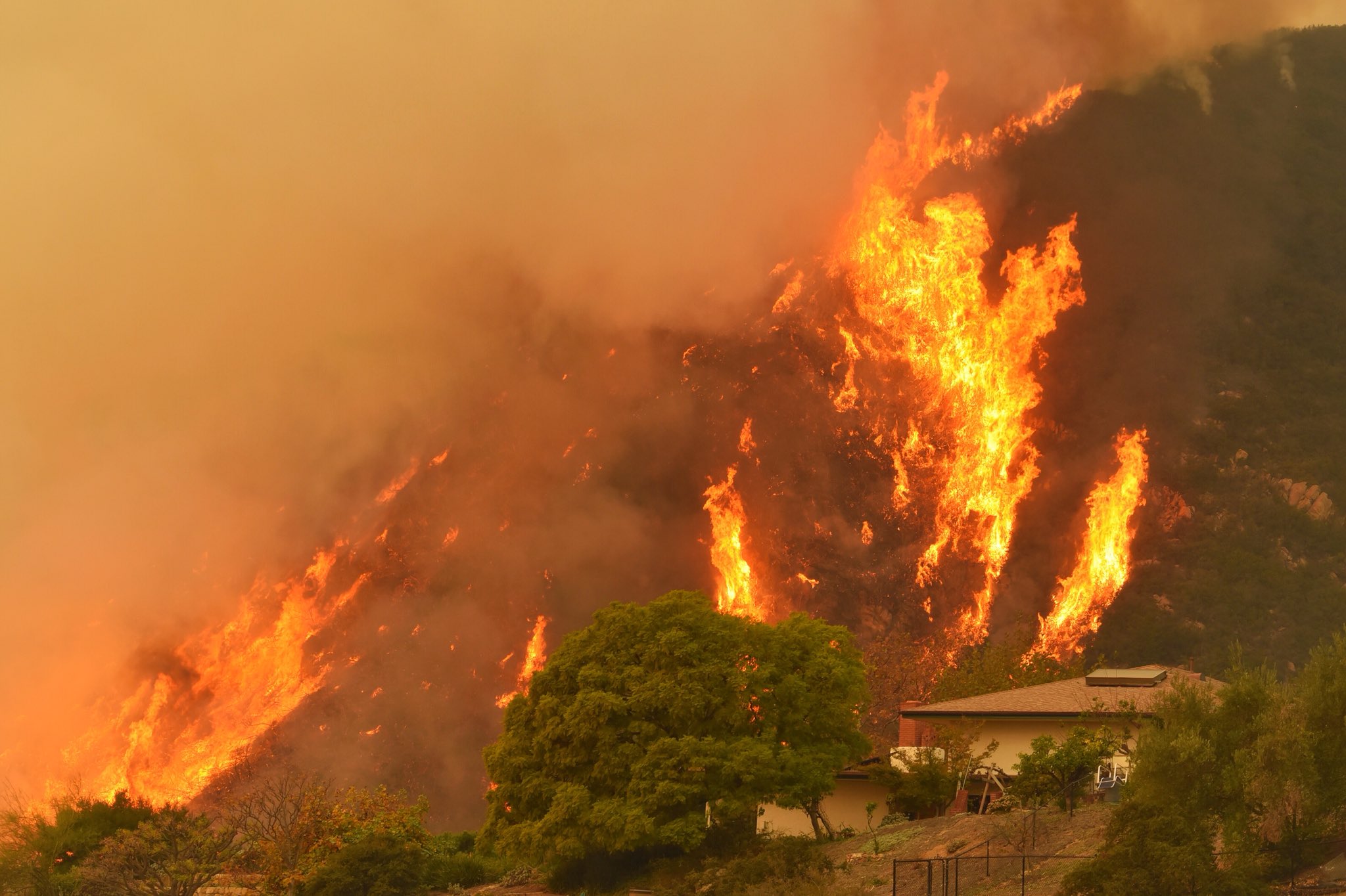 And sometimes prescribed burns get out of control, which is inevitable and tends to result in relatively minor burns of 150 or so extra acres. But no one can forget the Cerro Grande Fire of 2000 that started out as a controlled burn in the town of Los Alamos, New Mexico. After burning down more than 400 homes, gobbling up nearly 48,000 acres, and encroaching onto Los Alamos National Laboratory, the Cerro Grande remains one of the most expensive fires in U.S. history, even by today's inflated standards.
If current trends continue, the number, size, and intensity of megafires will explode. A recent Harvard study indicates the acreage consumed by megafires could well double by the year 2050. Maybe by then there will be greater agreement on strategies for limiting the size and damage inflicted by such fires. Or maybe not.
"We need a smarter plan," Kodas said. "We know we're never going to eradicate tornadoes. It's not going to happen. Well, we're never going to eradicate wildfires either."
This story was changed on December 21 and removed the Environmental Defense Center from the fuel break litigation; it was not involved. On December 22, we corrected the width of the fuel break in question to 600 feet.