News
Montecito Repopulates This Weekend
Bucket Brigade of Volunteers Poised to Dig Community Out of Mud
The good news is that mud-shocked Montecito residents are now being allowed to return home. "Everyone should be home by the end of the weekend," declared Rob Lewin, the county of Santa Barbara's Emergency Services czar, to a packed house at a community meeting convened by 1st District Supervisor Das Williams early Friday morning at the downtown public library.
The bad news, of course, is that for hundreds of residents, their homes are either so badly damaged they can't be occupied safely or are outright destroyed. In the wake of January 9's devastating floods of rocks, boulders, and mud, others will discover that their homes are now much closer to the creek channels that once ran further away. This proximity may render their homes not only unsafe but beyond the pale of reconstruction.
Friday's was the first official public gathering for Montecito and its elected representatives to figure out how to extricate the affluent South Coast community of 10,000 from the mud and debris that now engulf it. Emergency Czar Lewin compared Montecito's current historic moment to Santa Barbara's in the wake of the city's historic earthquake of 1925. Out of the rubble of that quake, Santa Barbara — led by civic matriarch Pearl Chase and her co-conspirator Bernhard Hoffmann — the City of Santa Barbara reimagined and rebuilt itself in the red-tiled and white-stucco-walled vernacular meant to conjure old Spain.
Unlike Santa Barbara of 1925, Montecito is not a city unto itself. It has no mayor or city council. To the extent Montecito has a Pearl Chase equivalent, it's not yet clear who she — or he — might be. One speaker at Friday's gathering suggested that Montecito needed a "czar" to help guide the rebuilding effort. "I'm not sure about a czar," replied Supervisor Williams, in one of the few light-hearted moments of the meeting. "I'm not an authoritarian."
The intent behind the meeting for organizers was not so much to herd cats but to enlist the cats into herding themselves into what promises to be a very rocky — and muddy — road ahead.
Montecito's charm may be that it looks 100 years old, noted State Senator Hannah-Beth Jackson, a Montecito resident herself for more than 30 years. But in the coming months and years, she said, the community will need to reinvent itself with a modern infrastructure befitting the 21st century. What that entails has yet to be determined.
In the meantime, the first order of business is to clear the creek channels and the 11 debris basins choked with rocks, boulders, sand, mud, and vegetation. Currently, the Army Corps of Engineers is clearing these basins — designed to catch marauding rocks and mud in the event of floods, mudslides, and debris flows — at a rate of 500 truckloads a day. One basin is already cleared, but according to Lewin, the Army Corps estimates the job won't be finished until the beginning of March. What happens, he repeatedly asked, if it rains again?
Lewin asked those in attendance how many had been evacuated once, about two-thirds of the hands went up. When he asked how many had been evacuated twice, about half the hands shot skyward. "Well, we may have to evacuate again," he said. "We probably will have to evacuate again."
In the meantime, Lewin urged patience and caution by those returning home for the flotillas of dump trucks that have commandeered Montecito's notoriously narrow, winding streets. "They're going to be in your neighborhood. They're going to be making noise," he said. "They're going to be crowding your streets." There already have been accidents, Lewin warned. Greater care will be required by truck drivers and residents alike.
Right now, those trucks are hauling debris collected from the catch basins maintained by County Flood Control. In addition, they're hauling debris from roadways and other public spaces. But that's just the tip of the iceberg. Lewin estimated that there's no less than 2 million cubic yards of debris that the avalanche of mud and rocks left behind. That's roughly the equivalent of 200,000 truck trips. County Public Works officials estimate 90 percent of that debris load was deposited onto private properties. To date, no plan has been worked out what to do with this mass. County cleanup efforts do not include private properties, nor do those by the Army Corps of Engineers. None of the emergency debris disposal permits contemplate the mud and rocks collected from private properties.
Complicating matters further, said Supervisor Williams, the county's Tajiguas landfill does not accept wet dirt and mud, public or private. Besides, he added, the volume of Montecito's debris would quickly exceed the landfill's legally licensed carrying capacity. Given the uproar about dumping now taking place in much more limited quantities at Goleta Beach, Williams expressed skepticism at that as an option. Nor did he think exporting South Coast debris to Santa Maria's landfill would fly.
One Montecito resident questioned whether she'd be financially responsible for disposing of debris that landed on her property. Another noted that the county's Environmental Health Services had not yet figured out the criteria by which privately owned debris could be given an environmentally clean bill of health. Such a clean bill of health, she added, was required before the county would issue demolition permits.
Lewin said that Montecito residents could take mud out of their homes for the time being, but that they'd need to leave it on their own property until a plan could be worked out. One option under consideration, he said, would require property owners to assume financial responsibility for the clearance of their property. Another would rely on volunteers. Abe Powell, a member of the Montecito Fire Protection District Board of Directors, announced that he had just organized something called the "Santa Barbara Bucket Brigade" to help clear debris on a volunteer basis and provided an email address. Lastly, Lewin suggested, it was possible that some governmental entity might assume the burden of cleanup responsibility.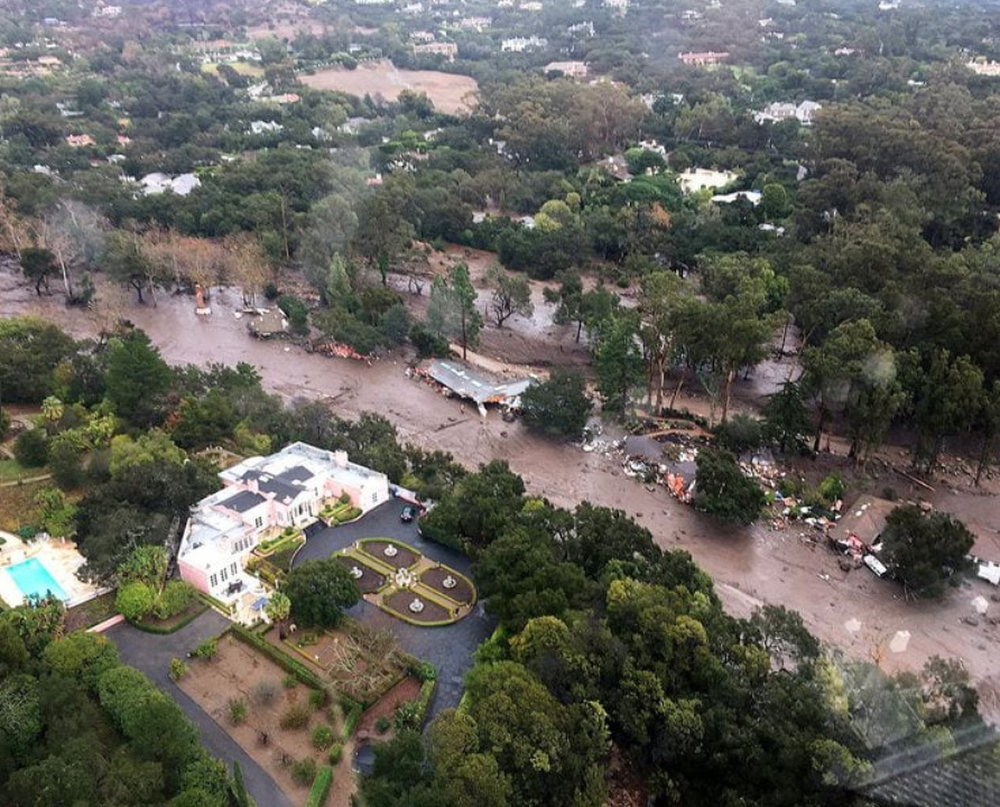 Who or what governmental entity that is remains uncertain. Regardless, the costs will be prohibitive. Supervisor Williams repeatedly stressed that Montecito's flood and fire nightmares also constituted a "fiscal crisis." Even before the Thomas Fire, Williams stated, the county was projecting a $24 million budget shortfall for the upcoming year. Even with state and federal emergency assistance, he added, the County of Santa Barbara will be on the hook for 6 percent of the total costs.
"Let's say it winds up costing $200 million," Williams said after the meeting, "what's 6 percent of that?' Answering his own question, he added, "That's 6 percent we don't have."
In addition, county property tax collections are certain to take a major hit in the wake of this year's disaster. Property owners with damaged and destroyed real estate will seek tax relief, and county bean counters will have a hard time saying no. The loss could easily reach millions. In addition, the San Ysidro Ranch and the Four Seasons Biltmore have been shut down because of damage. Together they account for 70 percent of the county's transient occupancy revenues, aka bed tax.
As Montecitans are allowed to return home, authorities will retain the exclusionary zones, but in name only. Lewin acknowledged that many of the returnees will inevitably find themselves intruding into the exclusionary zones and urged caution and care. Utility companies are still hooking up gas and electrical power. To the extent Montecito residents needed to get in homes too damaged to occupy — to get documents, medications, or "to feed the koi" — law enforcement escorts were available. Those lucky enough to rebuild, Lewin stressed, would be assigned case managers from day one. "Your case manager," he promised, "is not going to be a long line at a counter." In the meantime, he said, Behavioral Wellness employees would be cruising the streets looking for people who needed a willing ear and an open heart.
Former Water Board member Charles Newman broached the issue of "big ideas" that Montecito will need to address. Montecitans need to figure out what kind of community they want to be in the future as they dig out and rebuild. "Building like-for-like may not be enough," he said. "We might want to do better than that." Newman also suggested that the freeway-widening work on Highway 101 should be accelerated and that Montecito needs to revisit rules and regulations limiting the installation of cell towers. Poor cell service has long plagued Montecito, and this proved a serious issue during the darkest days of the disaster.
State Senator Hannah-Beth Jackson announced she'd introduced a bill to require insurance companies to provide flood insurance to Montecito residents with fire insurance coverage. Clearly, Jackson said, the flood followed the fire. "We are there for you. This is one community," she stated. "This is one fight. We're going to win this fight."