News
Former Police Officer Charged as Golden State Killer
A Dozen Murder Victims Included Four in Goleta in 1979 and 1981
The '70s and '80s were a weird time for California. A litany of sadistic killers with creepy monikers like the Zodiac Killer, Hillside Strangler, and Night Stalker made headlines almost daily. The stories that described their methods were even creepier. If the 72-year-old man arrested on April 24 is indeed the East Area Rapist, Golden State Killer, and Diamond Knot Killer, in Santa Barbara, Joseph DeAngelo is known as the Original Night Stalker.
His alleged list of crimes is staggering. Hundreds of burglaries and reports of prowling; at least 45 rapes, some victims as young as 13; a dozen or more murders — the list is growing as jurisdictions review their cold cases. Creepiest was a report in the Sacramento Bee about the East Area Rapist. A man who'd said at a town hall meeting that a rape wouldn't happen with a husband in the home became a victim, as did his wife. The rapist was at the meeting, said investigator Carol Daly. The assaults escalated from rape of single women to rape of women with children in the home, rape of women forced to tie up husbands, and then murder.
By the time a home invasion occurred on Queen Ann Lane in Goleta on October 1, 1979 — tied up, the couple tried to escape and screamed, scaring their assailant away when a neighbor responded — the killer was known to have shot two people in Sacramento, Katie and Brian Maggiore, in February 1978. According to media reports, the area was in an uproar; 37 women and girls had been raped in the last couple years, and they reported their assailant wore a ski mask and spoke in a growl through clenched teeth. DeAngelo had joined the police department in Auburn, a town about a half-hour drive northeast of Sacramento, in 1976. He was fired in September 1979 when caught shoplifting dog repellent and a hammer from a drug store.
Jeff Klapakis was a young patrol officer in Goleta in December 1979, fresh out of the academy. He recalled rolling out to a condominium on Avenida Pequena to assist in the investigation of the deaths of surgeon Robert Offerman and psychologist Debra Alexandria Manning, who'd been tied up and shot. He and his partner were waved off at the time, but investigators had them scour the neighborhood for months. Klapakis noted San Jose Creek, which ran nearby, and the paths that went through the trees to the homes fit a pattern that became familiar to detectives. The police believe the killer burglarized five homes late that evening before he murdered the two.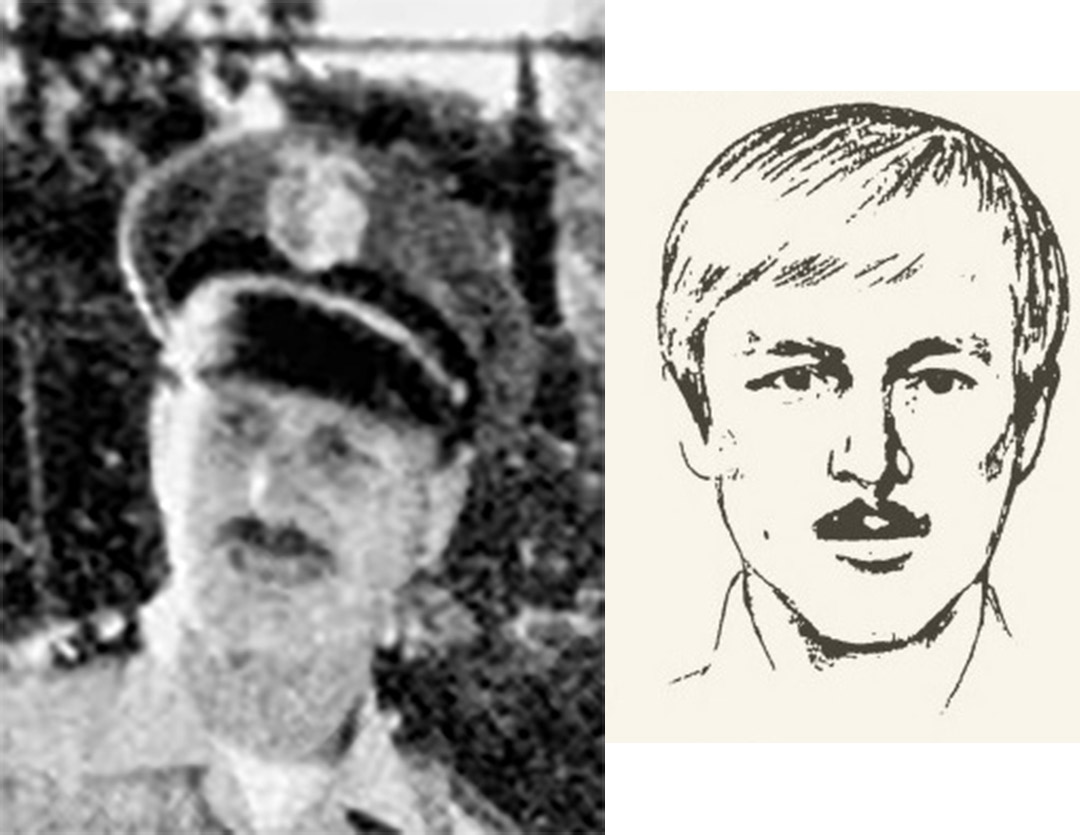 Several rapes and murders occurred — among them four that DeAngelo has been charged with in Orange County — before the killer returned to Goleta in 1981. Cheri Domingo and Greg Sanchez were beaten to death, and Sanchez shot, on July 27, 1981, on Toltec Way. DNA that has been identified as DeAngelo's was found at the scene. Her daughter, Debbi Domingo, has persisted in a search for justice, as have many victims' families, communicating with cold-case researchers and investigators over the years. It was a disagreement with her mother that had sent her away from the house, she told reporters, and it was a fluke that her mother's off-and-on boyfriend was there that night. She also noted that her mother had been house-sitting for a relative while the house was on the market. Similarly, the condo next to Offerman's was for sale.
The killer disappeared for five years — Klapakis speculated he might have been abroad — and the last known rape and murder victim was found in Irvine in 1986, 18-year-old Janelle Cruz.
Hundreds of people have worked these cases, Klapakis said, including his partner, Detective Gary Kitzmann, who looked into thousands of leads. But the breakthrough started with Anne Marie Schubert, Sacramento's district attorney. She grew up in nearby Arden-Arcade, she told the New York Times, and remembers that her mother kept an ice pick under her pillow and that her father was one of the 6,000 people who bought a handgun during those frightening times. On the 40th anniversary of the first murder, Schubert organized a task force that included Contra Costa County investigator Paul Holes, who revisited all the crime scenes.
He hit a jackpot in Ventura County, where the medical examiner, Claus P. Speth, had made a habit of freezing an untainted sample of evidence and using a second sample in any testing. In March 1980, Lyman Smith, about to be sworn in as a judge, and Charlene Smith, had been found bludgeoned to death and bound with knots tied in a diamond pattern. The two had been discovered by Lyman Smith's 12-year-old son, who had come over to mow the lawn, the Los Angeles Times reported.
Klapakis, who is an instructor at the police academy at Allan Hancock College, explained that the DNA was uploaded to the genealogy site GEDmatch, which found relatives dating back to the 1800s. Investigators narrowed down living relatives to those near the murder sites, finally pinpointing Joseph James DeAngelo in Citrus Heights within four months. He'd retired the year before from a job with Save Mart distribution center in Roseville, a job he'd had since the early 1990s. They put him under surveillance, a tactic the killer had used with his victims, and collected DNA samples that led to DeAngelo's arrest by the Ventura County Sheriff's Department.
Among the jurisdictions reviving cold cases is Visalia, which is a few miles from Exeter, near the foothills of the Sierra Nevadas. Before being hired by the Auburn PD, DeAngelo had joined the Exeter Police Department in Tulare County in 1973, after two years with the U.S. Navy, which took him to Vietnam, and a criminal justice degree from Sacramento State. The Visalia Times Delta reported that he is believed to be the Visalia Ransacker, who is linked to 85 burglaries and the 1975 death of Claude Snelling, a journalism professor killed with a stolen gun.
The arrest of DeAngelo brought some respite for investigators. Kitzmann said, "I am incredibly relieved as we all are here at the Sheriff's Office that the suspect has been identified [and] arrested and that he will be brought to justice." But he and Klapakis continue to investigate the murders of Offerman, Manning, Domingo, and Sanchez. Santa Barbara law enforcement has asked for public help identifying DeAngelo's presence in the county almost 40 years ago through photographs and composite drawings. The killer took pains to leave little evidence behind, but paint flakes left at one crime scene indicate he could have been working as a contractor or a painter, said Klapakis. District Attorney Joyce Dudley said in a press release that she's been in touch with S.B. County Sheriff's Office investigators but is making no statement on what actions her office will take.
"Any investigator on this would give his eye teeth to be involved in an interview with this guy," Klapakis said. "We have so many questions, and only he has the answers."