Society Matters
Environmental Defense Center Celebrates at Green & Blue
Jane Fonda and Gail Osherenko Honored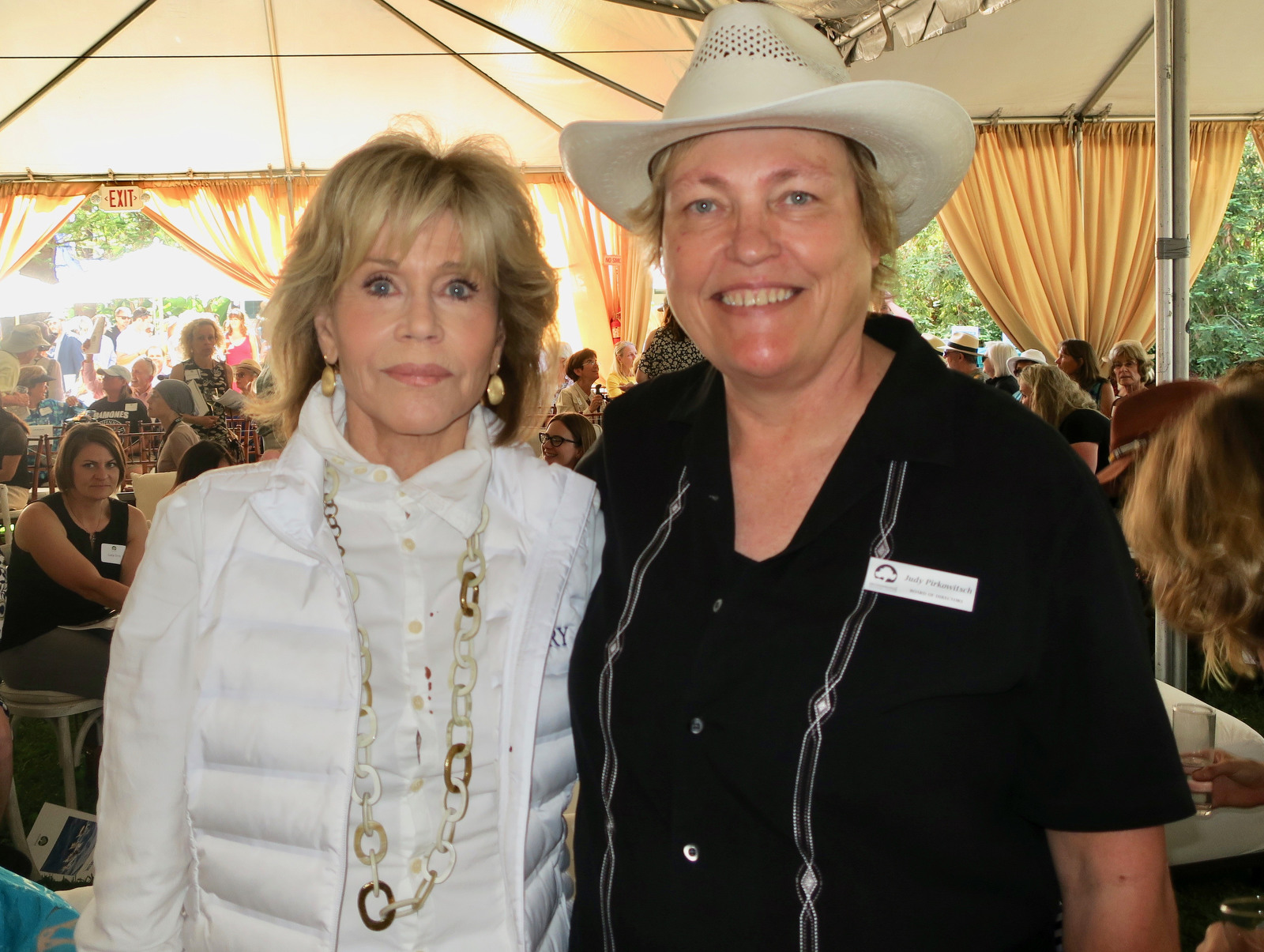 On June 3, about 650 supporters of the Environmental Defense Center (EDC) gathered at Rancho La Patera and Stow House in Goleta to celebrate their treasured organization and raise funds for its educational, advocacy, and legal work in the tri-county area.
Guests mingled on the scenic grounds while perusing an extensive silent auction before being seated in an open-air tent for the program. Chief Counsel Linda Krop shared some highlights of EDC's accomplishments over the past 41 years: stopping three proposed liquefied natural gas projects and many oil development proposals; ending marine barging off our coast; defeating Phillips 66's plan to bring mile-long oil trains through our communities; and extinguishing 40 federal offshore oil leases. EDC has saved more than 100,000 acres of open space, including the Carpinteria Bluffs, Douglas Family Preserve, and Ellwood Mesa.
Executive Director Owen Bailey lamented the many challenges posed by the Trump administration, especially the offshore oil leasing scheme, which would put 90% of our nation's coast at risk, including the Santa Barbara Channel. He cautioned that the 2015 Refugio oil spill was a reminder that "it is never a question of if, but when, another oil spill will devastate our coastline, our economy, our communities." In addition to the threat posed by conventional oil drilling, Bailey pointed to the dangers of fracking and acidizing from platforms off our coast, which is the subject of an existing EDC lawsuit, and which will expand with new oil leases.
Both Krop and Bailey expressed their resolve in these unimaginably difficult times to continue working to protect our precious Central Coast environment. Professional auctioneer Jim Nye then auctioned off a dozen enticing lots.
Krop presented Jane Fonda with EDC's Environmental Hero Award, calling her "a consistent voice drawing attention to environmental and social injustice." Fonda worked to protect the Arctic from oil drilling, opposed oil tankers, advocated against the Dakota Access pipeline, and has been a loud voice against tar sands development in Canada and the U.S.. Closer to home, in the 1980s, Fonda supported EDC's work to stop the threat of new offshore oil development in our county, including Measure A-85, which EDC drafted to prevent the proliferation of new oil and gas development along the Gaviota Coast.
Also receiving an Environmental Hero Award was filmmaker Gail Osherenko for her documentary, BROKE: The Santa Barbara Oil Pipeline Spill of 2015, which premiered at the Santa Barbara International Film Festival. In presenting the award, Bailey called BROKE a powerful film that should be "required viewing for anyone concerned with disaster preparedness, climate, and community health." Osherenko played a critical role in the creation of the California Coastal Act and the Santa Monica Mountains Recreation Area and has served on EDC's board for 15 years.
The Environmental Defense Center is a non-profit law firm focusing on climate and energy, and protecting clean water, the Santa Barbara Channel, and open space and wildlife. Over the years, EDC has represented more than 110 nonprofit organizations. For more info, go to environmentaldefensecenter.org.
If viewing from a mobile device, click on "Desktop site" in top right for more pics. Send invites to gail@independent.com.