Tom Urbanske: 1929-2018
In Memoriam
| Wed Jun 20, 2018 | 12:00am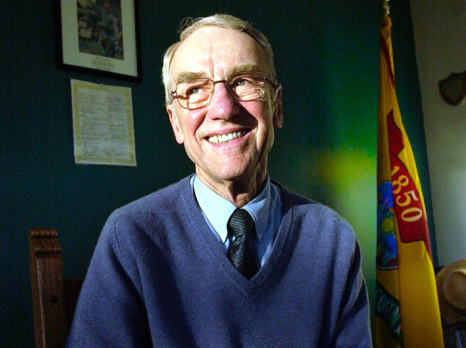 Much has been said already about Tom Urbanske, who passed away peacefully on May 17 at age 88: his kindness, inclusiveness, and advocacy for those on the edges of the community's mainstream; his multiple tenures on the Santa Maria school board, City Council, and County Board of Supervisors. But his children, Thereece, Veroneka, Stan, and Moneka (to whom I am married), remember so well how much he loved Santa Maria. He spent the majority of his life in this community, in a valley he considered the greatest place on earth.
Tom would wax eloquently about Santa Maria's geography, Los Padres Forest to the east, and the mostly peaceful, but at times raging, Santa Maria River, which wraps around vast tracts of agricultural land as it journeys west to the Pacific Ocean. Even the climate, including the strong afternoon breeze, he found just right: not too hot and not too cold.
This is not to say that Tom felt Santa Maria was perfect. He was always disappointed that the city had ripped out its core and link to its historic heritage by constructing the Town Center Mall at Broadway and Main. In fact, this is what led to his career in local politics and what compelled him to run for City Council in 1971. He won his election but lost on stopping redevelopment. He was never bitter about it, remaining the optimist he always was.
Tom was never a man to appreciate flash and glitz. Always frugal, a necessity for a teacher with a family of six, he would take the family on the occasional vacation to places like Disneyland (and the nearby Busch Gardens with free beer samples!). More frequently they would all hop into the station wagon for romps on the beach at Oso Flaco Dunes or for moody walks along windswept Point Sal. Then there were always visits to farmers' markets to stroll around sampling fresh fruits and vegetables — and strawberries, always strawberries — with Tom extending a handshake and flashing his broad, warm smile to everyone. The Urbanske household was typically devoid of store-bought cookies or potato chips but always rich in oranges, plums, apricots, or whatever was ripening in the season at hand. Of course, he'd often covertly slip his wife, Barbara, an Almond Joy candy bar for a late-night snack when the kids were sleeping.
Over the years, they took numerous cross-country treks in the family hauler with everyone aboard, their flatulent Weimaraner, Ricky, included, to Kansas, St. Louis, and Arlington, Virginia — where Tom was born — to visit family. Tom would make a point of taking everyone on field trips to Washington, D.C., to see the (free!) museums and to visit their local congressmember. The kids were always agog at the accessibility of elected officials, which imprinted on them the firm notion that these people of power worked for them.
Tom was a natural storyteller. The more ribald ones I'll have to leave to his daughter Veroneka (you can find her working at the Santa Maria airport), including stories about the "striptease" he would perform at the Vocational Training Center's annual fashion show (he just swung his jacket overhead a few times, but it always brought the house down). Tom had a pungent opinion about KFC's Colonel Sanders, too, but that's all I'm willing to say about that.
His favorite stories were about going to baseball games with "Pop" and how he learned the art and strategy of the game. Tom loved the game so much that during one particularly lousy Padres season, Thereece recalls, they would have to stay to the very last pitch, no matter the score, even if the Padres were behind 9-1 in the bottom of the eighth on a hot Sunday afternoon in August. I was always impressed at Tom's ability to distinguish a fastball from a curveball, or split-finger, or other junk pitch. Mind you, this was not from the comfort of the living room sofa and a television camera placed behind home plate, but live, at the ballpark, in the nosebleed seats. Stan says he always wondered if his father was demonstrating his storytelling ability during these commentaries. I was never quite sure.
Tom's passion for sports was matched by his dedication to staying physically fit. Tom was a runner, a bicyclist, a swimmer, and a prolific walker. Even in his eighties, he could get on the ground and pop off 15 credible push-ups. The Urbanske household always had a football, baseball, or basketball game booming from the television. When the split-screen picture-in-picture feature arrived, Tom would watch two games simultaneously. He loved that. Sports were as central to his day-to-day existence as reading staff reports in preparation for City Council or county supervisor meetings.
Tom Urbanske's life was long and rich. Through the GI Bill, Tom earned advanced college degrees and then enjoyed a productive career representing the community he treasured. He and Barbara, his true love, remained married for more than 65 years. They raised four children, who are all successful in their own lives, and he witnessed the birth of numerous grandchildren and even great-grandchildren. Who would not agree that this is ultimately what is important in life? Tom Urbanske, you will be missed.