Reading Issue
Between the Pages
Chef René Redzepi's Midlife Rebirth, Molokai's Deep History, Indy Staff Book Picks, and a Reading Challenge
By Michelle Drown | July 10, 2019
Dr. Seuss once said, "The more that you read, the more things you will know. The more that you learn, the more places you'll go." We at the Indy couldn't agree more, and so spend much of our free time in the company of books. And, since we can't keep things to ourselves, each July we like to share stories that highlight authors, literacy programs, books we love, etc., with the community in our annual Reading Issue.
This year's content includes an interview with former News-Press reporter turned author Jeff Gordinier regarding his latest book, Hungry: Eating, Road-Tripping, and Risking it all with the Greatest Chef in the World, about Noma chef René Redzepi; a piece about how Harding Elementary School is combating the achievement gap with its Reading Millionaires Club; a deep dive into the history of Molokai via environmental historian Wade Graham's new book Braided Waters: Environment and Society in Molokai, Hawaii; a Readers' Challenge; and Indy staff book picks. ​
The Indy Staff's Reading Picks
Books We Love — From Mystery to Romance to History
By Indy Staff
The Indy Staff's Reading Picks
Books We Love — From Mystery to Romance to History
By Indy Staff
Some days, working at the Indy feels akin to being in a book club, as conversation often turns to what someone is reading or what they are excited to read next. Here are a few staff favorites for perusal.
Brian Tanguay, Writer
A Brief History of Seven Killings by Marlon James. This sprawling novel is set in Jamaica in the 1970s, when the island nation was beset by political turmoil, factionalism, and violence. James is a spectacular, inventive writer who creates numerous characters, each with a distinct voice.
John Zant, Sports Writer
Two Kinds of Truth by Michael Connelly. The 20th novel in a series about L.A. detective Harry (Hieronymous) Bosch. Connelly is a former L.A. Times crime reporter who knows the territory. Bosch is a jazz-loving cop with a strong sense of justice. Reading earlier stories like Angels Flight would get you more acquainted with him. The novels have been turned into an Amazon TV series, Bosch. The fifth season, recently released, is based on this 2017 book, which has Bosch tracking down brutal drug criminals and defending himself against a frame-up.
Anna Jensen, Indy Theater Judge
How to Do Nothing: Resisting the Attention Economy by Jenny O'Dell. O'Dell makes the case for resisting social media and all forms of distraction that leave us in a relentless state of envy, fear, and desire. She makes a causal connection between the degradation of social discourse and the destruction of the natural world. Rather than totally disengage with media, she offers ways to reclaim our awareness and self-worth.
Give Me Your Hand by Megan Abbott. As teenagers, fellow high-achieving young women Kit and Diane shared a secret before losing contact in college. In adulthood, the two have become scientists competing for select slots on a career-defining research team. Diane offers Kit a Faustian bargain which she may not be able to refuse. It's not at all a coincidence that their desired scientific breakthrough involves premenstrual dysphoric disorder.
Ninette Paloma, Writer
The Paris Wife by Paula McClain and Loving Frank by Nancy Horan. When done right, historical fiction can add a stirring perspective to an already engrossing subject, dovetailing real people and events with a conceptualized account of the inconvenient little details. McClain and Horan have both done an exhaustive job of consolidating fact with fiction, poring over historical letters and documents to bring the lives of two larger-than-life men into perspective through the (imagined) voices of their real-life female counterparts. In The Paris Wife, Hadley Richardson describes the torrential ebbs and flows of a life in Paris as first wife to Ernest Hemingway, while Horan empowers Mamah Borthwick to recount her years as lover to famed architect Frank Lloyd Wright. If you don't yet know how these stories end, do yourself a favor and read them back to back before going on a Google hunt. The jaw-dropping fates of these two women inject messy humanity into their iconic partners to riveting effect.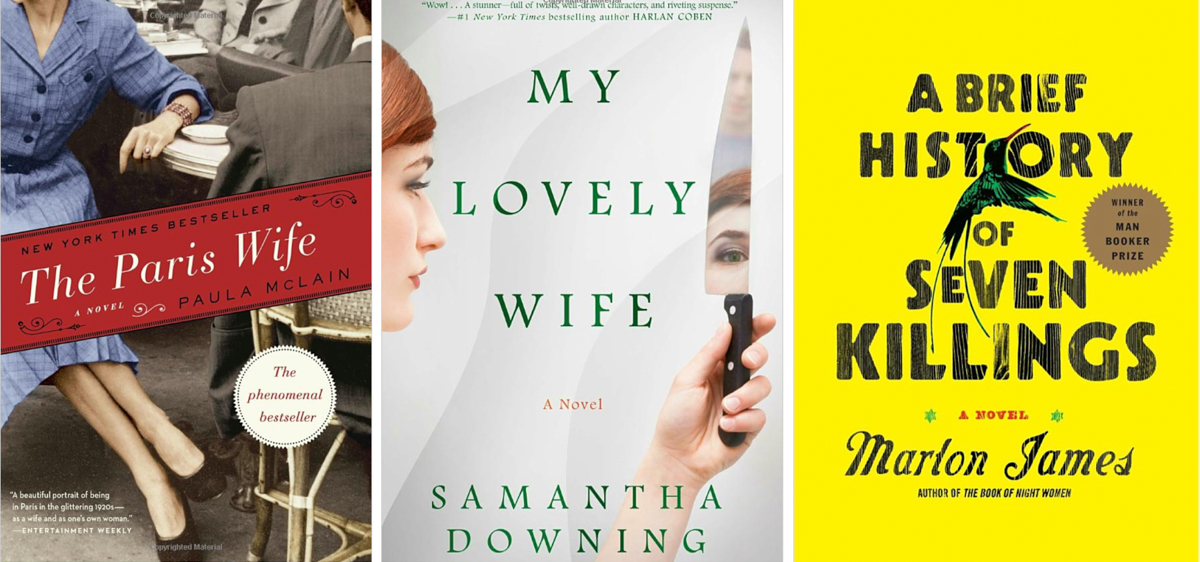 Emily Cosentino, Marketing Director
My Lovely Wife by Samantha Downing. This book has been compared to Mr. and Mrs. Smith meets Gone Girl, but whatever combination of action-packed and psychological drama you crave, this book will satisfy. Living in a suburb with their two kids, great jobs, and perfect house, Millicent and her husband have been happily married for 15 years and seem to have it all figured out. So, what's their secret to keeping their marriage alive? The thrill of getting away with murder.
The Prince and the Dressmaker by Jen Wang. Prince Sebastian lives a double life. By day he is Prince Sebastian, keeping up appearances for his royal family. By night, he transforms into Lady Crystalia, donning exquisite but daring ball gowns all over Paris. With the help of his seamstress, Frances, Lady Crystalia becomes a fashion icon overnight. This beautifully crafted graphic novel tackles themes of identity, family, and art, and promises to pull at your heartstrings.
Michelle Drown, Senior Editor/Arts Editor
The Color of Time: A New History of the World: 1850-1960 by Dan Jones and Marina Amaral. Best-selling author/historian Dan Jones teamed up with Brazilian artist Marina Amaral to create this remarkable coffee table history book. Comprising 200 historic photographs, which Amaral beautifully renders in full color, accompanied by Jones's crisply written, fascinating text, the tome offers a look at people and events that shaped a century of decades. From the opening chapter, "The 1850s: World of Empires" to its closing, "The 1950s: Changing Times," The Color of Time simultaneously offers pages of free-standing historic events that taken in their entirety offers a cohesive, connected view of a century of changes.
Riding Shotgun with René Redzepi
Jeff Gordinier's 'Hungry' Recounts Midlife Rebirth for the Noma Chef — and the Author Himself
By Matt Kettmann
Riding Shotgun with René Redzepi
Jeff Gordinier's 'Hungry' Recounts Midlife Rebirth for the Noma Chef — and the Author Himself
By Matt Kettmann
It's been about three years since Jeff Gordinier left his job as a collared-shirt-sporting food writer for the New York Times to focus on his second book, and the 52-year-old now happily exudes the aura of a slightly disheveled author who works entirely from home.
We're sitting at the Paradise Café, less than a block from where the Pasadena native's journalism career kicked off at the Santa Barbara News-Press, and he's nursing a happy hour martini with a burger on the way, a white plastic bag filled with Jim Harrison poetry, Esquire magazines, and collected postcards at his side. Wearing maroon pants, a restaurant T-shirt, black leather shoes, and a tousled salt-and-dirty-blond mop, Gordinier is pondering, stream-of-consciously, the path that led to Hungry: Eating, Road-Tripping, and Risking It All with the Greatest Chef in the World.
"I had become incredibly fascinated by Noma and wanted to experience all of its different permutations," said Gordinier, reflecting on how the famed tasting menu restaurant in Copenhagen, Denmark, would serve as the backdrop for his midlife crisis. "It's a little bit like becoming a Deadhead" ​— ​which, incidentally, was another journey the longtime punk rock lover embarked on recently.
Hungry, which was published this month by an imprint of Penguin Books, follows the most critical phase to date in the culinary career of Noma founder René Redzepi, who an over-deadlined Gordinier reluctantly agreed to meet in 2014. Attracted to Redzepi's cult-like charisma, Gordinier was suddenly, almost unwittingly, riding shotgun while this darling of the modern foodie zeitgeist dismantled and reinvented the Noma empire. Just as compelling, Hungry simultaneously reveals rebirth and rediscovery for Gordinier himself, who endures a painful divorce, new marriage, and the birth of twins when he's 52 years old as the pages unfold.
While everything seemed peachy during his final years at the Times ​— ​Gordinier appeared on the popular Netflix series Chef's Table, hung with the top chefs of our generation, and wrote some of the world's most-read food articles ​— ​his personal life was near shambles. Just two weeks before Redzepi reached out, Gordinier had moved out of the home he shared with his wife and two children. As the "toxic fog" of depression settled in, he spent hours wandering the woods near his Westchester County home, craving comfort bowls of cacio e pepe and poking fun at the stark and stylish New Nordic cuisine championed by Redzepi before ever meeting the man or trying his food.
Redzepi, if you haven't been paying attention, is the founder of the Copenhagen's Noma, considered by many to be the best ​— ​and by almost everyone to be the most creative ​— ​restaurant in the world. His seasonally shifting tasting menus inspire chefs across the planet to forage, ferment, and fool around with food in mind-bending ways, usually to exquisite results that entertain all senses, though occasionally to clownish interpretations that fuel a growing stop-making-food-so-precious backlash.
After conquering the global food scene from 2003 to 2014, Redzepi grew disillusioned and bored, deciding that Noma needed rethinking to remain relevant. His first step was arranging longterm pop-up versions in Japan, Australia, and Mexico, as he planned to close and move the Copenhagen restaurant. That's around the time he reached out to Gordinier, perhaps over a shared love of tacos, though the author isn't quite sure why the call came at such a serendipitous time.
"There was a sense of mission," said Gordinier of why he would wind up taking trips to Oaxaca, Tulum, Mexico City, Merida, Norway, and Denmark in the years to come. "And I was very much adrift."
Self-Medicating with Adventure
At a fast-moving 225 pages, easily digestible in just a couple of reading sessions, Hungry manages to both encapsulate how we got to this era of celebrity chefs and food porn while serving as its most interesting chapter to date, at least since Anthony Bourdain's game-changing Kitchen Confidential. Gordinier's writing is tight yet thorough, name-dropping just enough star chefs to keep foodies gripped, and allowing Redzepi to wax on introspectively without becoming overbearing. There's plenty of drama as well, primarily from the ambitious Noma pop-ups, where opening on schedule in a remote Mexican jungle is an ever-present concern.
It's a probing, not solely flattering profile of Redzepi, who was raised in often xenophobic Denmark by a Muslim immigrant from Macedonia, an ironic twist given that he's the face of Nordic cuisine. You also learn how the Noma machine operates, how young chefs are brought in from around the world and challenged to create dishes that reflect their own cultures. "René is the conductor," explained Gordinier. "But he's got a lot of tremendous instrumentalists in his orchestra."
Even established chefs like Enrique Olvera and David Chang flock toward Redzepi like he's some benevolent Svengali. Indeed, while a couple of the trips that Gordinier took were on assignment, "truth be told, I was spending my own money," he explained.
"My line of work is great for staying young, for keeping your mind vibrant, but it's not great for marriage. It's the kind of work that keeps pulling you away from the relationship."
The quest became an extreme manifestation of what Gordinier had been doing for years after leaving Santa Barbara in 1994 to work for Entertainment Weekly and then Details and the Times. (He now covers food and drink for Esquire.) "I was self-medicating with adventures," said Gordinier, who has an "extreme problem" with boredom. "My line of work is great for staying young, for keeping your mind vibrant, but it's not great for marriage. It's the kind of work that keeps pulling you away from the relationship."
As Gordinier moves through his divorce and finds new zest for life on the Noma train, he also connects with a public-relations woman he met long ago when they were both in relationships. They hit it off, get pregnant, and then marry on January 12, 2018 at the Santa Barbara County Courthouse, when I just so happened to spot them, in my own post-Montecito mudslide haze, walking on their way to Paradise for martinis and burgers. Today, they live just a few homes away from Gordinier's first wife, sharing custody of their kids with relative ease. "It's a modern family," said a content Gordinier.
For the sake of his new family and his sanity, he's also reset his work life. "I spent a quarter century chasing deadlines," said Gordinier. "I would like to do some yoga or make it to my son's baseball game on time."
Preserving the Now
Though Gordinier left Santa Barbara for New York 25 years ago, his heart remains in California, where he learned to love tacos and Chinese food at an early age and grew up reading Jonathan Gold and Ruth Reichl. "When I was 15 or 16, I could tell you about the differences between Oaxacan and Yucatecan cuisine," recalled Gordinier. "You know how some kids become theater freaks? I became a restaurant freak."
It's surprising, then, that Gordinier didn't turn to food writing until later in his career, which was primarily spent covering musicians, filmmakers, actors, and other pop-culture figures from 1994 to 2011. Some of that reporting went into his first book, X Saves the World: How Generation X Got the Shaft but Can Still Keep Everything from Sucking, which told interesting tales through a unique argument, but wasn't much of a seller. For my 2008 story about that book see, independent.com/forgotten-gem.
Hungry, however, is almost certain to be a bestseller and may even win Gordinier a coveted James Beard Award, the food world's Oscar. It's the inside story about one of today's most interesting, vibrant, and popular cultures, told in a gonzo-like style, with plenty of human emotion and personal growth to draw even non-foodies to the page.
"I want people to read this who don't even read books," said Gordinier, who tried to emulate heroes such as Tom Wolfe, Hunter S. Thompson, and Joan Didion. "That's why I became a writer. All of those books were so mesmerizing to read."
No matter what, though, Hungry will stand as a document of a man named René Redzepi and his globally influential culinary movement during a revolutionary time. Said Gordinier, "People interested in gastronomy can read this decades from now and have a sense of what it felt like."
4•1•1 | Jeff Gordinier will sign copies and talk about Hungry: Eating, Road-Tripping, and Risking It All with the Greatest Chef in the World on August 11 at the Ojai Valley Inn with Chef Claudette Zepeda of El Jardín in San Diego and Jenn Harris from the Los Angeles Times. See instagram.com/thegordinier.
Water and Empire in Hawai'i
Braided Waters' Reveals Deep History on Molokai
By Charles Donelan
Water and Empire in Hawai'i
'Braided Waters' Reveals Deep History on Molokai
By Charles Donelan
The Hawaiian Islands occupy a special place in the cultural imaginary, and for the most part, they have capitalized on it. The idea of "paradise on earth" makes for a powerful brand, and tourist destinations such as Oahu, Maui, and Hawai'i have never been more popular or more expensive than they are today. Yet there's one traditional image of Hawaiian paradise that sends mixed signals, and that's the promise of "miles of empty white sand beaches." The island where you will find the longest stretches of this fantasy condition is Molokai, and in a fascinating new book, Braided Waters: Environment and Society in Molokai, Hawai'i, environmental historian Wade Graham explains why the emptiness of this large island in the middle of the Hawaiian chain is not a healthy sign.
For most of us, the name Molokai conjures thoughts of Father Damien and the leper colony at Kalaupapa that was founded in 1866 when thousands of Native Hawaiians with no immunity to Hansen's disease were quarantined there. While that colony does still exist and could until recently be visited by those willing to descend thousands of feet by mule to its location at the base of some of the world's highest cliffs, even that marginal tourist attraction on Molokai is now closed.
For Graham, Molokai's deep history of colonization by seafaring Polynesians centuries prior to contact with the West made it an ideal subject for exploring the history of a marginalized place. "History is still too often explained by looking at powerful, central, dominant places," he contends, adding that "most of the world is not a center, but a margin ​— ​by definition the periphery is larger and more extensive than the core." Thus the lessons about agriculture, empire, and sustainability he draws from the fate of Molokai have profound implications for how we understand the Anthropocene future.
"History is still too often explained by looking at powerful, central, dominant places… Most of the world is not a center, but a margin ​— ​by definition the periphery is larger and more extensive than the core."
As can be seen in the book's title ​— ​taken from a translation of the name Molokai, which means "braided waters" ​— ​the crucial factor in the island's history has been the control of its limited water supply. Although the boarded-up condos, abandoned hotels, and overgrown golf courses that can be seen there today reflect only the most recent attempts to stimulate economic growth, remnants of other, more distant projects and civilizations can be found that indicate a pattern of exploitation and environmental degradation going back thousands of years to the Polynesians, well before the arrival of European explorers.
Aided by a battery of scientific approaches to analyzing land use, flora, and fauna over time, Braided Waters weaves a compelling, data-driven account of the original colonization of the Hawaiian Islands by seafaring Polynesians beginning around 1000 CE. The cascading effects of the introduction of nonnative species and agricultural intensification through extensive irrigation projects caused the island's fragile ecosystem to become deforested, eroded, and desiccated.
Paradoxically, what was bad for the environment was good for those who occupied the top rungs of a very hierarchical society. Increased dependency on monoculture crops grown for export delivered more and more power into the hands of the ruling elite well before the arrival of western sugar and pineapple companies. After the arrival of Captain Cook in 1778, the inequalities present in preexisting native social structures were amplified by trade with similarly inclined Westerners, who were only too happy to deal with a society organized around a handful of all-powerful imperial authority figures.
In the second half of the book, the pace accelerates as various schemes to improve Molokai through crops such as sugar and pineapples are applied and run their course, leaving environmental ruin in their wake. Cattle and pigs chew up the native vegetation, sending washes of silt down the steep canyons to fill in what were at one time highly productive fishponds.
Today Molokai sits on an uneasy perch between worlds. Attempts to develop the island as a tourist destination have been blocked by Hawaiians whose embrace of subsistence strategies like fishing, hunting, and small-scale farming must be supplemented by welfare checks. The path to a sustainably authentic future for Molokai remains unclear, but thanks to Braided Waters, that territory now has a historically informed map.
Indy's Read-a-Thon
Join Our Seven-Day Reading Challenge
By Emily Cosentino
Indy's Read-a-Thon
Join Our Seven-Day Reading Challenge
By Emily Cosentino
We are hosting our very first read-a-thon, a reading challenge set over a specified amount of time. Read-a-thons come in all shapes and sizes ​— ​some folks see how many pages they can read in one sitting, one day, or one week, for example. Then there are hosted read-a-thons like ours, which have challenges to keep you motivated. The Indy read-a-thon takes place Thursday, July 18-Wednesday, July 24, with prompts below to guide your book selections for the week. Be sure to track your progress at independent.com/readathon as we will be randomly selecting a participant to receive a gift card to Chaucer's Books. So gather your tomes and start reading!
1. Read a book with red on the cover.
2. Read a book recommended by a friend or one of the Indy staff–recommended books in this issue.
3. Read a book outside.
4. Read a book from the library.
5. Read a graphic novel or a book with fewer than 150 pages.
6. Read a genre out of your comfort zone.
7. Read a book published more than 10 years ago, or in 2019.
Millionaire Treatment for Harding Students
School Combats Achievement Gap with Reading Program
By Blanca Garcia
Millionaire Treatment for Harding Students
School Combats Achievement Gap with Reading Program
By Blanca Garcia
Twenty Harding University Partnership elementary students received the millionaire treatment on a June morning, enjoying Starbucks Frappuccinos and a decked-out trolley ride to Chaucer's, the Central Library, and the County District Office of Education. Each of these students, wearing colorful leis, donning funky hats, and carrying goody bags, read at least a million words this school year. One student read as many as four million words.
The Harding Reading Millionaires Club, which started two years ago with only four students, has more than quadrupled since, boasting 20 "millionaire" students in grades 3-6 this year. The club started as an incentive to get students reading more in an effort to close the achievement gap between low-income students and their wealthier classmates and raise Harding's test scores, said Harding Principal Veronica Binkley. But "it trickles far beyond academics," she added, with students also learning to set high goals and reach them. Students who read more frequently tend to be higher achievers than students who don't read regularly. Reading also increases students' fluency, vocabulary, and reading comprehension ​— ​all skills students need to be successful as they matriculate into middle and high school. Some studies suggest that reading one million words a year places students in the 90th percentile of standardized test scoring.
Belonging to the Harding Reading Millionaires Club has become a form of bragging rights at the school, and students work year-round to gain membership. Membership, however, does not renew automatically, and at the beginning of the following school year, students begin anew to try to reach one million words. Of the 20 millionaires this year, six are 3rd graders. One 3rd grader, Yoselin, read 1,500,036 words, she told the Independent. She had to read "half of the books in [her] class" to reach one million words, she said. Her favorites this year were Diary of a Wimpy Kid and Dork Diaries, and she'd like to be a millionaire again the following years until she graduates.
Another student, 6th grader Desteny, wore a crown throughout the millionaire celebration. Her favorite book is The Selection, she said. "It's about a princess competing for her crown."