Housing
How Hard Should City Hall Squeeze Goose That Lays Golden Eggs?
One Downtown Santa Barbara Housing Developer Withdraws Application; Another Signs 99-Year Lease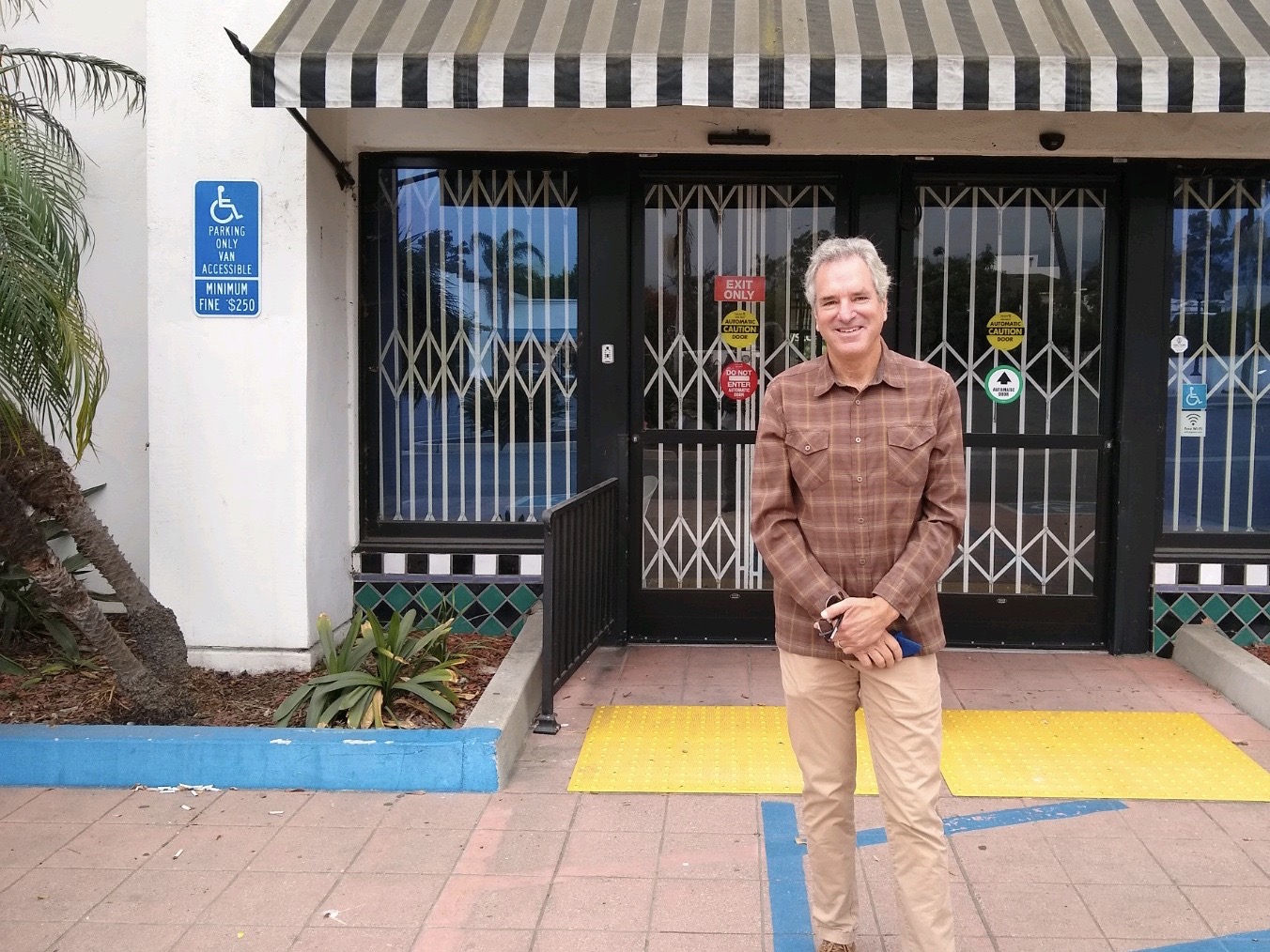 It was a compelling tale of two developers. Almost immediately after last week's Santa Barbara City Council debate over how hard to squeeze rental housing developers for more affordable units, one of State Street's biggest landlords, Jim Knell of Sima Management, withdrew his application to build 34 rental units on the 700 block of State Street. Meanwhile, developer Peter Lewis doubled down on his plans to build 78 rental units behind the old Staples building on State's 400 block, signing a 99-year lease for what once had been a Cadillac dealership.
In style and temperament, Knell and Lewis — both active downtown business personalities for more than 30 years — could not be more different. Knell, a onetime swimming coach who long ago emerged as State Street's "Mister Big," is famous for peppering councilmembers with blistering critiques on everything from downtown homelessness to City Hall's red tape. By contrast, Lewis has maintained a much more low-key approach. While Knell personifies the "big stick," Lewis — an Indiana transplant who started the leather clothing company Firenze in the 1980s with just one sewing machine and $210 — embodies the "soft voice."
Both, however, have expressed serious concern at the likelihood that the City Council will increase "inclusionary housing" requirements — from 10 to 15 percent — for rental housing projects built as part of City Hall's Average Unit-size Density (AUD) program, created seven years ago to incentivize developers to build rental housing. This increase, they argued, would have a chilling effect on the development of new housing.
---
Get the top stories in your inbox by signing up for our daily newsletter, Indy Today.
---
While the council took no action last week — even agreeing to spare the Central Business District (CBD) from any changes to the city's inclusionary housing requirements — it was clear at least four councilmembers were eager for those changes. During an intense debate about what rates of return developers should be entitled to make on such developments, Councilmember Meagan Harmon voted for the compromise but only after detailing how uncomfortable she was about doing so. Councilmember Mike Jordan argued that without increased affordability requirements, the CBD would see only high-end luxury housing on par with the penthouse on the 12th floor of the Granada Building.
The issue has become imbued with newfound urgency since most movers-and-shakers and civic activists have become convinced that only housing can save downtown. The multimillion-dollar question, of course, is: housing for whom?
The AUD program was initially envisioned to entice developers to build rental housing by allowing greater densities and fewer parking spaces. The hope was this new housing would be "affordable by design" and create much-needed workforce housing. Since the program was launched in 2013, it has given rise to 24 market-rate projects, accounting for 321 units. Another 16 projects are now under construction that will translate into 181 units. In addition, the program gave rise to four government-subsidized housing projects home to 205 affordable units. All told, that's 44 projects and 683 units.
To the extent the AUD program got private developers to build rental housing — when for decades they built none — the program has been a screaming success. But critics complained the new market-rate units — typically $3,000-$4,500 a month — were far too expensive for most tenants. In response, the council voted last year to require that 10 percent of all AUD new units be rented at rates affordable to tenants falling within the so-called "missing middle," defined as households making from $81,000-$105,000 a year.
As to the issue of how expensive new AUD rental units are compared to median prices citywide, there are no comprehensive numbers. But based on the limited numbers — based on the prices of four AUD projects — compiled by the City of Santa Barbara as of last October, the prices for AUD studios are $200-$1,000 more expensive than the city's median studio, $600-$1,100 more expensive than the city's median one-bedroom, and $600-$800 more expensive than the city's median two-bedroom unit.
Within the South Coast's community of affordable housing advocates, this 10 percent inclusionary requirement has been dismissed as too little, too late. The push to 15 percent — the most the state legislature will allow without special permission — came as an effort to rectify what Councilmember Kristen Sneddon termed last week as "a giveaway" to housing developers. When Councilmember Alejandra Gutierrez argued such requirements might kill new housing, Sneddon and Harmon countered that any additional costs would be offset by the additional incentives — such as new parking-optional rules — the council adopted this past summer.
To date, only two housing developments have been proposed for State Street — one is Knell's behind Restoration Hardware, and the other is Lewis's. Both of these proposals — still in conceptual review — have been enthusiastically received by the Historic Landmarks Commission and the Planning Commission; both could possibly become vested before the council increases affordability requirements, should it decide to go that route. In the months ahead, members of the council will no doubt study both of these proposals — and the developers behind them — to determine whose bluff to call and, if so, how hard to push.
Knell is not averse to going toe-to-toe with City Hall, having won several high-profile showdowns over the years. It's not accidental the only orange building on State Street — at State and Haley streets — belongs to Knell. When Knell first proposed building 34 units behind Restoration Hardware, his plans got glowing reviews from City Hall. Since then, supporters of the Press Room have led an effort to save their favorite watering hole from Knell's redevelopment project.
After the council's deliberations last week, Knell wasted little time emailing Councilmember Harmon. "You and the City Council have obviously made it clear you are not for housing," he wrote. "You have failed to represent us. My response is no thank you!!! I will be pulling my project on the 700 block of State Street."
Around City Hall, there's some speculation that Knell's project would not pencil out financially, to which Knell replied, "What else would you expect them to say?" Knell objected City Hall had no business discussing what rate of return developers got. "We're the ones absorbing all the risk," he argued. "I'm the one putting $20 million down."
With statewide propositions on November's ballot that could cause his property rates to increase and lead to rent control, Knell said the future was too uncertain to risk so large an investment. The price of downtown real estate, he said, is prohibitively expensive, and the cost to build — $500 a square foot, he stated — is even more so.
While Knell charged City Hall has done nothing to improve things for business owners and property owners downtown, Lewis was quick to praise some of the changes City Hall has made: the State Street Promenade, for one, and the new parking-optional rule for new AUD developments, for another. "These are important changes," he stated. "Super positive."
Still, Lewis said, he winces when councilmembers complain about "the high-end luxury housing" the AUD program is producing. "You go find me a bungalow downtown for less than $4,000," he said. "The market is the market. Santa Barbara is just an expensive place to live." As far as developers making out like bandits, he insisted, the margins are razor thin and the risks high.
Lewis watched last week's council deliberations with concern. "This shows me a clear majority are not committed to housing," he said. "They're more committed to a transactional view of government in which they have to extract something from the developer." He added, "The class warfare doesn't help produce housing."
Where Knell pulled the plug, Lewis signed a 99-year lease to secure the property even with all the uncertainty looming. "Where other people get scared, I get greedy," Lewis said jokingly. The real reason, he said, is that good opportunities are few and far between; many become available, he added, only "in times of change and stress." Unlike Knell, who has tenants at the 710 State Street site who are producing income, most of the land Lewis hopes to develop is currently vacant. If he scrapes the site, he's not losing money. His pressures are not as intense.
If all goes as he hopes, Lewis will build a new four-story structure, 52 feet high. Of the 78 proposed rental units, 42 will be studios, he said. As for the space formerly occupied by Staples, he's still considering his options. Lewis has been in the neighborhood more than 30 years. When he first built a factory on the 400 block of State Street for his leather clothing company, he noted he got permitted and built all within one year.
---
Every day, the staff of the Santa Barbara Independent works hard to sort out truth from rumor and keep you informed of what's happening across the entire Santa Barbara community. Now there's a way to directly enable these efforts. Support the Independent by making a direct contribution or with a subscription to Indy+.