Daily Reports
SBIFF Day Six Report: Carey Mulligan Mesmerizes, Artisans Shine, and More Films
Carey Mulligan Mesmerizes, Artisans Shine, and More Films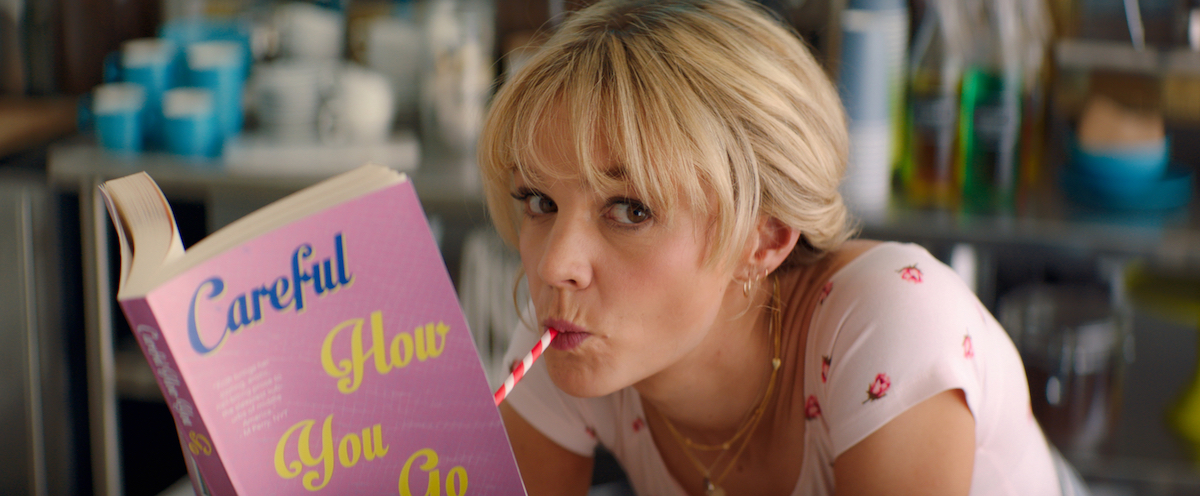 It almost seems strange that Carey Mulligan is only 35, given the dizzying breadth of her screenography. From An Education to Drive to Inside Llewyn Davis to last year's one-two punch of The Dig and A Promising Woman — the first as restrained as the latter is wild — she is well-known for deftly changing up and code-switching between varied roles. In fact, she summons up a few varied juicy characters in A Promising Woman, for which she has been taped for an Oscar nomination, which also brought her — if only virtually — to Santa Barbara for SBIFF's Cinema Vanguard Award presentation/this-is-your-life sweepstakes on Monday afternoon.
We got a compacted overview of said breadth via a teaser preview roll of clips scrolled by to open Monday's tribute event, moderated by Pete Hammond. The British actress calmly watched from an elegant hotel room in NYC (she's there to host "Saturday Night Live" this week, her first acting gig in nearly a year and a half), then exclaimed, with her gentle half-smile, "having a montage like that set to Britney Spears' 'Toxic' is a career goal achieved. Check that one."
This was not her first SBIFF rodeo, having appeared in the 805 in 2010, after the Oscar-buzzed An Education. She explained that her own education was mostly in the trenches, on the boards and film sets, skipping over drama school.
A career which launched fortuitously with Pride and Prejudice — the first of several period piece/costume affairs — moved on to include American accented stuff of The Great Gatsby, ala Baz Luhrmann, Mudbound and Paul Dano's Wildlife. One lesser known but powerful job came with Steve McQueen's erotic (and anti-erotic) drama Shame, with Michael Fassbender as a sex addict, in which Mulligan performed "New York, New York" in uncut close-up.
On the subject of her period-hopping and character-hopping career thus far, Mulligan admitted "I've been time-traveling. I could do without being in a corset again. The '60s is great. The fashion is so amazing. On The Dig, they recreated Second World War London. You're surrounded by extra in period clothing, you do feel like you're time-traveling. It's a perk."
The ante is radically upped, in terms of costumes and personae, in the provocative Promising Woman. Her character, Cassie, takes on roles as drunken seductress, righteously indignant and skillfully vengeful feminist, and other twists along the way in writer-director Emerald Fennell's wowing comedy-thriller-drama-social commentary of a film.
Mulligan noted that, "to go from The Dig to Promising Young Woman was wild. It was kind of fun to go one way and all the way in another direction. I couldn't believe it when (Fennell) sent it to me. It's a massive responsibility. It's the central part. The more you think about the film, the more intricate you realize the writing is. It talks about things that are so real to people. it's humorous and dark and witty. It did feel like a bit of a tightrope walk to go on."
"How do you pull this off? For the audience, it's a totally different experience. (Interpreting the character) wasn't something I had to, because I trusted Emerald. It wasn't my job to sell a badass character. It's someone who's dealing with grief and traumatic and dealing with something akin to addiction. All of those things."
It's also a clever takedown of longstanding misogynistic tropes coming out of Hollywood from the dawn of Hollywood, a point which she felt was revealed in a review in Variety, which led to the hoary Hollywood magazine to print a rare apology for its review. Many in the critic game were miffed at the notion of a respected publication not standing behind its critic, and caving in to the sway of a movie star. But Mulligan figures that "that felt like standing behind the values of the film that we made."
We'll see if the Variety kerfuffle sneaks its way into the SNL script this weekend. For Mulligan — who is married to a Mumford-Marcus, leader of Mumford & Sons, and has two young children — the show offers a chance to get back in the ring, "just so I can act. I've just been acting in front of my children at home. I need to put that energy in a professional realm." Next up on the bigger screen, another costume and attitude change, playing alongside Bradley Cooper in the Leonard Bernstein in The Maestro. The maestra's promise continues to be fulfilled.
BEHIND THE SCENERY: Monday night's real-life tribute parade (once removed, on zoom) turned to the fascinating Variety Artisans Award program, in which a number of "below the line" crew and creative workers are given an overdue spotlight. As SBIFF head Roger Durling explained, he cherishes this ongoing annual series, in that it digs below the public spectacle of actors onscreen and accentuates the collaborative nature of filmmaking. The tribute to Oscar nominees, he commented in his intro from the SBIFF's HQ, serves to "celebrate continuity and community."
This year's Artisans roster was suitably diverse, from suddenly high-profile music team of Trent Reznor and Atticus Ross (Mank and Soul), the wig designer Mia Neal and Leslie Odom, Jr., as songwriter for One Night in Miami. Cinematographer Joshua James Richards explained that, for his atmospheric eye in shooting Nomadland, he took inspiration from the Hudson School of landscape painters, especially Albert Bierstadt, and, more generally, "pictures of American 'manifest destiny' — that journey west. There's a melancholy to that."
For my money, one of the most stunning "below the line" achievements of the cinema year was the necessarily sensitive sound design for Sound of Metal, an unforgettable film more about sound — and the loss thereof — than metal music. The artist responsible was Nicholas Becker, who has done other stellar sound work in Arrival, Ex-Machina, and Gravity.
He had the rare benefit of a time on the project, starting a year before wrap. That time factor facilitated "an amazing opportunity to try things. I'm happy that it's an independent, with a very specific topic. Even if you don't have much money, you can do great things, if you have time to think about it before."
On this film, he said, "People knew that sound would be very special, so it was possible to interact. It was possible to push the boundaries and create a very specific language. When you interact with picture and sound, you can create a special weaving." And weaving is the proper metaphor for the critical elements the Artisans bring to what ends up in our eyes and ears, and hopefully, hearts and minds.
TO WATCH: Tuesday's film programming slate, on home screens with fluid start times and down at the drive-in at specific times, holds some gems in store, including the Finnish wistful and wacky dry comedy Ladies of Steel and the post-Tiger King expose of a doc, The Conservation Game. Prepare to have your cozy impressions of animal "advocate" Jake Hanna sharply redressed, and your concern for the ongoing travesty of backyard breeders lit up.
---
---
Support the Santa Barbara Independent through a long-term or a single contribution.
---