Arts & Entertainment
Review | Thollem and ACVilla bring Obstacle Illusion to UC Santa Barbara
Multimedia Performance Invites a Shift in Perspective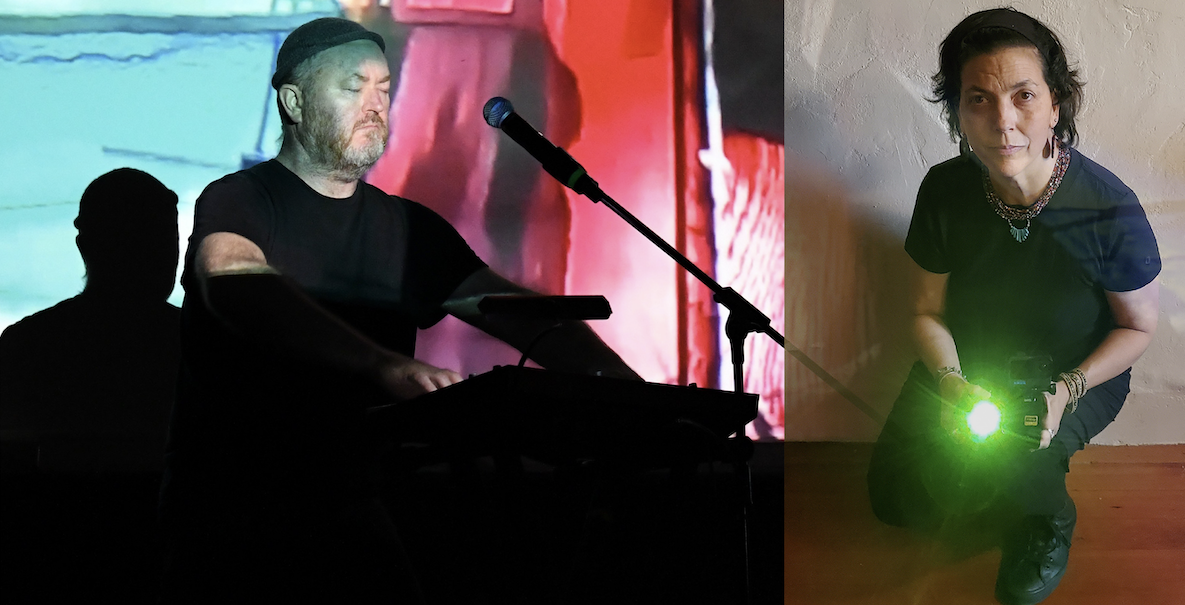 Thollem and ACVilla's Obstacle Illusion, invited the audience to welcome, with open arms, the unsettling and intriguing emotions that accompanied their multimedia performance on the evening of February 8.
Perhaps it was Thollem's full, chant-like voice, bouncing between mania and clarity, or his synthesizer's uncanny skill in mimicking both natural and urban noises, or ACVilla's eerie ability to project familiar images from strange perspectives onto the screen, that produced such complex emotions for the audience throughout Obstacle Illusion. Or, perhaps, it was the ambiguity and resonance that each individual felt stirred up inside of them — the idea that we were all drawing our own unique perceptions from the show.
This notion mirrors ACVilla's description of the abstract and unsettling nature of the performance, in which she states, "At one point, I realized that my goal in life is to be comfortable within the Unknown. I believe that audiences are unknowingly exposed to my practice through my digital films, and are left a little unsettled while also experiencing feelings of beauty and curiosity. This is the Unknown amid the familiar, a combination that can be simultaneously unnerving and comforting."
The performance, a new initiative by the Walter H. Capps Center for the Study of Ethics, Religion, and Public Life, began with Thollem filling UCSB's Hatlen Theater with the striking chords of his synthesizer as he performed an array of his original songs, followed by the 40-minute long multimedia performance of Obstacle Illusion.
Although the set was simplistic, with Thollem adorned in black clothing against an empty stage, standing in solitude with his synthesizer, the intensive auditory exploration that the show embodied made for anything but a simplistic show.
As Thollem moved through each of his individual songs, he spoke to pertinent social issues such as poverty, democracy, and police brutality. Thollem's satirical lyrics such as, "They stole the elections, fair and square" were accompanied by the playing of his synthesizer, in which otherworldly noises, chaotic reverberations, and off-putting tonal dissonance on the synthesizer's four layers of sound matched the intensity of the lyrics.
As this portion of the show concluded, it became clear that Thollem's talent in experimental jazz allowed for the production of music that pushed the boundaries of melody, and further, invited the audience to observe and think deeply throughout the uncanny and unique auditory artwork they were experiencing.
---
Sign up for Indy Today to receive fresh news from Independent.com, in your inbox, every morning.
---
As the show moved into the performance of Obstacle Illusion, Thollem's synthesizer and singing were accompanied by ACVilla's digital films. Thollem prefaced this portion of the show, noting, ​​"Angela's techniques are similar to analog videography … She likes to work physically in real time rather than spending a lot of time on the computer." This became apparent as images of strangely familiar objects, places, and people flashed across the screen, typically distorted through visual layering and colorful filters, and accompanied by the uncanny sounds of the synthesizer.
In one image depicted on the screen, a video of pedestrians walking across a street became distorted in image and color, reminiscent of film director Wong Kar-wai's characteristic step printing technique within his films in which characters move in and out of focus amidst a blurred, otherworldly background. In further images, ACVilla shows the audience strange visual perspectives, with her camera positioned through a storm grate, or an interesting collage of natural and industrial settings, as if inviting viewers to see an artistic bridge between human's urban developments and the natural world.
In this sense, the performance began to speak to its namesake, Obstacle Illusion. Thollem described his vision regarding titling the show, noting, "The title came about because of optical illusion, of course, but I felt this title responds to the fact that many of our obstacles are in our minds, or others."
Fabio Rambelli, Chair of UCSB's Religious Studies and co-sponsor of the event, further elucidated on this idea, noting, "The way I see Obstacle Illusion is that, as the title says, what we often see as obstacles are just illusions that can be overcome by our individual and collective effort. It reminds me of something that writer Ursula LeGuin said, that 'revolution cannot be made … we have to become the revolution.' The music and the images evoke all kinds of emotions, but the message of the work is powerful and positive."
Throughout the unconventional perspectives displayed within ACVilla's visual media, as well as Thollem's performance of unusual and often unsettling noises, the idea that a simple shift in view and perspective might be enough to resolve any obstacles one might have.
Just like any piece of art, Obstacle Illusion invites a completely subjective experience for everyone who attends. ACVilla noted the beauty of this in her statement, "I would like to encourage audience members to come with someone. This way, they will be able to talk about the performance at a later time. Those who come alone often tell us afterwards that they wish they had brought their friends with them."
Although Obstacle Illusion and Thollem's original songs certainly produced feelings of tension within the audience through the auditory and visual intensity of the media, the performance as a whole was utterly unique, inviting a deep sense of reflection to those who attended, and spoke to modern social issues.
The beauty of the event comes from its intriguing ambiguity. Keep a look out for Thollem and ACVilla's further work as they bring aspects of the unknown to audiences, and challenge the norms of what typical performances entail.
---
Support the Santa Barbara Independent through a long-term or a single contribution.
---