Transportation
Road Work Switches to Northbound Side of Highway 101 Between Ventura and Carpinteria
Repaved Southbound Lanes Reopen This Saturday with Northbound Rerouted to Two Bypass Lanes Starting April 29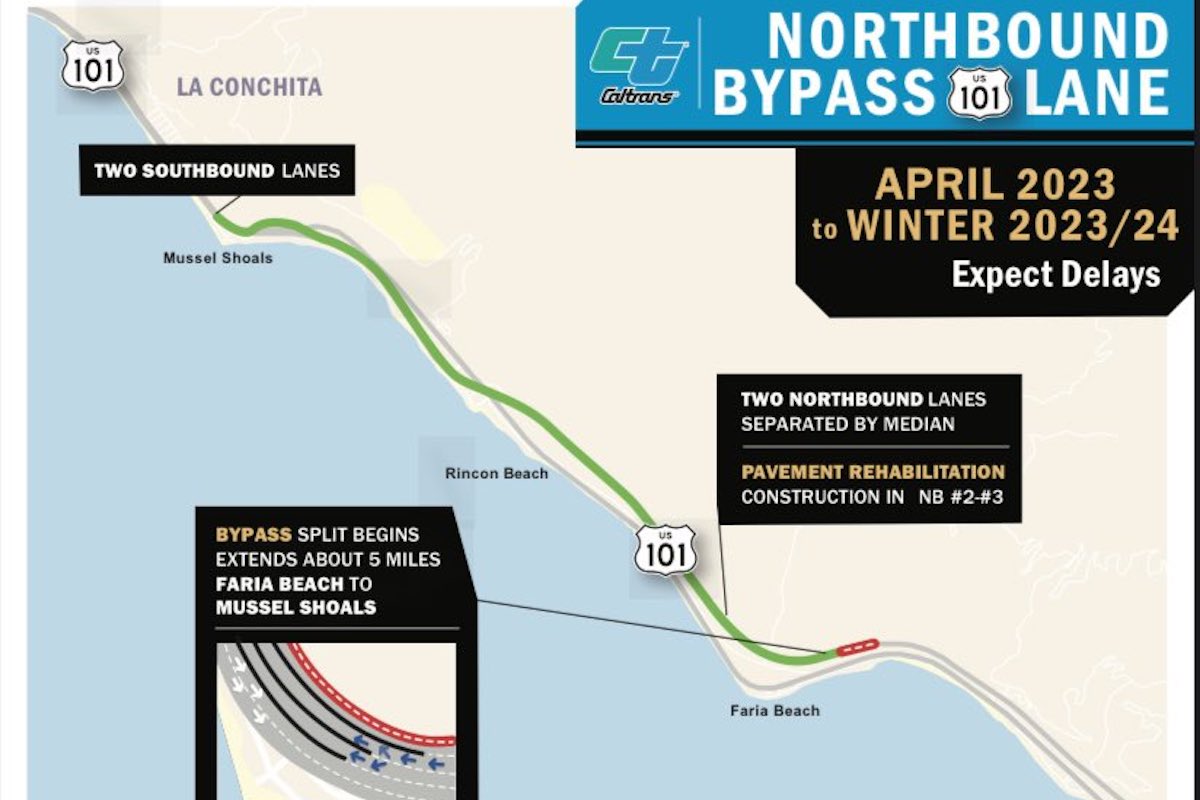 "Motorists can expect delays." That's the message from Caltrans to the roughly 15,000 who commute between Ventura and Santa Barbara counties as its major improvement project on Highway 101 between Carpinteria and Ventura shifts from the southbound side of the freeway to the northbound starting this weekend.
Back on April 22, 2022, Caltrans shut down the two right-hand southbound lanes of the 101 between Mussel Shoals and Faria Beach, bifurcating the southbound into two separate, K-rail-guarded lanes — one of which is currently occupying the fast lane of the northbound freeway. This Saturday, April 22 —exactly one year to the day of their initial closure — the newly repaved right-hand lanes of the southbound 101 will reopen as Caltrans' attention now turns to the northbound 101 and its two right-hand lanes along the same 4.3-mile corridor of the freeway.
Those two northbound lanes will remain open another week as Caltrans closes the two inner bypass lanes on both sides of the median for repair work. But on Saturday, April 29, the right-hand northbound lanes will be closed behind K-rails as Caltrans reopens the two bypass lanes for northbound traffic, including the fast lane of the southbound freeway. If the past year has been any indication, the rerouted lanes are sure to cause confusion and extended commutes for northbound motorists navigating the new traffic pattern and its narrowed lanes.
There is light at the end of the K-railed tunnel for traffic-fatigued commuters, however: This is the third and final stage of Caltran's $48 million U.S. 101 Pavement Rehabilitation Construction Project — which includes $8.7 million in funding from Senate Bill 1. According to Caltrans, the project is currently 60 percent done and is expected to be 100 percent complete by winter 2023 or early 2024. Once completed, "The rehabilitation will smooth the roadway, extend the highway life by as many as 40 years, and enhance traffic safety with highly reflective lane stripes and road markers," according to Caltrans' project page.
As always, Caltrans reminds motorists to "Slow for the Cone Zone" and drive 55 mph through any road works zones. For updates on road conditions, visit quickmap.dot.ca.gov.