2021 Virtual SB Annual Community Seed Swap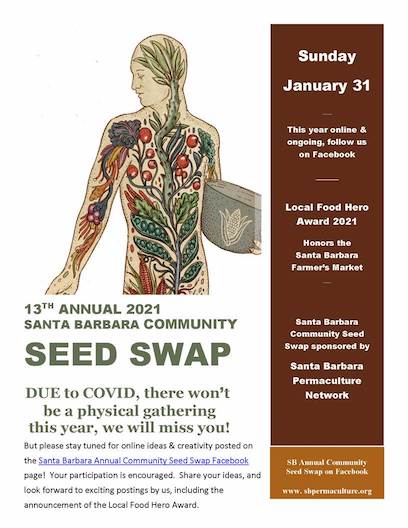 Best Bet
Community
Environment
Facebook Live
Facebook Live
**Events may have been canceled or postponed. Please contact the venue to confirm the event.
Date & Time
Fri, Jan 29 All day
Sat, Jan 30 All day
Sun, Jan 31 All day
Sun, Feb 28 All day
13th Annual Santa Barbara Community Seed Swap
Virtual & Online for 2021
 A celebration to bring seeds & people together
 An annual community event hosted by:
Santa Barbara Permaculture Network 
Santa Barbara Permaculture Network adapts to the realities of COVID 19 by sponsoring the 13th Annual Community Seed Swap online for 2021!
The Seed Swap is s local community event attended by hundreds every year, that was originally inspired by the International Seed Swap Day that takes place yearly on the last Sunday of January.
Although we can't gather for the fun event in person, we will host a month long virtual experience starting on January 31, that will feature interesting seed saving projects, some of our favorite speakers & exhibitors from past events, a community seed grow out project, and suggestions on how to share seeds in your own neighborhoods.  It will be interactive, and all are encouraged to participate!   All activities will take place on the SB Annual Community Seed Swap facebook page, and will start on January 31.
In times of peril we think of planning our gardens for abundance & sharing.  Our first community seed grow out project will feature the super productive "Potimarron" squash, that can be grown easily, is a small compact size, can be stored up to 12 months — making it excellent for home & feeding families, but also sharing with foodbanks & soup kitchens.
Once again as in past years, we honor a Local Food Hero, this year the award goes to the Santa Barbara Farmers Marketand the exemplary growers who have kept their community fed & nourished with the highest quality food for many decades, including this year when the pandemic made locally grown food more important than ever.  We deeply thank and honor them for their stewardship of the land and commitment to providing a healthy and viable foodshed for the Santa Barbara community.

For more Information, please contact: Margie@sbpermaculture.org, (805) 962-2571, or visit our website at: www.sbpermaculture.org
Seeds, they are our past, they are our future.  In past times, they were skillfully adapted to climate and location. Join us as we encourage our community to save and grow out seeds specific to our own climate and place, while honoring our ancestors gift & legacy.