2022 Rincon Classic- Onda Tequila Seltzer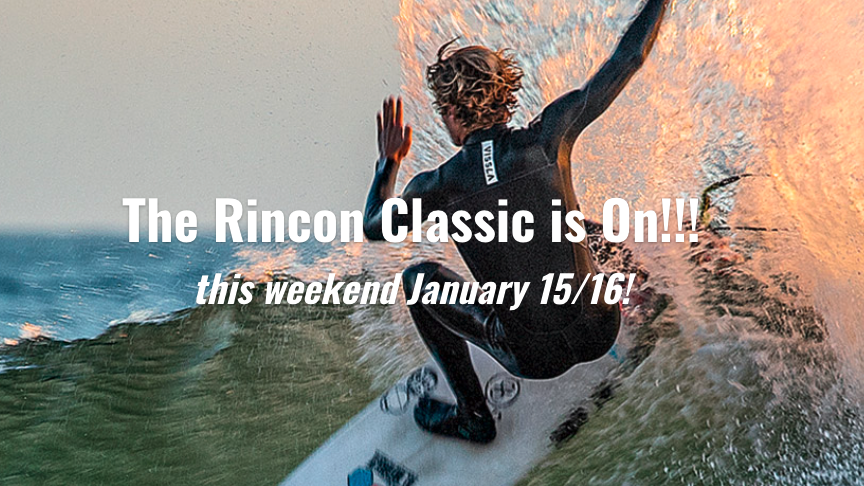 Drink
Sports
Rincon Bluffs Preserve
**Events may have been canceled or postponed. Please contact the venue to confirm the event.
Date & Time
Sat, Jan 15 6:45 AM - 8:30 PM
Address (map)
172 Rincon Point Rd, Carpinteria, CA 93013
ONDA TEQUILA SELTZER PRESENTS THE PADARO GRILL CLASSIC AWARDS CEREMONY FOR THE 40TH ANNUAL RINCON CLASSIC
THE RINCON CLASSIC IS ONE OF THE MOST ANTICIPATED EVENTS OF THE WINTER, AND AFTER A YEAR HIATUS, WILL BE BACK IN PERSON FOR ITS 40TH YEAR.
ONDA TEQUILA SELTZER, A LOCAL SOCIAL TEQUILA SELTZER BRAND, IS AN OFFICIAL SPONSOR OF THE EVENT.  IN ADDITION TO HAVING A PRESENCE ON THE BEACH WHERE THE BEST SURFERS FROM THE 805 WILL BE COMPETING, THE BRAND IS ALSO THE PRESENTING SPONSOR AT THE EVENT'S "CLASSIC SUNDAY" AWARDS CEREMONY AT PADARO BEACH GRILL.
TICKETS ARE $10 FOR FOOD AND DRINK, WITH PROCEEDS GOING TO THE SURF HAPPENS FOUNDATION TO RAISE FUNDS SUPPORTING AT-RISK YOUTH AND KIDS SURVIVING CANCER.
ONDA IS MADE WITH BLANCO TEQUILA FROM A WOMAN-OWNED DISTILLERY IN JALISCO, MEXICO, REAL FRUIT JUICE, AND SPARKLING WATER.  INSPIRED BY THE SURF STYLE OF THE 90S, THE BRAND IS INFUSED WITH THE SPIRIT OF ENDLESS SUMMER.  AVAILABLE IN GRAPEFRUIT, LIME, WATERMELON, AND BLOOD ORANGE, FEATURED IN THE CLASSIC COLLECTION, AS WELL AS MANGO, PASSION FRUIT, PINEAPPLE, AND STRAWBERRY, AVAILABLE IN THE PARADISE COLLECTION, EACH CAN IS 5% ABV, 100 CALORIES, ZERO SUGAR, 1G CARB OR LESS AND NATURALLY GLUTEN-FREE.
FOR A COMPLETE LIST OF DIVISIONS, ONLINE REGISTRATION, SPECIALTY AWARDS, AND EVENTS PLEASE VISIT RINCONCLASSIC.COM.
WHAT: THE RINCON CLASSIC AND THE PADARO GRILL CLASSIC AWARDS CEREMONY PRESENTED BY ONDA
WHERE: RINCON POINT AND PADARO BEACH GRILL
WHEN: SATURDAY, JANUARY 15th, AND SUNDAY, JANUARY 16th
              6:45 AM-5:30 PM EACH DAY (CONTEST)
              6:30 PM-8:30 PM SUNDAY (AWARDS CEREMONY)