A Summer Zoom Lecture Series: The Architecture of India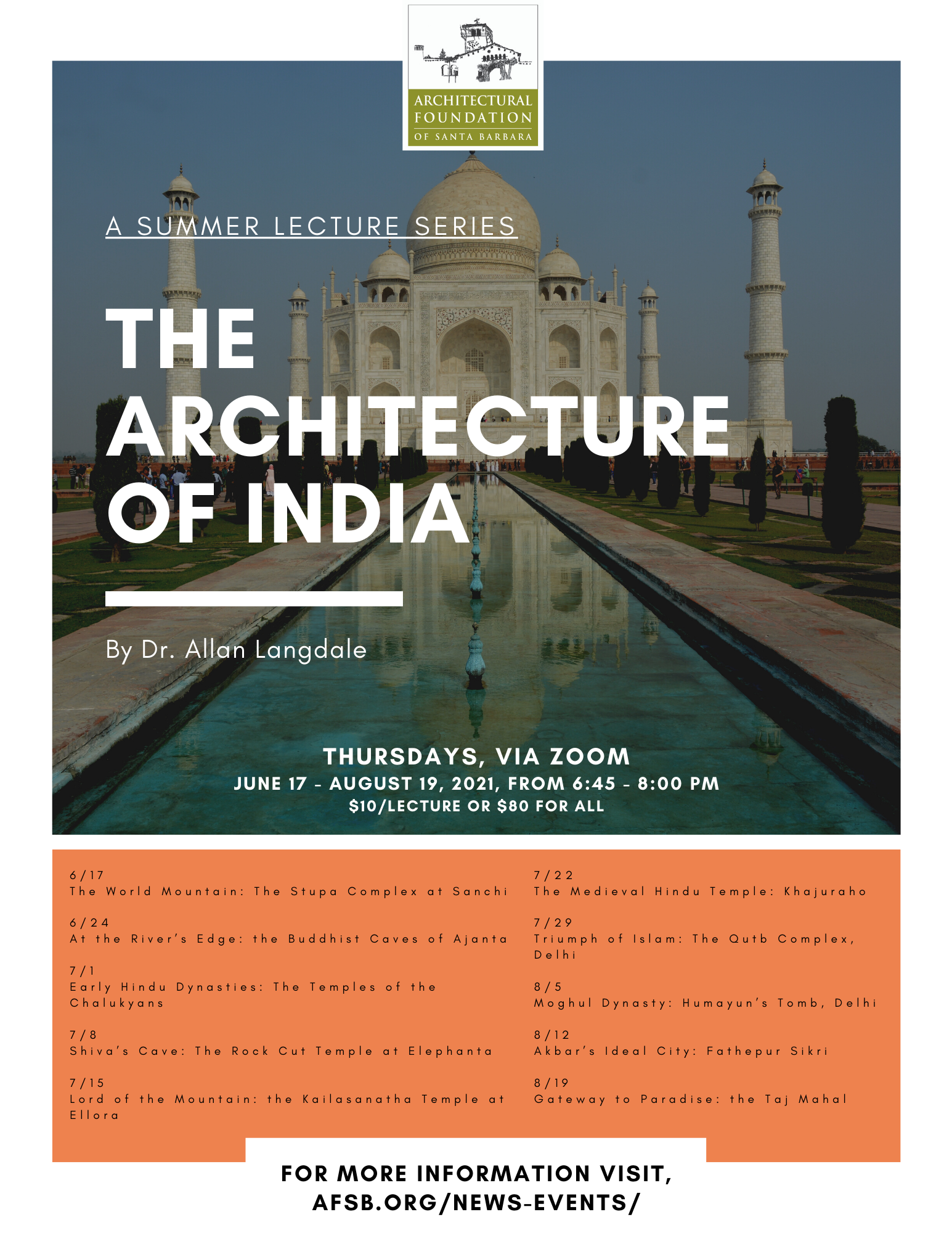 Arts
Class/Workshop
College/University
Education
Lecture
Zoom
**Events may have been canceled or postponed. Please contact the venue to confirm the event.
Date & Time
Thu, Jun 17 6:45 PM - 8:00 PM
Thu, Jun 24 6:45 PM - 8:00 PM
Thu, Jul 01 6:45 PM - 8:00 PM
Thu, Jul 08 6:45 PM - 8:00 PM
Thu, Jul 15 6:45 PM - 8:00 PM
Thu, Jul 22 6:45 PM - 8:00 PM
Thu, Jul 29 6:45 PM - 8:00 PM
Thu, Aug 05 6:45 PM - 8:00 PM
Thu, Aug 12 6:45 PM - 8:00 PM
The Architectural Foundation of Santa Barbara is thrilled to welcome back Art Historian, Dr. Allan Langdale. For the first time, an extended summer lecture series, The Architecture of India. This 10 lecture series will be held weekly on Thursdays via ZOOM, June 17 through August 19, from 6:45 – 8:00 PM. $10 per lecture or $80 for all ten. Visit our website for details. All are welcome.
This lecture series focuses on several monuments and architectural complexes in India, surveying the sub-continent's Buddhist, Hindu, and Islamic traditions. The material will be presented in chronological order, spanning dates from the 2nd century BCE to the sixteenth century.
The topics Dr. Langdale will cover in chronological order are:
1. The World Mountain: The Stupa Complex at Sanchi. Jun 17
2. At the River's Edge: The Buddhist Caves of Ajanta. Jun 24
3. Early Hindu Dynasties: The Temples of the Chalukyans. Jul 1
4. Shiva's Cave: The Rock Cut Temple at Elephanta. Jul 8
5. Lord of the Mountain: The Kailasanatha Temple at Ellora. Jul 15
6. The Medieval Hindu Temple: Khajuraho. Jul 22
7. Triumph of Islam: The Qutb Complex, Delhi. Jul 29
8. Moghul Dynasty: Humayun's Tomb, Delhi. Aug 8
9. Akbar's Ideal City: Fathepur Sikri. Aug 12
10. Gateway to Paradise: The Taj Mahal. Aug 19
Allan Langdale has had seasons of powerful lectures with the Architectural Foundation of Santa Barbara, including several sold-out lectures. He has his Ph.D. in art history from UCSB and currently teaches at UC Santa Cruz. He also works in the tourism industry for Smithsonian Journeys and Zegrahm Expeditions, doing about a dozen trips a year. Allan is the author of several articles and books, including Palermo: Travels in the City of Happiness (2014) and The Hippodrome of Istanbul / Constantinople (2020). His travel blog can be found at 'Allan's Art and Architecture Worlds': https://allansartworlds.sites.ucsc.edu/
The Architectural Foundation of Santa Barbara has been dedicated to expanding our community's awareness, appreciation, and education of the built environment since 1983. The AFSB Gallery is located in the historic Acheson House at the corner of Garden and East Victoria Streets in Santa Barbara. Regular gallery hours are Saturdays from 1:00 to 4:00 pm and weekdays by appointment.