AHA! for Teens After-School Spring Groups!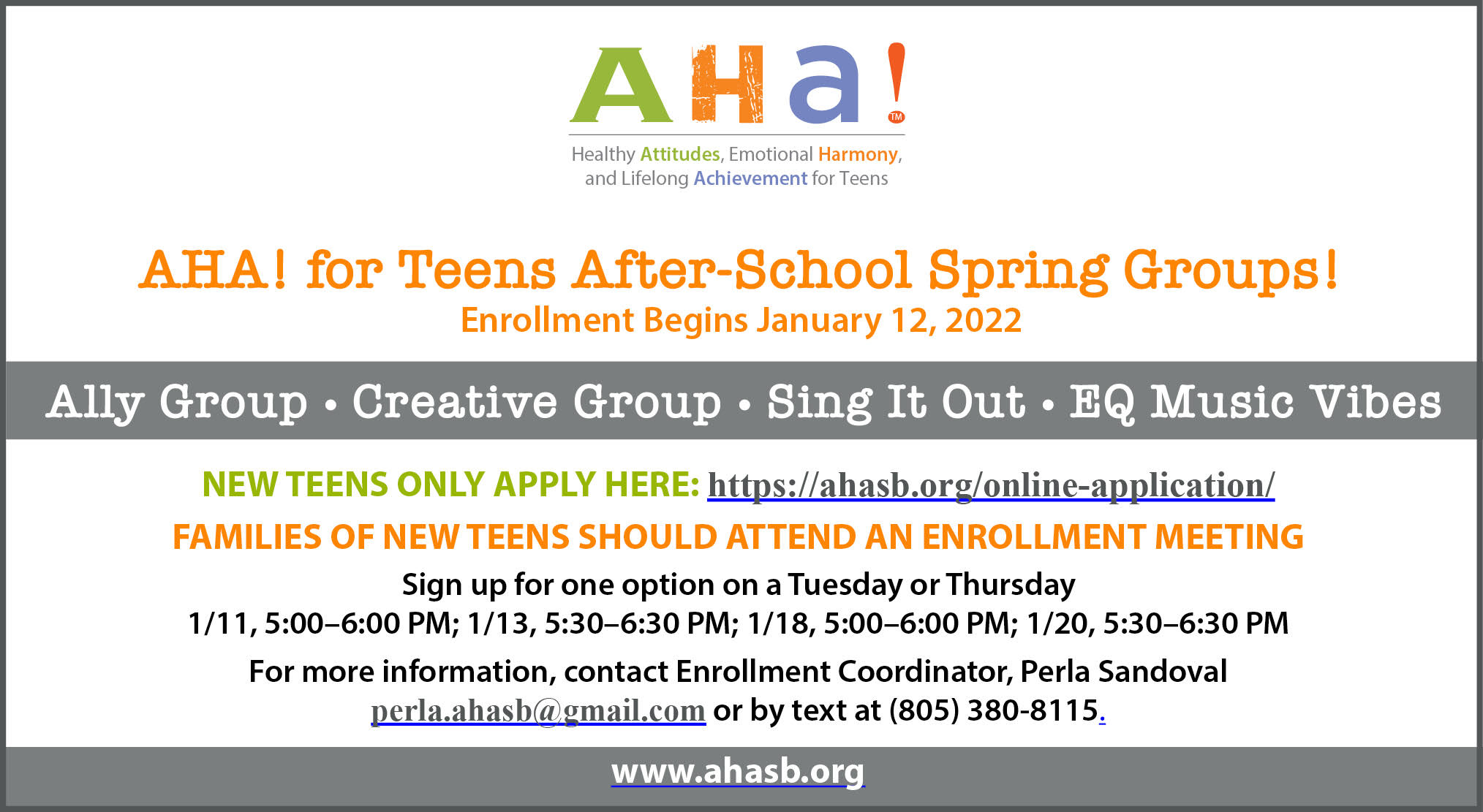 Health & Wellness
Non Profit
Teens
AHA! Treehouse
**Events may have been canceled or postponed. Please contact the venue to confirm the event.
Date & Time
Tue, Jan 11 5:00 PM - 6:00 PM
Thu, Jan 13 5:30 PM - 6:30 PM
Tue, Jan 18 5:00 PM - 6:00 PM
Thu, Jan 20 5:30 PM - 6:30 PM
AHA! is offering after-school programs this Spring in person. Our programs are a fun place for teens to connect and make friends while developing social emotional and leadership skills. Your teen can register by filling out an application at: https://ahasb.org/
Enrollment Begins January 12, 2022
NEW TEENS ONLY APPLY HERE: https://ahasb.org/online-application/
FAMILIES OF NEW TEENS SHOULD ATTEND AN ENROLLMENT MEETING
Sign up for one option on a Tuesday or Thursday: 1/11, 5:00–6:00 PM; 1/13, 5:30–6:30 PM; 1/18, 5:00–6:00 PM; 1/20, 5:30–6:30 PM
Enrollment meetings are in person at 1207 De La Vina Street.
Not sure whether you want to join? Attend an enrollment meeting to learn more!
For more information, contact Enrollment Coordinator, Perla Sandoval
perla.ahasb@gmail.com or by text at (805) 380-8115.