Benefit Art Show to Support UC Reserve System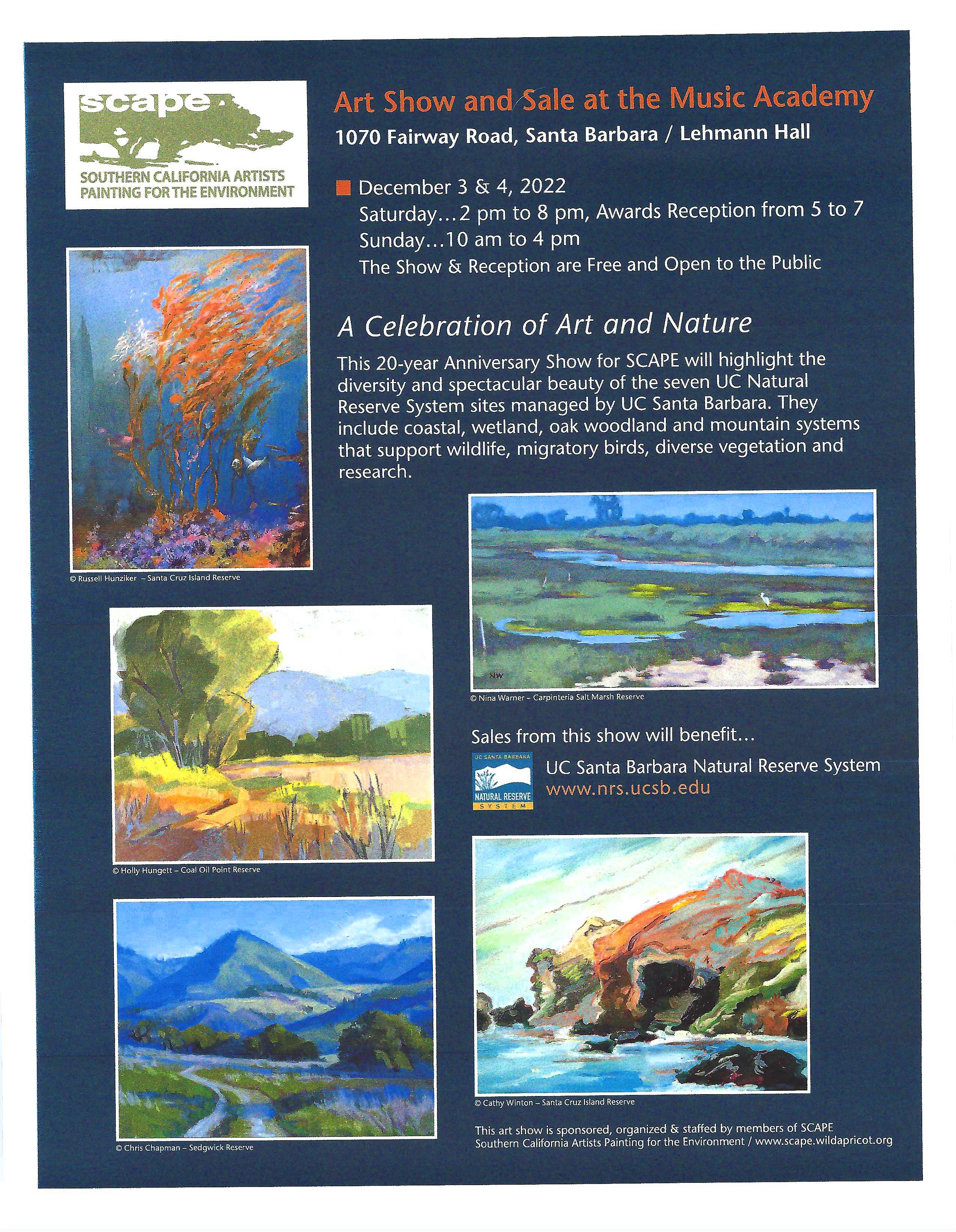 Arts
Benefit/Fundraiser
Best Bet
**Events may have been canceled or postponed. Please contact the venue to confirm the event.
Date & Time
Sat, Dec 03 2:00 AM - 8:00 PM
Address (map)
1070 Fairway Road. Santa Barbara, CA.
ARTISTS CREATE BEAUTIFUL ARTWORKS TO SUPPORT THE UC NATURAL RESERVE SYSTEM
WILL YOU HELP?
A CELEBRATION OF ART AND NATURE
S.C.A.P.E. is a group committed to helping to raise money for non-profit environmental organizations through a variety of events.
On December 3rd and 4th, 2022, S.C.A.P.E. artists will host a show and sale at the Music Academy in Santa Barbara, CA,   (1070 Fairway Rd., Santa Barbara, CA 93108)
The exhibit is free and open to the public.  Sales will benefit the UC Reserve System.
This 20-year Anniversary Show will highlight the diversity and spectacular beauty of the seven UC Natural Reserve System sites managed by UC Santa Barbara.  They include coastal, wetland, oak woodland and mountain systems that support wildlife, migratory birds, diverse vegetation, and research.
The Santa Barbara Natural Reserve System was established in 1965, the UC Natural Reserve System features 41 reserves and field stations, representing California's diverse ecological regions.
This system provides an unparalleled platform for research, education, and stewardship of nature with access to millions of acres of public land. The seven reserves managed by UC Santa Barbara represent a wide variety of ecosystems and contribute to the understanding and wise stewardship of the earth with active programs to support inspiring research, university education, and public outreach at their sites.
SEE ATTACHED POSTCARD FOR TIMES, ADDRESS AND ADDITIONAL DETAILS.
###