Better Angels Red/Blue Workshop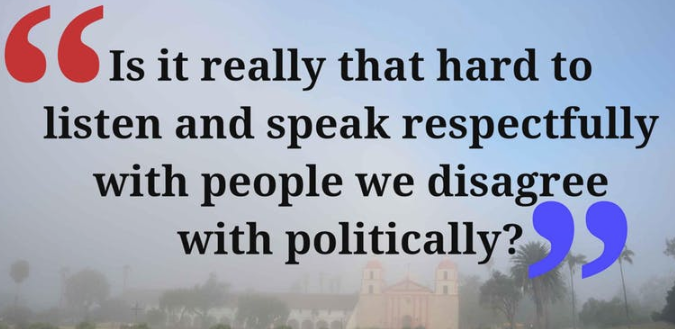 Best Bet
Class/Workshop
Political
Oceanhills Church
**Events may have been canceled or postponed. Please contact the venue to confirm the event.
Date & Time
Sat, Jul 20 10:00 AM - 5:00 PM
Address (map)
821 State St. Suite B, Santa Barbara CA 93101
Please join us for our second Santa Barbara workshop that will bring together Republican-leaning and Democratic-leaning citizens for a day of structured conversations, with a focus on listening and reflecting rather than debating and persuading.
Goals:
To better understand the experiences and beliefs of those on the other side of the political divide.
To seek out areas of common ground in addition to acknowledging and respecting differences.
To gain insights that might help to heal the increasing polarization in our community and the nation.
There are two ways to join a Red/Blue Workshop: as a Participant or as an Observer/Alternate. Participants will engage in small- and large-group discussions throughout the day with individuals of both the same and different political persuasions. Participants must identify as "red" (Republican or leaning conservative) or "blue" (Democrat or leaning liberal). We will strive for an equal balance of red and blue participants: 5 to 7 people on each side.

Observers/Alternates can identify as red, blue or independent (not leaning either way). They will not participate in the discussions directly but will have the opportunity to watch and listen throughout the day, as well as to join the participants for conversations during lunch and break times. Observers/Alternates should be ready to step in and participate as their "color" in the event of participant cancellations. Observer/Alternates have found observing a workshop to be amazingly valuable. (A note about food: coffee will be available throughout the day, and the organizers will provide lunch for participants (but not observers.) The location is downtown with access to plenty of restaurants.)