Brenda French Art Auction and Sale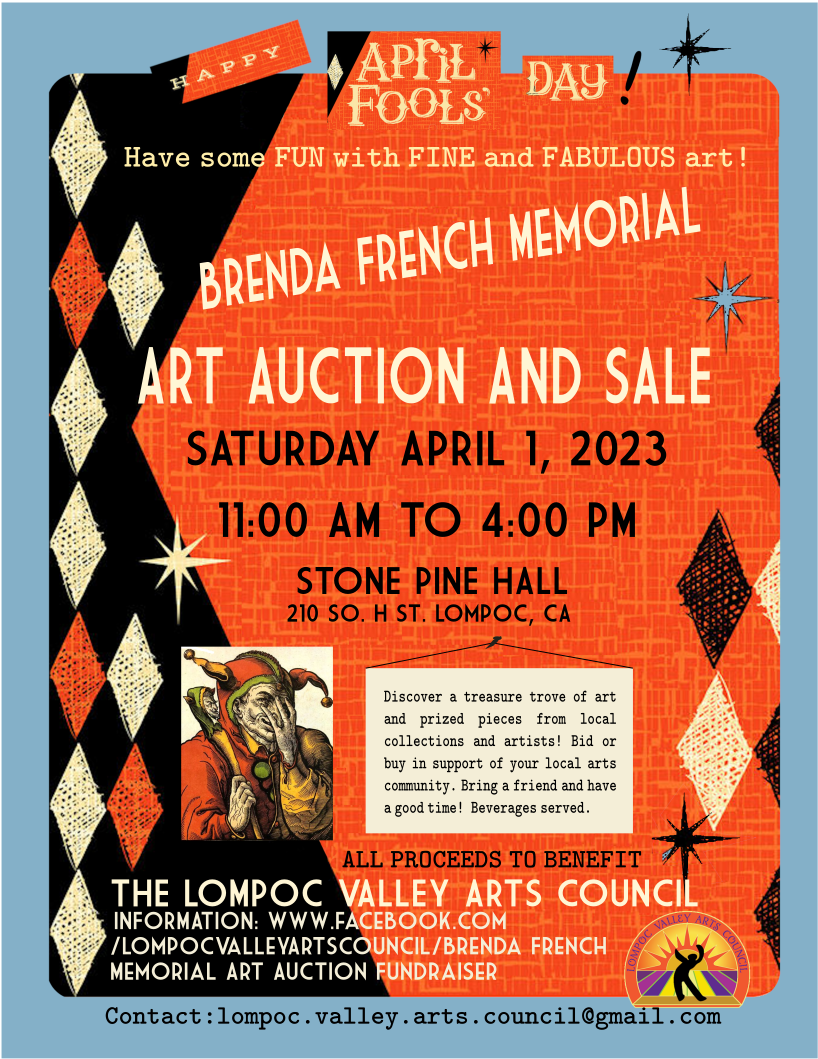 Arts: Performing/Visual
Stone Pine Hall
**Events may have been canceled or postponed. Please contact the venue to confirm the event.
Date & Time
Sat, Apr 01 11:00 AM - 4:00 PM
Address (map)
Stone Pine Hall 210 So. H St., Lompoc, CA 93436
Have some fun with fine and fabulous art on April Fools Day, 2023. The Lompoc Valley Arts Council is sponsoring the "Brenda French Memorial Auction and Sale" on Saturday, April 1, 2023 in Stone Pine Hall, 210 So. H St., Lompoc. Doors will open at 11:00 am and close at 4:00 pm. Works of art from the collection of Brenda French, along with fine art from professional artists throughout Santa Barbara County, will be on view. The silent auction and sale will also feature prized collectibles of vintage origin. Beverages will be available.
Brenda French was a Lompoc Unified School District arts instructor and ardent supporter of the arts groups of Lompoc and Santa Barbara County, who passed away in 2019. Works from her art collection were donated to the Lompoc Valley Arts Council. The collection is augmented by pieces donated by our arts community.
All proceeds will benefit the Lompoc Valley Arts Council, an affiliation of Lompoc arts and culture organizations, who work together to maintain the arts and culture of the Lompoc Valley. Bring a friend, bring a group of friends, in support your local arts community!
For more information, email <lompoc.valley.arts.council@gmail.com> or view our pages online at www.facebook.com/LompocValleyArtsCouncil/BrendaFrenchMemorialArtAuctionFundraiser
Submitted by Elizabeth Monks Hack
LOMPOC VALLEY ARTS COUNCIL MISSION
The Lompoc Valley Arts Council seeks to serve the arts community of Lompoc as a representative body of affiliate arts and culture organizations, businesses and individuals. We are dedicated to the principle that the arts are essential to the human spirit, healthy communities and economic success. It is our goal that arts and culture opportunities remain a fundamental aspect of our community, accessible to all its citizens.
We promote and facilitate arts and culture projects, events, collaboration and communication through quarterly meetings, advice and assistance through our 501-3(c) status, and civic action.