Come Join us for Thanksgiving!!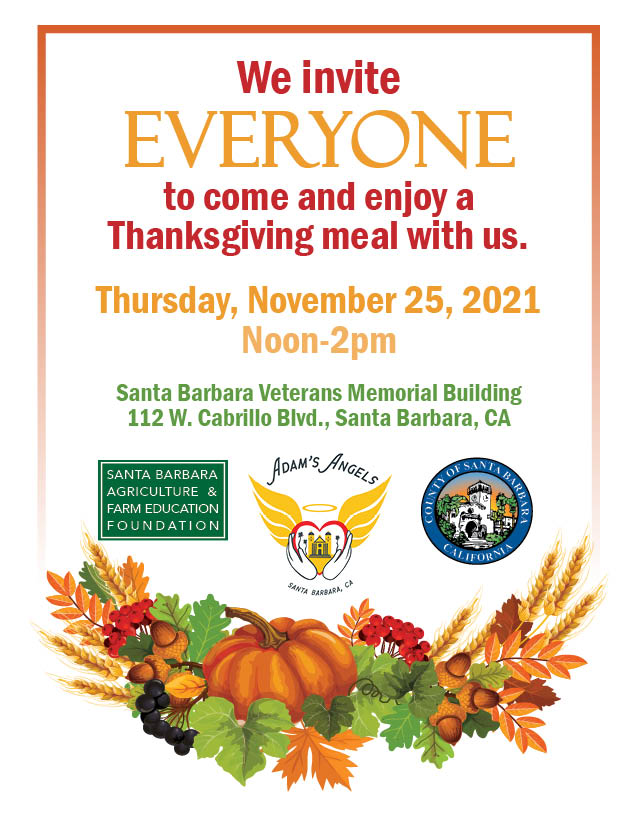 Thanksgiving
Veterans' Memorial Bldg. S.B.
**Events may have been canceled or postponed. Please contact the venue to confirm the event.
Date & Time
Thu, Nov 25 12:00 PM - 2:00 PM
Venue (website)
Veterans' Memorial Bldg. S.B.
We invite EVEYONE  to come and enjoy a Thanksgiving Meal with us!!
We are working alongside the County of Santa Barbara and Leslie Person Ryan who created the Non-Profit organization – Santa Barbara Agriculture and Farm Education, as well as owning the company, Sweet Wheel Farms and Flowers (an all organic, locally sourced produce stand in Summerland).
Leslie Person Ryan and her team, along with Adam's Angels volunteers will be preparing meals for the Thanksgiving event.
The event will be held at the Veterans Memorial Building on 112 West Cabrillo blvd. from 12-2.  However in the days leading up to the event we will be hard at work preparing and delivering meals to those who can not make it.