Gypsy Meets Choro Performance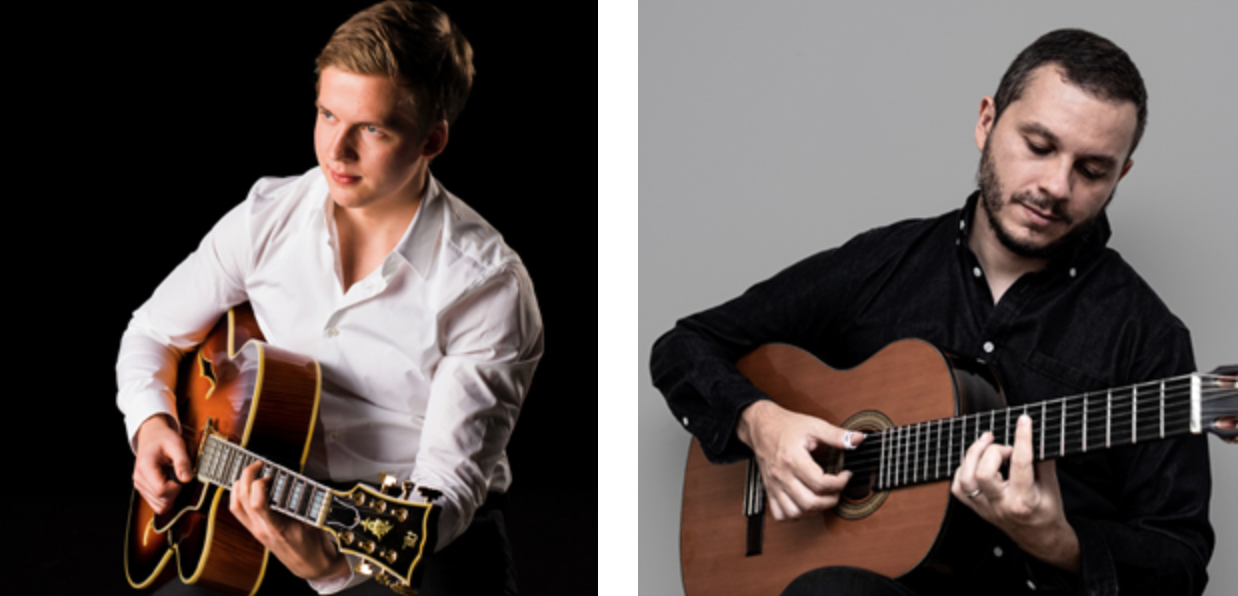 Beatrice Wood Center for the Arts
**Events may have been canceled or postponed. Please contact the venue to confirm the event.
Date & Time
Sat, Sep 17 5:00 PM - 7:00 PM
Address (map)
8585 Ojai-Santa Paula Road, Ojai, California 93023
Venue (website)
Beatrice Wood Center for the Arts
The Beatrice Wood Center for the Arts is pleased to present a performance featuring Finnish guitarist Olli Soikkeli and Italian-Brazilian 7-string guitarist Cesar Garabini. The duo offers up an exquisite duet paring swinging Django Reinhardt-style gypsy jazz guitar and spicy choro style jazz guitar.
Olli Soikkeli was born in Nurmes, Finland in 1991. He started playing guitar at age of 12. After a few years of playing, Olli was introduced to the music of great Django Reinhardt, and Gypsy Jazz has been Olli's main focus ever since.
Gypsy Jazz is a blend of traditional Romani music and swing jazz that originated in Paris, France in the early 1930s. It was first popularized by the Quintette du Hot Club de France, led by guitarist Django Reinhardt and violinist Stéphane Grappelli. Guitar is the lead instrument, played with a percussive rhythm. Django Reinhardt was one of the first major jazz talents to emerge in Europe and is considered the father of Gypsy jazz musicians.
Soon after discovering Django Reinhardt and Gypsy Jazz, Olli was playing in jazz clubs and festivals all around Finland. After touring all around Europe with musicians such as Paulus Schäfer and Arnoud Van Den Berg, Olli decided to move to New York City in 2014. Olli has played legendary venues such as Birdland Jazz Club, the Blue Note and the Lincoln Center. Despite his young age he's already played with stars such as Bucky Pizzarelli, Stochelo Rosenberg, Tommy Emmanuel, Andreas Öberg, Cyrille Aimee, Anat Cohen, Antti Sarpila, and Marian Petrescu. Olli Soikkeli was part of the recent International Guitar Night 20th Anniversary Tour.
Cesar Garabini was born in 1987 in Minas Gerais. He is an Italian-Brazilian 7-string guitarist that specializes in Choro, the predecessor to the well-known Brazilian music styles Samba and Bossa Nova. Choro began in the 1890s as a mix of European classical and folk with African rhythms, its popularity began in the 1900s and continues to present day.
Choro's roots came from a remarkable blend of musical genres. In the 1890s, musicians in Rio de Janeiro that were already influenced by African beats such as lundu and batuque began to experiment with other music genres, such as polka and waltz. The result was a new genre of music that incorporated European and African music cultures and strongly emphasized instrumentals rather than vocals. It is recognized as a uniquely Brazillian form of jazz that developed over the same time period in the 19th century as Ragtime and Dixieland in the States.
Music became Cesar Garabini's passion upon first hearing the sound of the guitar. At 13, while walking home from school he saw two musicians playing classical guitar and it inspired him to take lessons. A citizen of the world, Cesar has lived in Brazil, Italy, and the United States, each influencing his playing and growth as a musician, teacher, and performer. In 2009 Cesar started putting together Samba, Bossa Nova, and Chorinho bands, performing in Florence and other regions of Italy. In 2011 he moved to New York City to expand his musical knowledge.
Cesar, who also plays many other styles including Samba, Bossa Nova, Waltz, American Jazz, and Portuguese Fado, has performed at Jazz at Lincoln Center, Jazz Standard, Birdland, Columbia University, and the Museum of Modern Art. He has worked with Anat Cohen, Olli Soikkeli, and Tim Connell and has been featured on NPR, NBC, and Global.
Presented by Cord International Media Group
Tickets $25.
Don't miss this opportunity to hear these two exceptional guitarists performing together at the Beatrice Wood Center for the Arts!