In-Person: ROCKTOBER-13 bands-Free at Earl Warren Showgrounds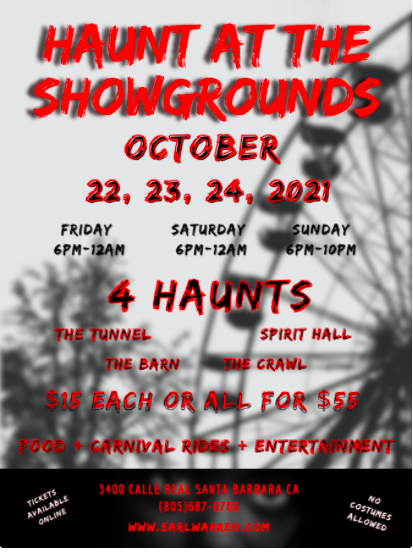 Community
Halloween
Music
Earl Warren Showgrounds
**Events may have been canceled or postponed. Please contact the venue to confirm the event.
Date & Time
Fri, Oct 22 6:00 PM - 11:00 PM
Address (map)
3400 Calle Real Santa Barbara CA 93105
READY TO ROCKTOBER AND ROLL! Music fans come on down to Earl Warren Showgrounds October 22, 23, and 24, 2021 for a FREE live concert with 13 bands featuring Drummerheads, exporter, Field Daze, Fin's Mellow Co. The Framers, Happy Medium, Liquid Blanket, Lizardsmouth, Loc Dawgs, Modern Genre, Odd Army, Sara Pierce, and The Takeouts.
Showgrounds open at 6 PM. FREE entry to the showgrounds, concert, free parking. Food trucks, carnival bites, and beer garden.
While you are at the Showgrounds check out our 4 haunted houses and carnival rides.
Tickets are required for the haunted houses (Haunts) and carnival rides.
Carnival hours:  Friday, October 22, 6 PM-12 midnight, Saturday, October 23, 6 PM-12 midnight, Sunday, October 24, 6 PM-10 PM
 Four separate heart-pounding, hair-raising haunted house style attractions & carnival rides
Face masks will be required indoors. NO COSTUME MASKS OR COSTUMES ARE ALLOWED.
4 HAUNTS – The Tunnel ● Spirit Hall ● The Barn ● The Crawl
Tickets required. $15 for one haunt per person or $55 for all four haunts per person.
Haunts are recommended for ages 13 & up. We suggest that 12-year-olds & under are accompanied by an adult. Covid-19 guidelines will be followed and face masks will be required indoors. NO COSTUME MASKS OR COSTUMES ARE ALLOWED. Bring your friends to give yourself a better chance of making it out of the Haunts.
The Tunnel – Walk into the unknown…through the dark and ominous tunnel.
     Spirit Hall – Beware of the unsettled spirits that won't leave the hall. Watch your back!
     The Barn – All the animals have fled the barn, WHY? Will you enter and find out?
The Crawl – Can you make it to the other side?
Carnival rides tickets are sold at kiosks throughout the Showgrounds.
Tickets for the Haunts are available at earlwarren.com (service fee applies) or at the door.
Earl Warren Showgrounds 3400 Calle Real, Santa Barbara CA 93105   (805) 687-0766