Trinity's Summer Speaker Series: Justice and Engagement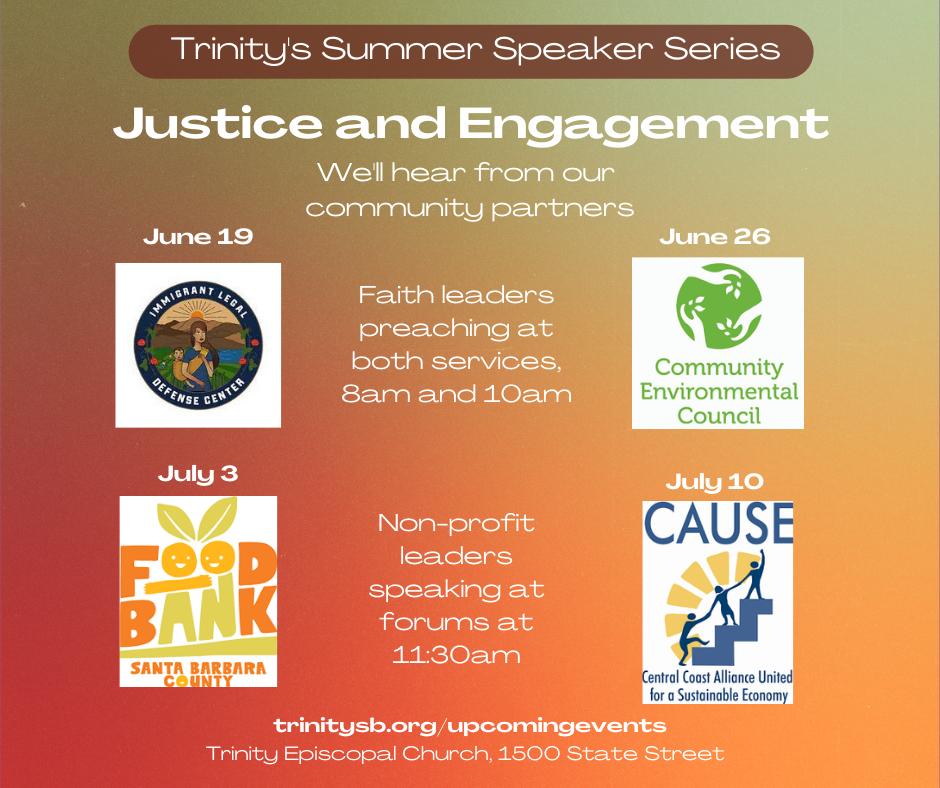 Trinity Episcopal Church
**Events may have been canceled or postponed. Please contact the venue to confirm the event.
Date & Time
Sun, Jun 19 10:00 AM - 12:30 PM
Sun, Jun 26 10:00 AM - 12:30 PM
Sun, Jul 03 8:00 AM - 12:30 PM
Sun, Jul 10 8:00 AM - 12:30 PM
Address (map)
1500 State Street, Santa Barbra CA 93101
JUSTICE AND ENGAGEMENT SUMMER SERIES
Hosted at Trinity Episcopal Church, 1500 State Street, Santa Barbara CA
Sunday June 19 Immigrant Defense
Speaker at 8 AM and 10 AM:  Rabbi Arthur Gross-Schaefer, Community Shul of Montecito and Santa Barbara "Welcoming New Neighbors"
Forum Host at 11:30 AM:  Immigrant Legal Defense Center, speaker Julissa Pena, ED ILDC
Sunday June 26 Environmental Protection
Speaker at 8 AM and 10 AM:  Rev. Scott Claassen, Vicar and Chaplain of St. Michael's University Church Isla Vista "Engaging in Environmental Protection"
Forum host at 11:30 AM:  Community Environmental Council, speaker Kathi Brennan King, Director of Climate Education and Leadership and Jen Hernandez, Climate Justice Manager
Sunday July 3 Food Insecurity
Speaker at 8 AM and 10 AM:  Rev. Thomas Voelp, Pastor, Trinity Lutheran Church "Food Insecurity"
Forum Host at 11:30:  Santa Barbara County Foodbank, speaker Erik Talkin, CEO SB Foodbank
Sunday July 10 Economic Challenges
Speaker at 8 AM and 10 AM:  Rev. Dr. David N. Moore, Jr. Lead Pastor, New Covenant Worship Center
"The needs of the poor and economically challenged"
Forum Host:  Central Coast Alliance United for a Sustainable Economy (CAUSE), speaker Zulema Aleman, Associate Organizing Director of programs
How do we encourage local acts of justice in our community? The public is invited to attend a free, informative summer speaker series at Trinity Episcopal Church, 1500 State St. in Santa Barbara. Do you ask yourself what you can do to support our local community needs?   Trinity Episcopal Church will host four informative/interactive sessions during the months of June and July 2022.  The "Justice and Engagement" summer series is open to all Santa Barbara area community members. Inter-faith and non-denominational voices are welcome
Join the conversation with community advocates, concerned residents, and local service providers. Sunday, June 19 and June 26, Sunday, July 3 and July 10, 2022. Be encouraged with value driven messages at the 8 am and 10am services. Share practical and effective local actions at an 11:30 am forum. The setting is casual and congenial, light refreshments will be provided. All sessions take place at Trinity Episcopal Church 1500 State St., Santa Barbara https://www.trinitysb.org/upcomingevents
We each see needs.  Together we can make a difference.
Worship services and forums will be available online via Zoom webinar