Lompoc 10 "Water" Show & Reception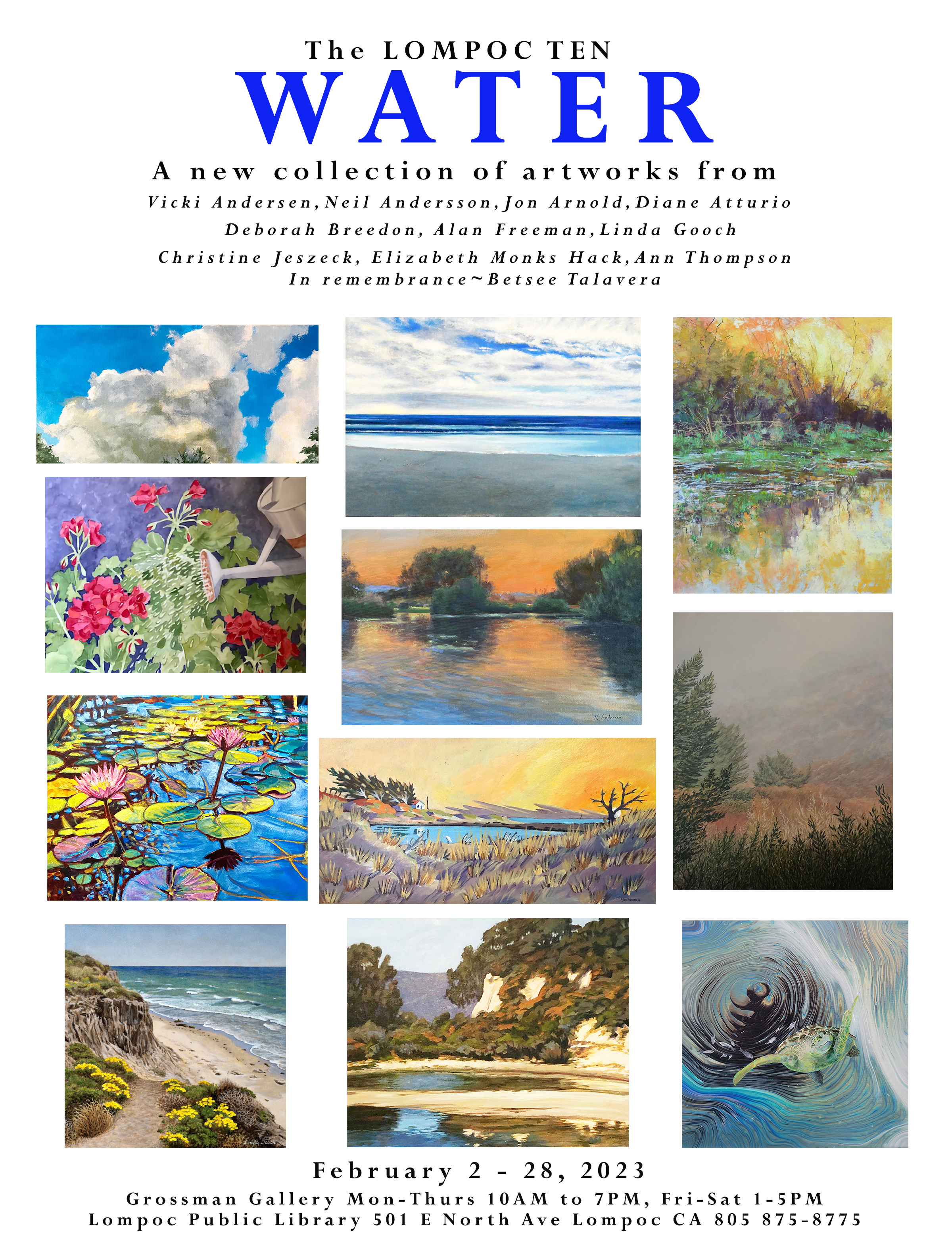 Art Gallery/Art Exhibit
**Events may have been canceled or postponed. Please contact the venue to confirm the event.
Date & Time
Sat, Feb 04 2:00 PM - 4:00 PM
Address (map)
501 E. North Ave., Lompox
The indomitable Lompoc Ten are back at the Lompoc Library's Grossman Gallery, after a Covid hiatus and the loss of some dear friends, with a seemingly seasonal theme of "Water".
Lompoc Ten is a group of local painters each with their own unique style, who have been interpreting the local scene and a variety of personal subjects for many years.  They meet throughout the year at each other's studios for discussion, critiques, eating and drinking, and mutual inspiration.
Members included are:  Vicki Andersen. Neil Anderrson, Jon Arnold, Diane Atturio, Deborah Breedon, Alan Freeman, Linda Gooch, Chris Jeszeck, Elizabeth Monks Hack, Ann Thompson, and the late Betsee Talavera.
The "Water" show runs from Feb. 2nd to Feb. 28th, 2023.  An opening reception will be held on Saturday, Feb. 4th from 2-4pm.  There will be additional pieces available on that day only.  Public is invited to attend.
The Grossman Gallery is located in the Lompoc Library, 501 E.North Ave., Lompoc, Ca.  Library hours are Monday-Thurs., 10am-7pm, Friday – Sat. 1-5pm.