Loquita's Fiesta Party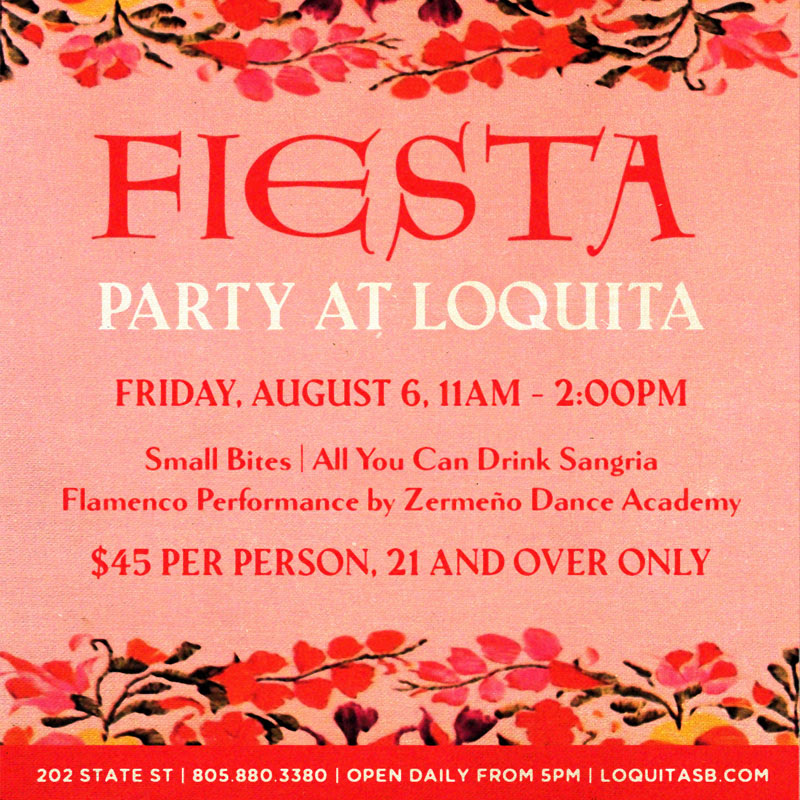 21 and over
Best Bet
Fiesta
Food & Drink
Loquita
**Events may have been canceled or postponed. Please contact the venue to confirm the event.
Date & Time
Fri, Aug 06 11:00 AM - 2:00 PM
Address (map)
202 State Street Santa Barbara CA. 93101
CELEBRATE THE SPIRIT OF FIESTA AT LOQUITA!
Join us on Friday, August 6 from 11am to 2:00pm to celebrate Old Spanish Days – Fiesta with friends, family and our amazing Santa Barbara community!
Enjoy small snacks & bites, and bottomless Sangria. The cash bar will offer a selection of Gin Tonicas and delicious Tequilla drinks. Special guests, the Zermeño Dance Academy, will be performing LIVE to remind us how much we love our town and our traditions.
The ticket price is $45 per person.
This event is for adults 21 years of age or older.
Viva La Fiesta!