MHG Workshop Johnson-SU Compost Bioreactor Project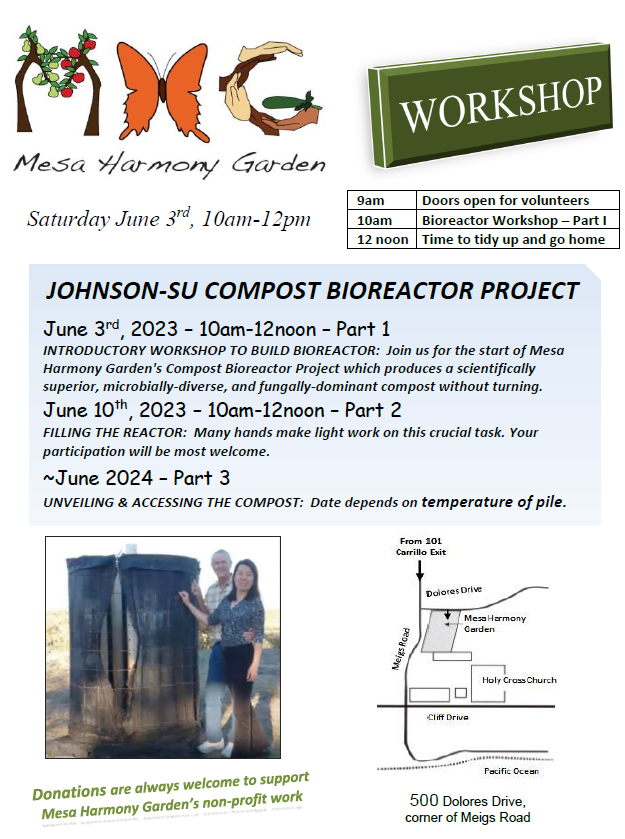 Best Bet
Class/Workshop
Mesa Harmony Garden
**Events may have been canceled or postponed. Please contact the venue to confirm the event.
Date & Time
Sat, Jun 03 10:00 AM - 12:00 PM
Address (map)
500 Dolores Drive, Santa Barbara, CA 93109, Corner of Meigs Road
June 3rd, 2023 – 10am-12noon – Part 1
INTRODUCTORY WORKSHOP TO BUILD A COMPOST BIOREACTOR: Join us for the start of Mesa Harmony Garden's Compost Bioreactor Project which produces a scientifically superior, microbially-diverse, and fungally-dominant compost without turning.
June 10th, 2023 – 10am-12noon – Part 2
FILLING THE REACTOR: Many hands make light work on this crucial task. Your participation will be most welcome.
June2024 – Part 3
UNVEILING & ACCESSING THE COMPOST: Date depends on temperature of pile.