The Complete Works of William Shakespeare Abridged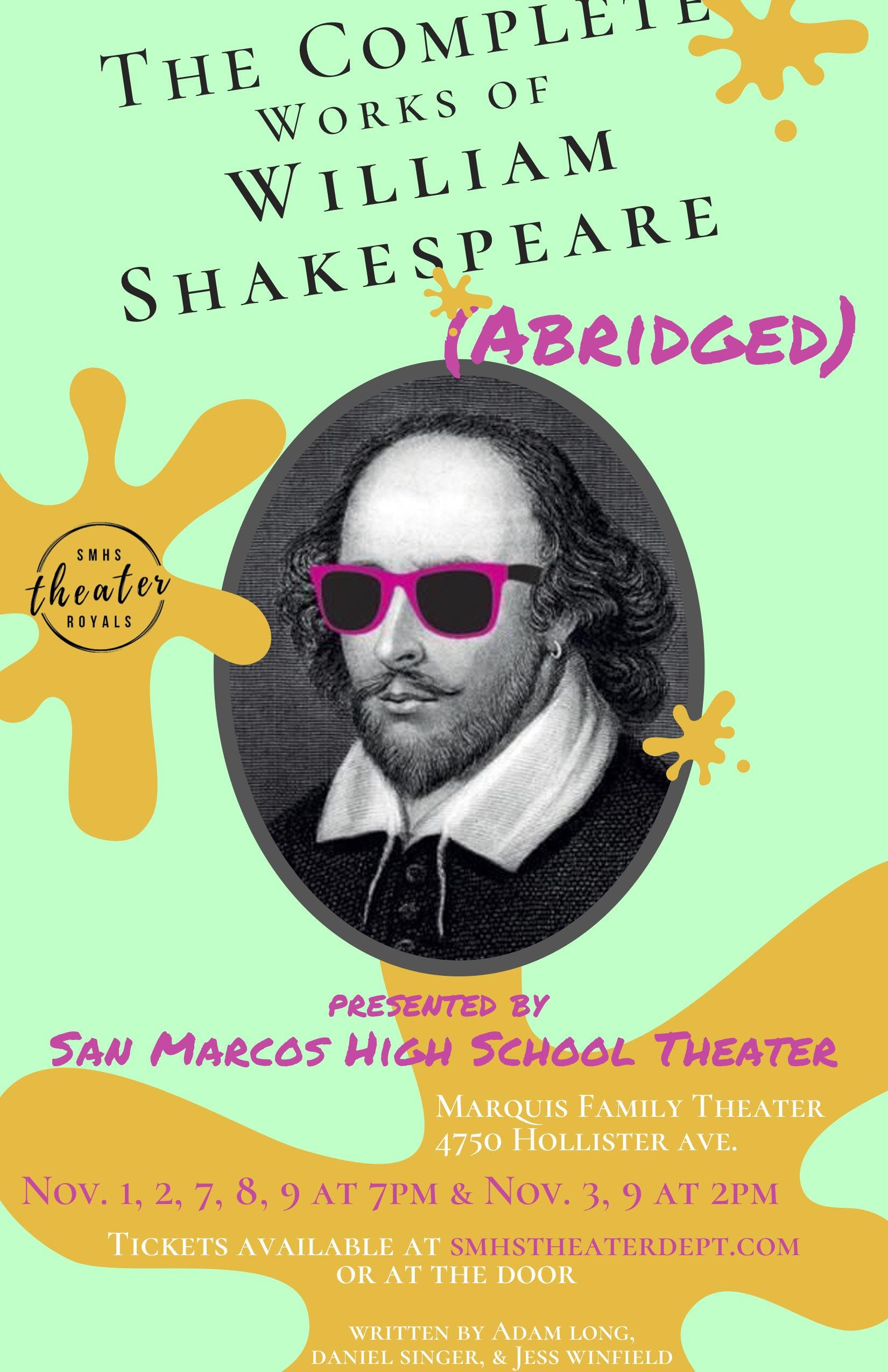 Theater
San Marcos High School
**Events may have been canceled or postponed. Please contact the venue to confirm the event.
Date & Time
Fri, Nov 01 7:00 PM - 10:00 PM
Sat, Nov 02 7:00 PM - 10:00 PM
Sun, Nov 03 2:00 PM - 5:00 PM
Thu, Nov 07 7:00 PM - 10:00 PM
Fri, Nov 08 7:00 PM - 10:00 PM
Sat, Nov 09 2:00 PM - 5:00 PM
Sat, Nov 09 7:00 PM - 10:00 PM
Address (map)
4750 Hollister Avenue, Santa Barbara, CA 93110
Longest Running Play in London Comes to San Marcos High School
San Marcos High School Technical Theater students are in for the challenge of a lifetime: building a virtual replica of the Globe Theatre on the San Marcos High School Theater stage. The Complete Works of William Shakespeare Abridged will transport audience members hundreds of years in the past, yet placing them center stage of the action-packed play. Actor Roz Borah shared, "I am looking forward to exploring a conventional role in an unconventional way. This is a super fun and interactive show!"
Follow technical director Jonathan Mitchell as he creates a vision that transports the audience into an experience like Elizabethan theater goers would have had in the 1600's. Cry through tragedies, laugh through comedies, scream in horror at action packed scenes and be in awe of beautiful Shakespeare romances that appear in front of your eyes.
Join the San Marcos High School student cast members as they weave their wicked way though 37 plays in 93 minutes in one wild ride leaving you with an incredible experience to share with your friends. Groundling seating starts a mere one foot from the stage and audience Royalty seating looks down on the Groundling as well as down onto the stage itself. Audience members will have the opportunity to be stars under the stars each night of the show. Will you find yourself seated in the Splash Zone? Or up in the rafters?
Showtimes:
Friday, November 1st @ 7pm
Saturday, November 2nd @ 7pm
Sunday, November 3rd @ 2pm
Thursday, November 7th @ 7pm
Friday, November 8th @7pm
Saturday, November 9th @ 2pm & @7pm