Way Back When: Santa Barbara in 1919 Book Launch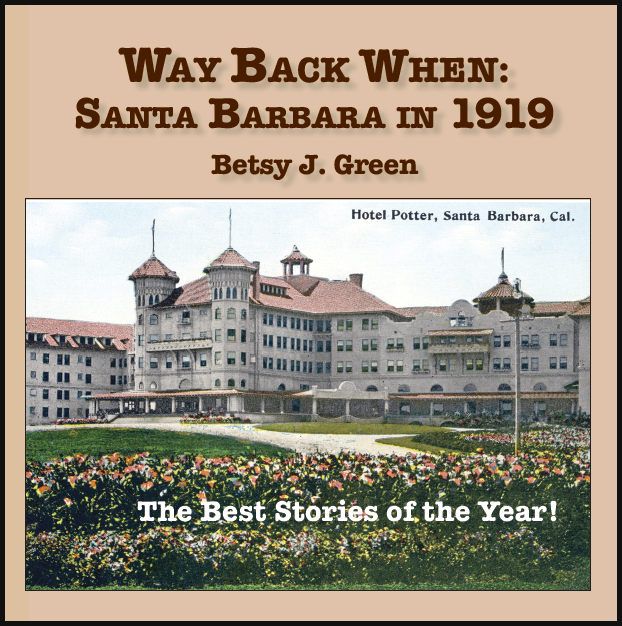 Best Bet
Literary
Chaucer's Books
**Events may have been canceled or postponed. Please contact the venue to confirm the event.
Date & Time
Wed, Nov 13 7:00 PM - 8:30 PM
Address (map)
3321 State Street Santa Barbara, CA 93105
Chaucer's is looking forward to spend a very entertaining evening with Betsy J. Green, author of the popular Way Back When series that chronicles life in Santa Barbara looking back one hundred years from the year of each book. Santa Barbara in 1919 is book number six in this fascinating series.
Here are some of the highlights of the stories Green shares in this latest book on our town's events of 1919. Our soldiers from WWI return home, the Lockheeds build more planes, a "Human Fly" climbs a building on State Street, a Polish-Russian count buys land on the Mesa, Cecil B. DeMille makes a movie on Santa Cruz Island, 1500 people dance at the Carrillo Recreation Center, ragtime bands play at the bandshell in Pershing Park, actor Douglas Fairbanks drops by, a couple gets married in an airplane, a king and queen are welcomed, and the year ends with a shootout at the post office.
Betsy J. Green has been a writer for more than 25 years. As a freelancer, she contributed articles to newspapers and magazines in the U.S. and abroad. She specializes in writing about local history, architecture, and the environment. She researched and wrote about the history of more than 85 homes, and was responsible for nominating five properties to the National Register of Historic Places. Green is a former associate editor of Reader's Digest and staff editor of World Book Encyclopedia. She has given presentations in Santa Barbara at the Historical Museum, the Maritime Museum, the Genealogy Society, the Yacht Club, the Woman's Club, Rotary clubs, and other groups.