Work-Life Integration: Practices for Being Well Everyday with guest speaker, Dave Mochel!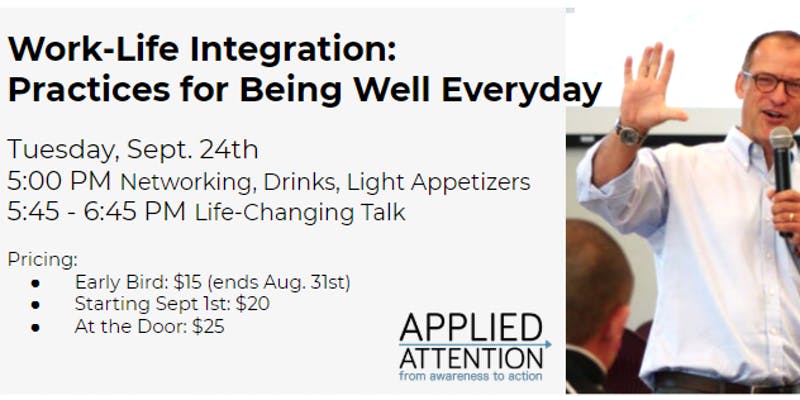 Discussion/Lecture/Panel/Q&A/Talk
Workzones
**Events may have been canceled or postponed. Please contact the venue to confirm the event.
Date & Time
Tue, Sep 24 5:00 PM - 7:00 PM
Address (map)
351 Paseo Nuevo 2nd Floor Santa Barbara, CA 93101
There is nothing more exciting for me than watching people discover the calm, confidence, and connection that they are really capable of. The hair stands up on the back of my neck when I think about it. Conversely, when I see people struggling under the weight of perceived limitations, self-doubt, unnecessary conflict, and the illusion of disconnection, I feel a sinking feeling in my gut and a heaviness in my chest.
I have experienced many of the challenges my clients face — I have worked with them using exactly the same techniques I now teach. Having been driven in the past by restlessness, boredom, frustration, anxiety, fear, and anger, I sometimes laugh out loud at the difference between what my days were like then and what my days are like now.
I spent much of my life looking for the right situation so that I could be happy. I pursued relationships, achievements, acknowledgment, admiration, praise, and reward. No matter how much external validation I received, fulfillment seemed to elude me.
My work with people represents what I have learned over the last twenty-five years in the fields of well-being, neuroscience, performance, and group dynamics. The principles and practices I teach have been distilled and synthesized from thousands of years of enduring wisdom, thousands of scientific studies, and thousands of conversations with colleagues, students, friends, and clients.