I'm hypnotized watching a red laser beam bounce back and forth across my knee as I pedal on a stationary bike in a glass-walled sanctum tucked into the back corner of the new Bicycle Bob's. In fact, general manager Jeremy Platt explains to me, the light isn't moving at all. My knee is swinging side to side with every rotation of the pedal. He wiggles his elbows like he's doing the chicken dance to demonstrate my wayward patella before taking off my cycling shoe, adjusting the cleat a few millimeters, and rechecking my alignment.
I've made a pilgrimage to Goleta to check out the new sprawling, 9,400-square-foot, state-of-the-art iteration of Bob Zaratzian's 32-year-old retail bike business. This new Trek superstore replaces both former Bob's locations on Storke Road and Upper State (which will be the new home of Velo Pro). Zaratzian said that when John Burke, the CEO of Trek and part-time Montecito resident, walked into one of the old shops, he remarked it was cutting edge — 15 years ago.
This new store is definitely sleek. The ceilings are high, the LED-lit displays are clean, and the décor is meticulously curated by Trek executives with spacious sections for kids' bikes and women's apparel. In the "Project One" area, iPads on stands allow hedge fund managers to design fully customized bicycles and punch their orders straight into the Trek bicycles factory. It's all really cool, but one wonders if Zaratzian, a perennial winner of the bike shop category in The Santa Barbara Independent's Best Of reader survey, hasn't lost some of the mom-and-pop feel of his other stores, outdated as they may have been.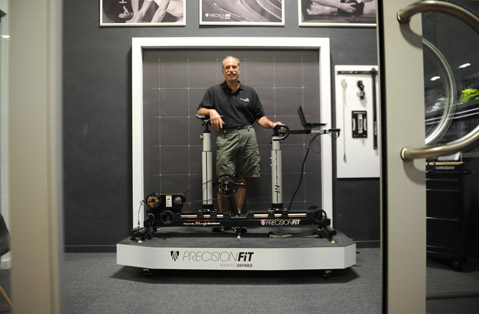 By Paul Wellman