Many Santa Barbara filmmakers once again get to see their work on the big screen during the Santa Barbara International Film Festival. This year includes four feature films and group screenings of shorts, short docs, and Reel Nature docs. Here's the lineup.
Features
Broke: The Santa Barbara Oil Pipeline Spill of 2015: The global environmental movement began with the Santa Barbara oil spill of 1969, and yet a similar, if less catastrophic, disaster occurred again in 2015, when the Plains All American Pipeline near Refugio Beach began spilling crude into the pristine waters of the Gaviota Coast. Longtime UCSB professor and sporadic documentarian Gail Osherenko was on the scene within hours, and her quest to understand how this could happen again forms the basis of this hour-long doc.
The blow-by-blow explanation of events questions why it took so long for the recovery work to kick off, while also showing how diligent and seemingly effective that effort was once initiated. It evaluates the spill's impacts on the landscape, marine mammals, birds, and humans, from chemical pneumonia to commercial fishing woes, and reveals how susceptible to rupture these pipelines are across the country.

"Hopefully the 2015 onshore spill from a pipeline will result in real changes to policy," said Osherenko, who'd never done a film of this size and scope. "I don't think the spill has had the striking effect of the 1969 wake-up call, but it has alerted our community to the risk of underground oil pipelines." —Matt Kettmann
We Are Galápagos: See our feature.
Living in the Future's Past: See our Climate Change roundup.
Nelson Algren Live: See our Willem Dafoe essay.
Short Docs
Cascarón: The making of Cascarón started as a conversation over drinks in the reincarnated version of Jimmy's Oriental Gardens, which was the subject of filmmaker Casey McGarry's first documentary effort in 2015. McGarry was shooting the breeze with Chris Price, an eighth-generation Californian, over the subject of cascarones, the wonderful confetti eggs that transform Santa Barbara city streets into a landscape of Jackson Pollock–like canvasses every Fiesta.
Out of that conversation, this sweet and touching 16-minute documentary was hatched. Along the way, I got briefly sucked into this venture, acting as enthusiastic cheerleader and occasional interviewer. I, too, am a nut for cascarones.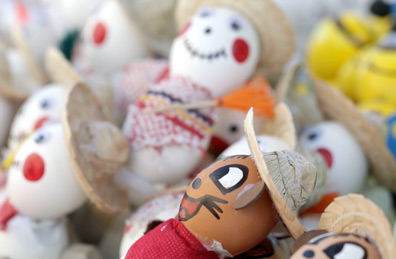 By Courtesy Photo