On the first day I volunteered with the Santa Barbara Bucket Brigade, my grief took the form of a labyrinth. I had spent the day shoveling mud from a guest room in a lodge at La Casa de Maria, an interfaith spiritual retreat bordering San Ysidro Creek in the Montecito foothills. During the early-morning deluge of January 9 — which killed 23, destroyed around 50 homes, and damaged hundreds more — the creek had overflowed catastrophically with mud, boulders, and trees, inundating half of the retreat's 26 acres, razing a few buildings, and badly damaging another handful, including its main chapel.
It had been a month since the storm, and the mud inside the lodge was the consistency of peanut butter and the color of black soil. The room was only big enough for three volunteers, including me, and two wheelbarrows, which we filled up using flat shovels and took turns rolling out the door and dumping into the courtyard. Working with me was a man in his fifties, who grew up mucking dairy barns in the San Joaquin Valley, and a twenty-something woman who said that, aside from the sense of purpose she felt while helping others, working large muscle groups countered the crippling hunch of her full-time desk job.
Steadily we shoveled through the middle of the room before reaching a bed and small chair against the wall. I grabbed the chair arm, figuring I could tug it from the mud with little effort. It was stuck. Four smooth, skinny wooden legs held fast by 18 inches of pasty sludge. I yanked harder. It didn't budge. I shook my head, pretended to laugh, and murmured a few choice cuss words, thinking, What's wrong with me? Why am I not strong enough?
At day's end I walked solo along the single-lane road that loops through the property. I came upon La Casa de Maria's labyrinth, a circular path laid out in small stones, its center described in a nearby pamphlet as "a place of illumination … to receive what you came for." Bone-tired from a day of heavy lifting, I slowly walked the labyrinth path as afternoon sunlight angled through quiet oaks. The simplicity of basic forward motion freed my mind to wander. Suddenly the labyrinth became a maze, and I was alone with the burden of my human weakness. But I never stopped walking. I stayed between the stones and every so often glanced to the middle of the circle, where previous visitors had built a small collection of polished rocks, sea glass, seashells, coins, and pinecones. Among the offerings, I noticed a bracelet of tiny lettered cubes spelling a word I couldn't read from afar; when I arrived at the center, I looked closer: acceptance.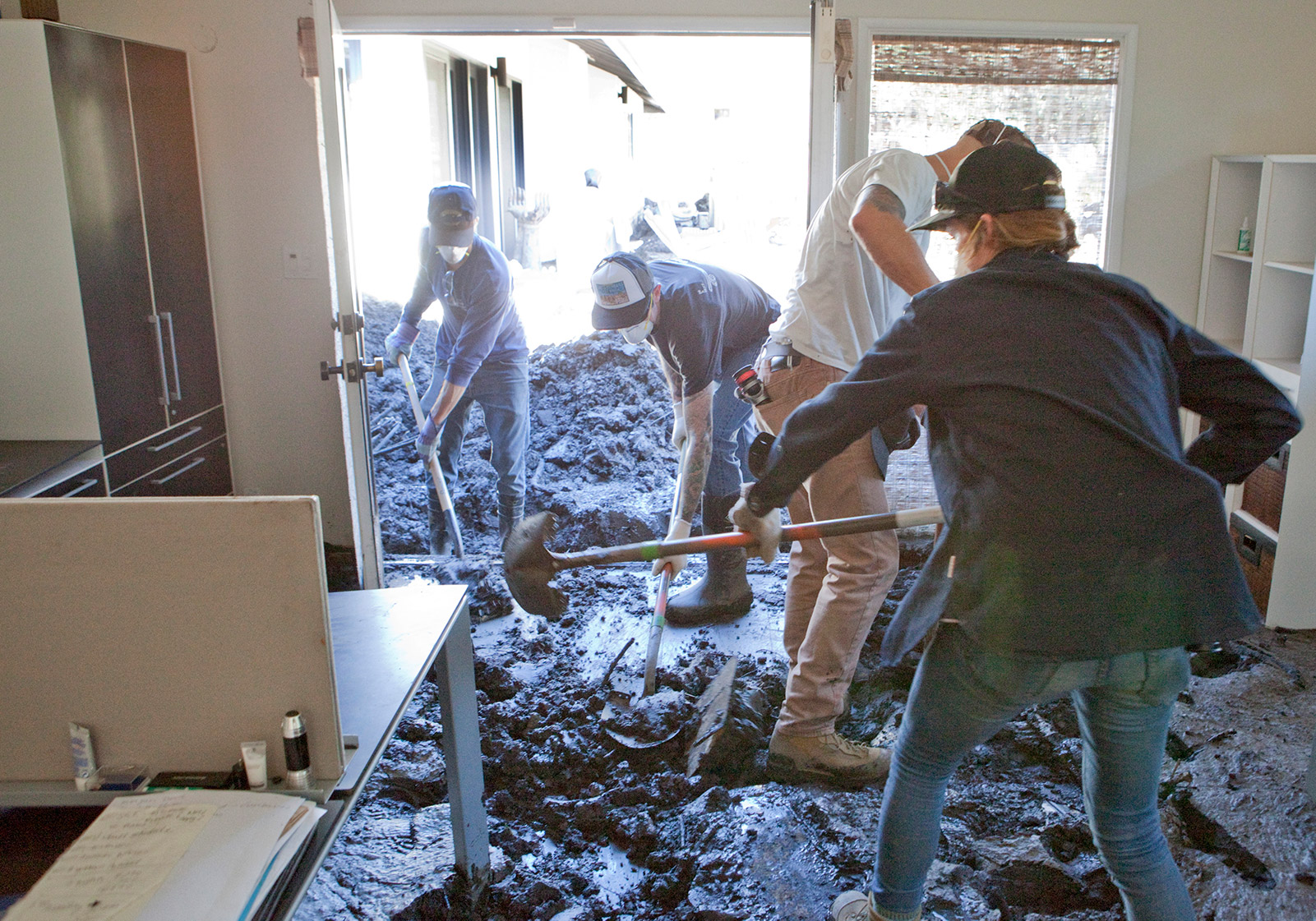 Hutch Axilrod