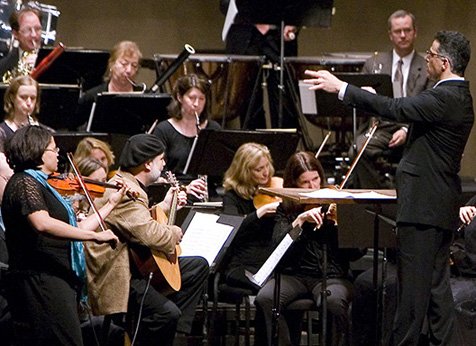 Dannsair

"Kishmull's Galley"

Musicians
Genre: Irish
Sound description: Traditional Irish tunes with a modern twist. The band shines on instrumental numbers "Paddy on the Turnpike" and "Waterloo Piper" in which acoustic guitar, flute, and lively fiddle blend to evoke the charm of the Emerald Isle. Influences include Solas and Altan. -The Indy
Web site: http://www.dannsair.com
Email: russelldoherty@cox.net
History
Russ Doherty - BA in Compostion, UCSB, 10 yrs with HUMANICS (pop-rock), 10 years with DANNSAIR, arranger, composer, producer.
Suzanne Duffy - MA in Flute, University of Indiana, Micheal Tilson Thomas'New World Symphony, SB Chamber Orchestra, Aurora Ensemble, SB Symphony.
Linda Holland - PhD in Composition, UCSB, MM in Flute, freelance flutist-composer, SB Civic Light Opera, Channel Islands Symphony, SBCC Music Teacher.
Sarah Carsman - Master's Program - Viola, UCSB, UCSB Symphony Orchestra
James McNamara - SBCC Symphony Orchestra
Jon Pollay - BA Theater, UCSB, 20 years pop/rock/blues vocalist/percussion
Siobhan Doherty - BA Theater, UC Berkeley, 2 years PCPA Theaterfest
Andrea Arredondo - BA Global Business, UCSB, guitar/vocals since age 5, WebMaster & Digital Artist for Seymour Duncan
Upcoming shows
None scheduled
Formed
Santa Barbara, CA
Influences
Martin Hayes & Dennis Cahill, Solas, Chieftains, Donough Hennessey & Lunasa, Altan, Pauline Scanlon, Karan Casey.