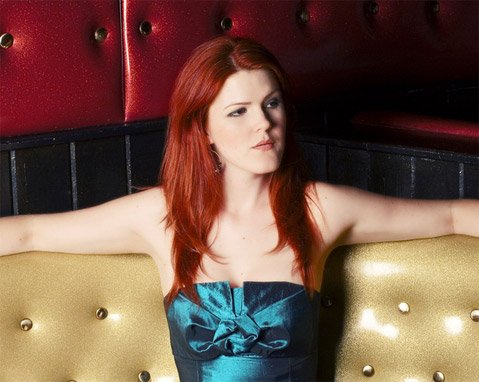 Delaney Gibson
Musicians
Genres: Alt / Indie rock, Pop
Sound description: Classically trained in opera and art since the age of nine, Delaney Gibson boldly breaks the tired trend of untalented, young female artists playing generic (read: annoying) pop songs, and brings her own genre to the table, with catchy, kick-ass lyrics, and a style she's labeled "AlternatiVixen." -The Indy
Web site: http://www.delaneygibson.com
Email: jordyn@monaloring.com
History
A voice filled with honesty, allure, and grace defines the electric vocals of Delaney Gibson. Music has brought bittersweet struggles and whimsical successes to Delaney's life. Fronting a new breed of music with substance and style, this "Pop/AlternatiVixen" is quickly becoming one of the most fascinating artists of her generation. Not only has Delaney earned the respect of fellow musicians, but the press has described the budding singer/songwriter as "An Undiscovered Brilliant Vocalist" as recorded in the Ventura County Reporter. She has been deservingly honored by sharing the stage with many well known artists including: Barbara Streisand, Barry Manilow, Andrea Bocelli, and Russell Watson. Delaney was chosen to be one of a select number of performers invited to the 2007 Sedona Jam Emerging Artists Music Festival in Sedona, Arizona. She recently received some great publicity when her EP was featured on the cover of the February, 2007 Discmakers Catalog! Even though her list of accomplishments is long and astonishingly impressive, Delaney never ceases to amaze. She has starred on the Fox show "Boston Public" as a singer and dancer and MTV's "My Own" remaking Natasha Bedingfield's track, "These Words." Delaney was given an honorable mention and received near perfect scores by the Billboard Song Contest for her song Õâ ÅUnattached.Õâ  It is amazing to see how this independent artist has accomplished so much at such a young age. Delaney's brand new EP, "Cruel and Beautiful," is a collection of intoxicating songs that were produced by Michael Raphael (Neve, Columbia Records.) Delaney's sultry, classically trained, powerhouse voice and intense songwriting have led her to walk off with such prominent awards as solo vocal finalist at the Eisteddfod Music Festival in Wales and Best of L.A. Singer / Songwriter Finalist, among others. She recently received her Bachelor of Arts Degree in Music from California State University, Northridge. She continues to study and perform Opera. She is also a proud member of the Screen Actors Guild and ASCAP. Delaney is currently in the studio finishing her debut album due out Summer of 2007! Delaney is a truly gifted musician with enough originality in her songs and sound to set her apart from the glutted music scene. Her music transcends genre and evokes happiness and heartbreak. She allows the listener to become actively engaged in songs of independence, love, mortality, and breakups, transporting the audience to a world of sincerity and beauty.
Upcoming shows
None scheduled
Formed
1984, Ventura, CA
Influences
Kurt Weil, Freddie Mercury, Edith Piaf
Current status
Gearing up to shop debut cd to labels!! Interested???