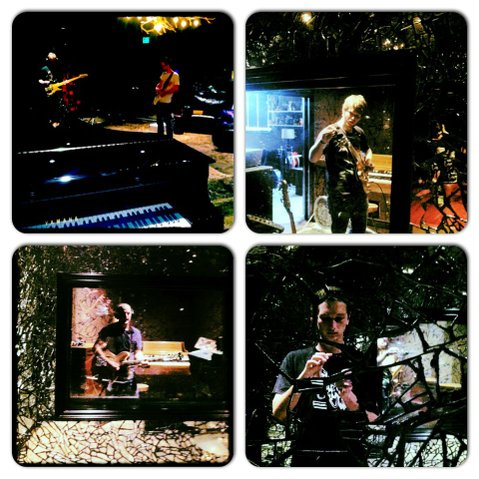 Me
&

Dinosaur

Genre: Indie Rock

Web site: http://meanddinosaur.bandcamp.com/
History
Me & Dinosaur is a Santa Barbara based indie rock band with a heavy focus on songwriting and vocal harmonies; mixing hearty blues-inspired riffs and lush garage rock textures with more experimental outlooks on pop sensibility.
"If the members of Me & Dinosaur could time travel, they would go back to Rome in 300 BC. "I think the Romans would have great appreciation for indie-rock music," said singer Sean McClure. There is, perhaps, something Roman in the music of Me & Dinosaur — in its brawny, workman-like, blues-rock heart and innovative twists on classic forms, as well as in its widespread allegiances. Like an empire, Me & Dinosaur has claimed the hearts of many in town; hear its newest single, "Smile," and it's easy to understand why. These live favorites bridle with true up-and-coming energy, an already strong band sitting on untapped potential.
Me & Dinosaur is composed of McClure (lead vocalist/guitarist), Erich Tomkinson (keyboardist/vocalist), Cole Baviera (guitarist/vocalist), Sean Renken (bassist), and Kris Pitzek (drummer), forming during their UCSB years when they all shared a house together. With bands like Arcade Fire, Fleet Foxes, Dr. Dog, and The Band constantly rotating on the record player, the five-piece built a sound saturated in the tradition of some of classic and indie rock's strongest acts. No wonder, even with only an EP to its name, the band already sounds so polished and professional. This was due in part to the assistance of Elliott Lanam at Hidden City Studios, who helped with the EP's recording.
Since it sold out its EP-release event, the band has been booking more shows, enjoying craft beer, and "continuing to play the music we want on our own terms," said McClure. When pressed to identify with dinosaurs, here is what the bandmates chose: McClure, an ankylosaurus; Renken, Spike from The Land Before Time; Baviera, a T. rex; Tomkinson, a prehistoric bird; and Pitzek, a different kind of dinosaur, the septuagenarian Bernie Sanders. Here's hoping extinction is far off for this just-getting-started band. May they reign long and mightily." - Richie DeMaria, Santa Barbara Independent
Soundcloud page: soundcloud.com/meanddinosaur
Booking contact: Sean Renken meanddinosaur@gmail.com
Upcoming shows
None scheduled
Formed
Santa Barbara, CA