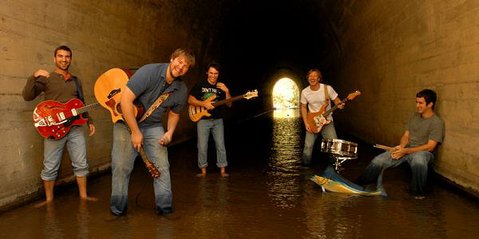 Still Time

"High Tide"

Musicians
Genre: Rock/Funk/Reggae
Sound description: A mix of classic rock, folk, jazz, and reggae.
Web site: http://www.stilltimemusic.com/
Email: stilltimebooking@gmail.com
History
Still Time, based out of San Luis Obispo, CA, has just begun to attract the ear of audiences around the state. Since forming in 2004, Still Time has grown from a hugely popular local band to a group that has captivated listeners throughout California with their energetic grooves, all through a grassroots and word of mouth process.
Known for their ability to bring a crowd wherever they go, Still Time has enjoyed sharing the stage with such bands as Ziggy Marley, Robert Randolph, Steel Pulse, Pepper, Ozomatli, Mad Caddies, Iration, Strung Out, OneRepublic, ALO, and The Expendables, and has rocked audiences of 3,000+ at their largest venues.
Bringing a mixture of rock, reggae, and funk, Still Time has recently caught the attention of radio stations in Northern and Central California. After the addition of their song "High Tide" to San Luis Obispo radio station New Rock 107.3, Still Time held a spot on the station's Top 10 for over four months. "High Tide" has also appeared in the radio station's regular rotation for over a year, a feat which no local band has yet to achieve. Still Time has also been featured on the Santa Cruz radio station KPIG 107.5 and San Luis Obispo's Coast 101.3.
In November of 2007, Still Time released their first full length album entitled Stream of Consciousness. Within one month of their sold out CD release show at Downtown Brew Co., their album had already sold almost 1,000 copies. The band made a successful run on their winter tour with stops in Hollywood, Bakersfield, Sacramento, and San Francisco where they headlined the New Year's Eve Party at the Westin Saint Francis Hotel. The band also recently headlined the Isla Vista Funky Town Festival, and they are performing at several of the hottest venues throughout the state in the next few months. They are excited for being considered in Hollywood movie soundtracks. The recent success of Still Time is a testament to the potency of their talent. It is proof of their ability to not only create great music, but to bring together people from various musical backgrounds to enjoy a positive, high energy show.
Upcoming shows
None scheduled
Formed
2004, San Luis Obispo, CA
Influences
Ben Harper, Bob Dylan, Red Hot Chili Peppers, Sublime, Van Morrison, and Dave Matthews.
Current status
Still Time is about to embark on a West Coast summer tour, spanning from San Diego to Seattle. Tour dates are listed on the band's website and MySpace page.