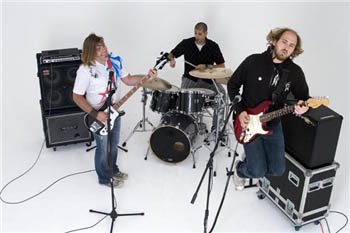 The Veltexans

"Brand Name Pills"
"I Hate Breakfast"
"Modern Belladonna"

Musicians
Genre: Alt / Indie rock
Sound description: Part snotty pop punk, part contemplative indie rock, and part neo-New Wave, The Veltexans' Everything's the Matter is a modern rock deejay's dream come true.

If the Walkmen went off the garage rock deep end, the result would sound something like the Veltexans' recently released Everything's the Matter. Taking cues from British invasion purveyors and modern-day indie darlings, their brand of rock is about as infectious as it gets. -The Indy
RIYL: The Walkmen, Television, Elvis Costello& The Attractions, Built to Spill, Foo Fighters
Web site: http://www.myspace.com/veltexans
Email: theveltexans@gmail.com
History
The debut album by the Veltexans, Everything's the Matter, was released August 7, 2007, on XXXVII Records. Tight, punchy rhythms, searing guitars, and soaring melodies are the backbone of the album, while the lyrics deal with array of topics from mundane details to the existential crisis of being alive - and girls.
Zach Turner (songs, vocals, guitars) formed the first incarnation of The Veltexans in a drunken ballet teachers' basement in North Boise, Idaho in 2004. The approach is very minimalist and the songs are heavy, hook-laden tales of modern silliness. After a year's residency at a downtown club called Opa, The Veltexans played a farewell show with the Violent Femmes at the Big Easy Concert House and moved to Santa Barbara, CA.
Solidifying the lineup with Alan Shapton (bass, vocals) and Dave Rodrigues (drums), The Veltexans landed a deal with XXXVII Records and set out to work on their smashing debut, Everything's the Matter. The record is a triumph for truly independent, modern methods of creating music and boasts vocals, guitars, bass and drums only. As a result, the band is touring and performing nearly every damn week. Don't miss any chance to see the Veltexans live!
Upcoming shows
None scheduled
Formed
2004, Santa Barbara, CA
Influences
Pavement meets Roy Orbison, Nirvana meets Buddy Holly
Current status
Touring locally