Nearly 500 Montecito residents jammed into El Montecito Presbyterian Church on Monday night to hear a Montecito Fire District briefing on the Zaca Fire, now crouching at Montecito's back door. The message was straightforward and simple - don't panic, but get prepared!
Fire Chief Kevin Wallace led off the emergency meeting of the Montecito Fire District Board of Directors. "There is a large fire north of us," he began. "We want to go over what to do if you have to evacuate. Tonight you will see why we are very serious about this." He reiterated repeatedly last night, and confirmed as of this posting: Montecito is not currently under any kind of evacuation status.
Wallace introduced Dan Kleinman, operations section chief of the U.S. Forest Service, to give a history of the fire, which started on July 4 when a ranch hand's tool sparked. It has now consumed nearly 70,000 acres and cost more than $52 million.
Kleinman said a combination of natural conditions - including unusually dry air, unfavorable wind patterns, rugged terrain, drought-like moisture levels, and critically dry vegetation - have made the Zaca Fire difficult and unpredictable. "Mother Nature is a real powerful beast and if she wants to move, she can," he said. While backcountry landmarks rolled off his tongue with ease - Sisquoc, McKinley, Big Pine, Little Pine, and Buckhorn - Montecito residents wanted to know what markers could breed alarm for the village.
Using a large overhead map, Kleinman and Wallace pointed to the Los Padres geography that matters most to Montecito: the Santa Ynez Riverbed and East El Camino Cielo. A fire breaching those lines could act as trigger points for evacuation alerts in Montecito. After the meeting, Wallace emphasized fire progression and weather will be taken into consideration prior to issuing any evacuation notifications.
The Santa Ynez Riverbed is, as the crow flies, about five miles north of Montecito. Wallace said if the fire crosses the riverbed directly behind Montecito, Montecito could be placed in an evacuation warning status. If the fire then burned up the back of the mountain and jumped East El Camino Cielo, which is approximately two miles away, Montecito could go into an evacuation order. Kleinman also said that in a long-range pre-planning strategy, dozer and hand crews have been cutting lines and removing dead brush along Camino Cielo for over a month.
An evacuation would fall under the authority of the Sheriff's Department. The department's Lt. Darin Fotheringham spoke to the different evacuation terminologies and procedures. He offered the following explanations:
In a potential evacuation warning, residents with proof of residence can come and go from the area. But already, residents should be getting prepared to leave. At this stage, large animals should be moved. "Put things by your front door now," Fotheringham said.
If there is an evacuation order, Fotheringham said, "We are telling you to leave. Grab what you put by the front door and leave." Under this order, roads will be closed to incoming traffic, including residents, allowing firefighters to do their job and save Montecito.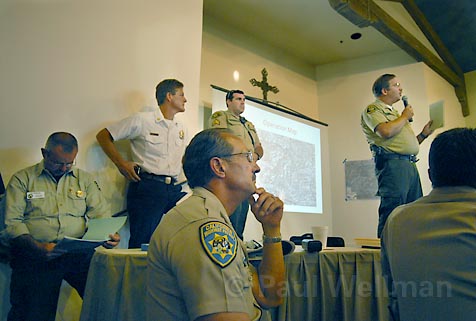 By Paul Wellman