One week ago, nearly 500 Montecito residents swarmed El Montecito Presbyterian Church to attend an emergency meeting about the Zaca Fire. A week later the fire continues to burn, charring more than 100,000 acres to date and continuing, even today, to create plumes of smoke behind Montecito. To get current, Montage spent some time today with Montecito Fire Protection District Chief Kevin Wallace.
Chief Wallace, it has been a week since the Montecito Fire District held one of the largest town hall meetings in the history of Montecito. Your goal was to prepare the community for emergency action should the Zaca Fire come toward the community. It seems the fire has turned to the north. Is Montecito out of danger?
Chief Kevin Wallace: I would say we need to stay vigilant today and tomorrow because of the triple digit hot weather and the dry humidity. After tomorrow [Wednesday August 15], because of some of the good news we have had this week about the fire being turned away from us and heading north, if things continue going that direction, I would say we will be out of it.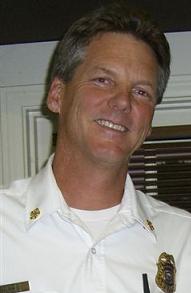 By J'Amy Brown