At 4:07 Sunday afternoon a contract helicopter being used to fight the Zaca Fire in Los Padres National Forest crashed in field off Figueroa Mountain Road. The field was being used as a fire helicopter staging area.
Photo Gallery
Zaca Fire Chopper Crash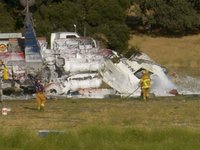 Here are on-scene photographs by J'Amy Brown of the Zaca Fire helicopter crash, which happened at 4:07 Sunday afternoon and left the pilot and passenger with minor injuries.
Both pilot and passenger were transported by ground ambulance to Santa Ynez Hospital for evaluation. Injuries to both appear to be minor. According to Nick Cleary, a Ventura County Public Information Officer fielding questions at the crash site, the cause of the crash has not been determined.The accident occurred as the helicopter was taking off.
After the injured were removed from the fallen copter, fire personnel doused it with foam. Immediately following the crash all air support for the Zaca Fire was recalled to the base camp and grounded for the night.
Here is the alternate coverage provided by Inciweb:
Helicopter Accident Occurs On Zaca Fire
At approximately 4:07 PM today, a contract helicopter fighting the Zaca Fire was involved in a helicopter accident. The helicopter was working out of the Figueroa Helibase on Figuera Mountain Road. The accident occurred while the Helicopter was lifting off from the helibase. Two people were on board. The pilot and co-pilot have been transported to a local hospital by ground ambulance for minor injuries.
A joint accident investigation team is responding to investigate the accident. The helibase is shut down due to the investigation. Additional details will be provided as they become available.
As of 7:30 fire is 30% contained and 6500 acres and 1918 firefighters are on the scene of the Zaca Wildlands Fire