With what anyone would call a major arsenal at her disposal, Deputy Assistant Secretary of State for Public Diplomacy Colleen Graffy often finds herself choosing a local tool to melt diplomatic frost. When push come to shove, and international response seems inflexibly cool, Graffy pulls out her weapon of choice. "I just say 'Santa Barbara' and that does it," explained this home-grown-gal-turned-stateswoman. The response to those words, Graffy said, is usually the universally hoped for sign of accord - a smile!
It was all smiles when Graffy came to town on Monday to be the keynote speaker for the Channel City Club's 60th anniversary luncheon. The organization was founded in 1946 to as a forum for current events speakers. At the luncheon, the Deputy Assistant Secretary got a special smile from her mother, former Second District Supervisor Jeanne Graffy, who was given the honor of introducing her diplomat-daughter "because I've known her longer than anybody." Proud dad, and former test pilot, Chuck Graffy, sat on the dais, while Montecito-scribe and parody-ist Erin Graffy cheered her sister from the audience.
Colleen Graffy assumed her duties as Deputy Assistant Secretary in the Bureau of European and Eurasian Affairs in September 2005. "It takes both sides of a business card just to list my title," she told the audience of nearly 250. In her capacity with the State Department, Graffy oversees public diplomacy and public affairs programs for the bureau and coordinates efforts with Under Secretary for Public Diplomacy and Public Affairs Karen Hughes.
Graffy said that in today's shrinking world, American diplomacy uses art, music, education, computers, the web, books, and even culinary outreach as resources to counter anti-American images and sentiments. "We have a culinary program that teaches foreigners about our Thanksgiving traditions," she offered, as an example. "No other country in the world has a holiday to celebrate the values of family and friendship, and it tells foreigners a lot about our culture."
Graffy said that in order to be responsive in U.S. foreign relations, a new blend between diplomacy and public affairs has been created. To be effective, she said, response to U.S involvement in worldwide news, particularly news of a critical nature, must be in real-time and not lagging behind because time zone disadvantage.
To address time diversity, Graffy said a media hub has been set up in Belgium to scan world headlines. If news breaks that involves the U.S., instead of waiting for Washington to respond hours later, Graffy said the response is proactive and immediate. "If the narrative is about the U.S., we determine our responses. What is the message? Who is the messenger? We empower ambassadors: 'If you know the policy, speak. Don't ask for permission, ask for forgiveness. Get out there and speak.'"
Graffy, who is one of the few Santa Barbara residents to command her own listing on Wikipedia, earned her BA from Pepperdine University and her MA from Boston University. Prior to joining the State Department, she was Academic Director and Associate Professor of Law at the London Law Program for Pepperdine University's School of Law. She completed the Diploma in Law in London and received her LLM through Kings College, University of London. She was called to the Bar of England and Wales as a" Barrister," choosing that title over that of a "Solicitor," because, she told the Channel City Club audience, with some seriousness, "I did not want my mother faced with explaining that her daughter was a Solicitor."
Not at all tangled by title, "powerful" was how top Montecito MC and Channel City Club president Larry Crandell dubbed Ms. Graffy. Other Montecitans joining the applause were realtor Keith Berry, Don Seth, and former Montecito Association administrative director Doreen Newsam, who helps organize the Channel City Club. Also in attendance were Richard and Pauline Schultz, Randy Alcorn, and David Lack in support of this important club anniversary.
NO NEED TO RUMMAGE: The Music Academy of the West will be tripping the light fantastic this Saturday, May 5, at their 32nd annual May Madness benefit sale. This one-of-a-kind world-class sale starts at 9 a.m. sharp (no early birds) at the Music Academy Campus on Fairway Road in Montecito.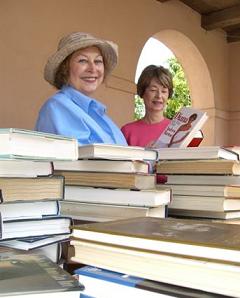 By J'Amy Brown