Columns
Colleen Graffy Comes to Town
Santa Barbaran-Turned-Diplomat Speaks, Music Academy's Rummage Sale Preview, and More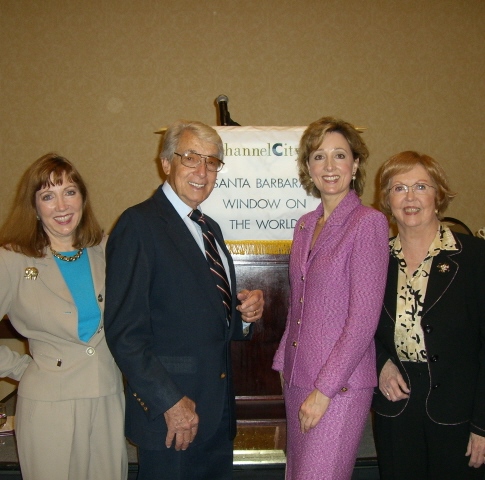 With what anyone would call a major arsenal at her disposal, Deputy Assistant Secretary of State for Public Diplomacy Colleen Graffy often finds herself choosing a local tool to melt diplomatic frost. When push come to shove, and international response seems inflexibly cool, Graffy pulls out her weapon of choice. "I just say 'Santa Barbara' and that does it," explained this home-grown-gal-turned-stateswoman. The response to those words, Graffy said, is usually the universally hoped for sign of accord – a smile!
It was all smiles when Graffy came to town on Monday to be the keynote speaker for the Channel City Club's 60th anniversary luncheon. The organization was founded in 1946 to as a forum for current events speakers. At the luncheon, the Deputy Assistant Secretary got a special smile from her mother, former Second District Supervisor Jeanne Graffy, who was given the honor of introducing her diplomat-daughter "because I've known her longer than anybody." Proud dad, and former test pilot, Chuck Graffy, sat on the dais, while Montecito-scribe and parody-ist Erin Graffy cheered her sister from the audience.
Colleen Graffy assumed her duties as Deputy Assistant Secretary in the Bureau of European and Eurasian Affairs in September 2005. "It takes both sides of a business card just to list my title," she told the audience of nearly 250. In her capacity with the State Department, Graffy oversees public diplomacy and public affairs programs for the bureau and coordinates efforts with Under Secretary for Public Diplomacy and Public Affairs Karen Hughes.
Graffy said that in today's shrinking world, American diplomacy uses art, music, education, computers, the web, books, and even culinary outreach as resources to counter anti-American images and sentiments. "We have a culinary program that teaches foreigners about our Thanksgiving traditions," she offered, as an example. "No other country in the world has a holiday to celebrate the values of family and friendship, and it tells foreigners a lot about our culture."
Graffy said that in order to be responsive in U.S. foreign relations, a new blend between diplomacy and public affairs has been created. To be effective, she said, response to U.S involvement in worldwide news, particularly news of a critical nature, must be in real-time and not lagging behind because time zone disadvantage.
To address time diversity, Graffy said a media hub has been set up in Belgium to scan world headlines. If news breaks that involves the U.S., instead of waiting for Washington to respond hours later, Graffy said the response is proactive and immediate. "If the narrative is about the U.S., we determine our responses. What is the message? Who is the messenger? We empower ambassadors: 'If you know the policy, speak. Don't ask for permission, ask for forgiveness. Get out there and speak.'"
Graffy, who is one of the few Santa Barbara residents to command her own listing on Wikipedia, earned her BA from Pepperdine University and her MA from Boston University. Prior to joining the State Department, she was Academic Director and Associate Professor of Law at the London Law Program for Pepperdine University's School of Law. She completed the Diploma in Law in London and received her LLM through Kings College, University of London. She was called to the Bar of England and Wales as a" Barrister," choosing that title over that of a "Solicitor," because, she told the Channel City Club audience, with some seriousness, "I did not want my mother faced with explaining that her daughter was a Solicitor."
Not at all tangled by title, "powerful" was how top Montecito MC and Channel City Club president Larry Crandell dubbed Ms. Graffy. Other Montecitans joining the applause were realtor Keith Berry, Don Seth, and former Montecito Association administrative director Doreen Newsam, who helps organize the Channel City Club. Also in attendance were Richard and Pauline Schultz, Randy Alcorn, and David Lack in support of this important club anniversary.
NO NEED TO RUMMAGE: The Music Academy of the West will be tripping the light fantastic this Saturday, May 5, at their 32nd annual May Madness benefit sale. This one-of-a-kind world-class sale starts at 9 a.m. sharp (no early birds) at the Music Academy Campus on Fairway Road in Montecito.
Judith Mack and Joann Rodrigue, pictured here in the May Madness book department, promise this year's event will be outstanding, with more than 10,000 items to choose from.
Really, Montage Readers, in other communities, this might be considered a rummage sale, but you know there's no rummage in Montecito. It's brand new and high-grade stuff! Montage took a sneak peak on Tuesday and let me tell you there are room-after-room of fab furniture, rugs, drapes (new ones!), linens, clothes, shoes, holiday ornaments, along with some expensive crystal, china, and bric-a-brack that's a real bargain.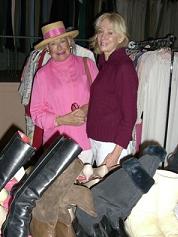 Nancie Taylor-Daley and Kathleen Wathen confirmed my scouting finds. I met up with them in the "Clothes Department" where they were checking out the racks themselves (and let me assure you, Montage Readers, these ladies can shop Saks if they choose). This fun-for-all runs until 3 p.m. and last year it netted $45,000 for the Music Academy's melodic achievements.
Montage Tip: Come early, head straight inside the main building and turn right – that's the boutique of high-end decorator items and the good stuff goes fast, to dealers! Just this once, Montage gives you full permission to be politely pushy, so sharpen up those elbow jabs and go for broke on Saturday.
SEEING GREEN: There is more than one way to be green, and Crane Country Day School is going to combine the school's green campus educational theme with their popular annual fund raising party. Dubbed "Sprouting Green," the fundraiser goes down this Saturday, May 5.
Since the beginning of the school year, Crane Headmaster Joel Weiss has said Crane is on a mission to pollute less, recycle more, and reduce energy consumption. To that end, the school has replaced light bulbs, sends parent packets electronically, and has composting bins near the kitchen and lunch area.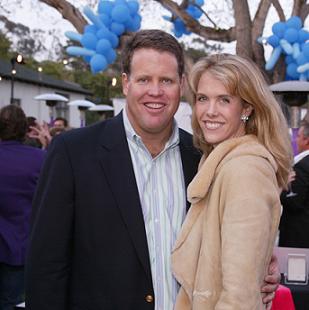 Leading the fundraising and environmental efforts is Board of Trustees Scott Brittingham, pictured here with his wife Ella at last year's fundraiser. And this Montage tidbit: Scott is a graduate of Harvard-Westlake Prep School in Los Angeles, where fellow alums include Rick Caruso, Jean von Wittenburg, Beverly Jackson, Molly Wrather Dolle, and, yes, yours truly, J'Amy Brown. Here's to a reunion party at the new Miramar!
HARD WORK HONORED: On Tuesday, First District Supervisor Salud Carbajal honored longtime civic volunteer Dick Thielscher with a resolution acknowledging his community work. Thielscher recently retired from a seat on the Montecito Planning Commission. His land use experience has included eight years on the Montecito Association Land Use Committee and he also served on the MA Board of Directors along with a slew of community committees. He helped author the Montecito Community Plan and was instrumental in the formation of the Montecito Planning Commission.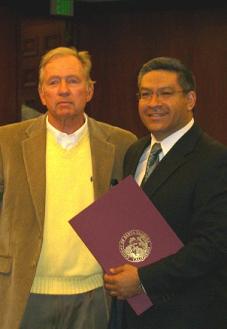 Thielscher owns his own mortgage and banking company and has served on the board of the Montecito YMCA and as president of the Knollwood Tennis Club. He and his wife, Judy, have been residents of Montecito for 38 years. Upon accepting the award, Thielscher, in his humble manner, said his accomplishments were only possible through a group effort. He acknowledged the community at large for all the hard work that goes into making Montecito a great place for everyone.
AGENDA ADDENDUMS:
May 9: "Land Use Planning and the Public Process" will be the title of a free public forum at the Faulkner Gallery in the main branch of the Santa Barbara Public Library. It begins at 7 p.m. and is sponsored by the Citizens Planning Foundation, the City of Santa Barbara, and the Montecito Association. If you think the land use process in Montecito is in trouble, too complicated, or you have no idea at all of how works, this forum is an excellent place to start the learning process about the land use process.
May 8: The Montecito Association's monthly meeting will feature some Cold Spring fourth-graders reading essays about the importance of safe driving near schools, as part of the Safe Routes effort. Linda Edwards is their teacher. Also, more info will be forthcoming about the Milpas to Hot Springs 101 improvements due to begin in 2008.
May 29: The Montecito Planning Commission holds a board training session. The agenda and the place will be announced at the next MPC meeting.