The Ragin' Cajun came to town Saturday, bringing with him the boisterous personality that has made him famous.
Speaking at a fundraiser for Planned Parenthood at the Montecito Country Club, James Carville gave a spirited address to the crowd, despite the fact his alma mater, Louisiana State University, lost its national number one ranking in football just before the event began. Before his speech, Carville, now an international political consultant, mingled with the crowd, which included County supervisors Janet Wolf and Salud Carbajal, and Santa Barbara City Councilmembers Das Williams, Brian Barnwell, Helene Schneider and Iya Falcone.
The event, titled "Politics, Sex and Cocktails," was a "Cajun cocktail if I've ever seen one," Carville said, opening with a few stories about his college habits. Carville told of a graduation speech he gave at Cornell University a few years back. After asking how many in attendance were graduating with a 4.0 grade point average, Carville told the crowd of about 250, "I had a 4.0 on graduation day. That was my blood-alcohol content." In college, he said, he had four F's and a D at one point, to which his dad responded by telling him he was concentrating too much on one subject.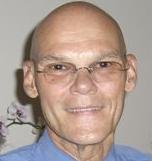 By J'Amy Brown