A small contingent of people gathered at the Santa Barbara County Courthouse Friday to rally against the death penalty and capital punishment executions. Members of the group Walk to Stop Executions are on an 800-mile walk from San Diego to Sacramento to get the attention of district attorneys in 15 counties throughout the state, asking them to move toward life without parole sentencing rather than the death sentence.
California has the highest rate of death sentencing in the country, and there are currently 667 inmates on death row. There were 53 executions carried out in the United States in 2006. There have been none in the past 19 months in California because of a moratorium due to the case of Michael Morales, a convicted murderer who was supposed to be executed in February 2006 in which the constitutionality of lethal injection procedures has been challenged. Nationally, the annual number of executions is the lowest it's been in a decade because the U.S. Supreme Court has decided to review the constitutionality of lethal injection procedures.
There are currently eight inmates on death row who were prosecuted by Santa Barbara County, according to District Attorney Christie Stanley. Two additional inmates on a Department of Corrections list are credited to the county, but one was because a change of venue and another technically belongs to another county. There is one pending case - against Jesse James Hollywood - in which capital punishment is being sought. The most recent inmate to head into the Department of Corrections' death row from Santa Barbara is Joshua Miracle, convicted in 2006 for murder.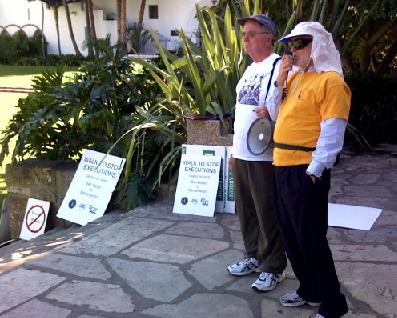 By Chris Meagher