It's difficult to imagine how trance music evolved from an underground German pastime into a culture all of its own, but it's even more difficult to imagine that evolution happening without Ferry Corsten. After nearly 15 years spent helping trance finds its feet, the Dutch knob-tweaker is still turning out tracks with the same essential uplifting quality of trance, but learning to combine influences from different dance genres like electro, house, and techno. He has also climbed his way to being one of top 10 DJs in the world, according to the DJ Magazine Top 100 list. Not bad.
In July 2007, the DJ took to the Internet with Corsten's Countdown, a one-hour weekly radio show that lets listeners vote on his website for their favorite songs to hear in the countdown show that airs at the end of each month. May 2006 saw the release of his fifth full-length album, L.E.F., as in Loud, Electronic, Ferocious, three adjectives that perfectly describe the new direction he is taking dance music.
Though trance enjoyed booming popularity in the late '90s, the recent decline of trance influence on electronic music has led many people to declare the genre is on its way out in favor of harsher, more aggressive electro songs. Not one to hop on the bandwagon, Corsten believes the two genres can coexist, and sees exciting potential to be found in crossing over genres.
From the beaches of Ibiza to the festivals of England to the clubs of his native Netherlands, Corsten has played records the world over, and on April 8, he will prove just how alive trance is to a fortunate crowd at the new Statemynt Lounge.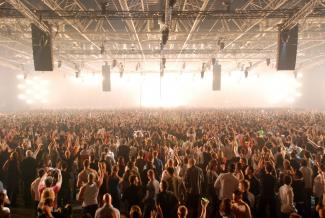 FerryCorsten.com