The most anticipated renovation since the Parthenon is about to be unveiled in a marathon of special events. Beginning with a hard-hat-only sneak preview on Tuesday, March 4, a Spanish-themed patrons' gala on Thursday, March 6, and Stephen Sondheim in conversation with Frank Rich on Saturday afternoon, the week will culminate in an all-day open house on Sunday, March 9, with between 5,000 and 15,000 people expected to pass through the theater.
When the curtain goes up for the first time since the film Cold Mountain closed there in March 2004, it will be a big day in the long story of this high-profile and at times controversial project, which goes by the name of the Santa Barbara Center for the Performing Arts, or more simply, the Granada. In the coming months, the new Granada will be tested in all the configurations for which it was planned, as top performers from pop, classical, jazz, theater, dance, and the spoken word will bask in the luxury of the building's subterranean, state-of-the-art dressing rooms before taking an elevator to the enormous new stage.
There is so much to be excited about with this theater-the incredible talent lined up, the gorgeous, technically advanced restoration, even the gigantic hydraulic orchestra pit-that it remains slightly amazing to think that the real star of the Granada's opening is the near-chaos of potential opportunities the new facility presents for the future. Whether you talk to skeptics or boosters, promoters who are already all in or those sitting out the first round, it's apparent that nobody knows exactly how this grand experiment will ultimately turn out.
At eight stories high, the Granada building at 1216 State Street has always been oversized, at least for Santa Barbara. Virtually from the inception of this renovation project, it has been over-budget, officially totaling $52 million to date. And now, as the doors open to the public with 1,550 seats to be filled, it aspires to be over the top. Arguably the most important theater renovation in the country right now, the Granada is, according to Executive Director Peter Frisch, "certainly the most comprehensive, especially backstage."
One of the area's longest running question marks of the recent past now stands poised to become the center of the performing arts in Santa Barbara for the next hundred years. With an infrastructure built to handle the most drastic demands, the only question left is a simple, yet supremely interesting one: Which audiences and performers will come?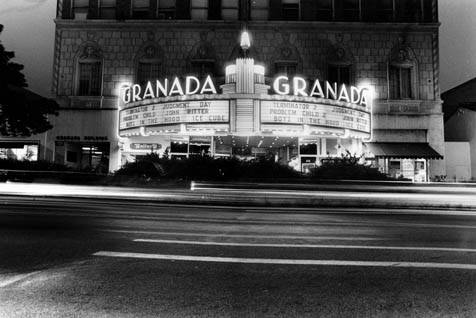 Christopher Gardener