If there are two things, however alliterative, that one wouldn't expect to find in combination, it's paganism and pizza. Nonetheless, a dedicated group of Santa Barbara pagans have been meeting once a month on Friday night to hang out at the Carrillo Rusty's, eat pizza, and talk about their beliefs, their lives, and their current projects - for the past fifteen years.
There are many common conceptions about paganism, and after sitting in with the pagan pizza-eaters for an evening, I learned that almost all of them are wrong. For example, one member of the group told me that "Paganism has nothing to do with Satanism," and asked me to please "put that in [the column]." She explained that one of her neighbors considers her one step - if that far - from sacrificing chickens in the backyard, and hoped that this person would read the column and finally be convinced that Paganism and Satanism are entirely different.
If you're reading this, neighbor, now you know.
Another very basic misconception is that Wicca, a branch of Paganism, is actually synonymous. Nothing could be further from the truth. As a term, "paganism" refers to a variety of traditions, faiths, beliefs, practices, and philosophies - possibly as many as there are pagans.
The Pagan Pizza group seemed to contain adherents of ancient Celtic beliefs, devotees of a variety of manifestations of a goddess, lunar worshippers, or at least those who use the moon as a major symbol, and tarot practitioners, among others. However, without speaking to each one at some length, it would have been impossible to pinpoint the room's diversity of belief and practice. The pagans refer to the type of practice each one espouses as their "path," which might generally translate to the word "sect" or "denomination" as those are used in reference to Christianity or Judaism. Another way to interpret it might be as "purpose" or "fate."
One member, who asked me not to use her name, performed a brief ritual with the group. We gathered around a table which she had arranged, asked us to hold hands, and guided us through a series of visualizations which might, she hoped, lead to healing, both mental and physical. The ritual contained elements of meditation, which the woman practices as a part of her beliefs, and also used tarot cards, candles, and small objects which symbolized the purpose of the ritual. A photograph of the table accompanies this column, and in it can be seen incense, as a symbol of balance, a cup, as a symbol of gratitude, and several other items.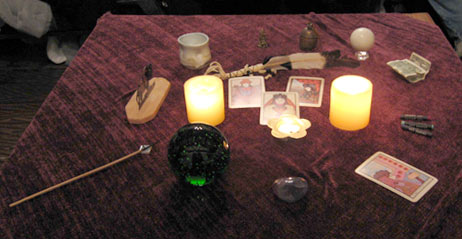 By Elena Gray-Blanc