Frank Sovich loves hiking Romero Canyon and you can tell it as we walk up the trail. We stop at one point to check out a cluster lupine along the edge of the trail, perfectly placed to provide a dash of color to the overwhelmingly green canopy that covers most of the skyline. The joy on his face as he tells me about them says it all.
Frank is from Carpinteria but with no trail access there he spends much of his time hiking Romero - often once or twice a week. "I've got a thing for native plants," Frank explains, "and the canyon is a great place to enjoy them. Over the course of the next hour we check out a dozen or more other plant species including one of my favorites, the Humboldt lily (Lilium humboldtii), a tall thin reed-like perennial that grows to heights of 8 feet and produce clusters of the most intensely brilliant orangish-yellow flowers, jewels of the canyon if only for the few weeks when they are in blossom.
"I'm not quite sure why this year," Frank tells me, "but they've come up in much larger number than I've seen in quite a while." At one point just above one of the many creek crossings there is a small pool, perfectly located about halfway up the canyon trail. We stop to splash a bit of water on our faces, sit back enjoy the sound of a nearby canyon wren and the small waterfall that cascades into the pool. It is an idyllic moment, the kind that makes having such places so close to Santa Barbara such a special treat.
Then we are back on the trail again. A few minutes later Frank points a long section by the side of the trail that is filled with several dozen of the lilies. "Look closely," Frank shows me, "many of the stems are broken in half. A few others are just plain crushed." It becomes evident after a bit of looking about that the reason for the damage is the increased use of the trail by mountain bikers who aren't always good at staying on the trail.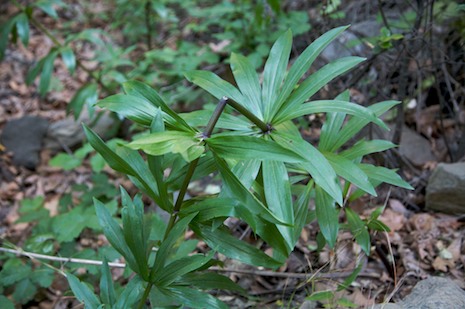 By Ray Ford