On Thanksgiving Day in 1986, we published our first issue of The Santa Barbara Independent. It was also our first honor roll of Local Heroes, with stories of men and women who truly deserved our thanks for making Santa Barbara such an amazing place to live. They included people from all walks of life: a soccer coach and a science teacher, a traffic court commissioner and a philanthropist, a theater director and a human rights advocate, research librarians and a UCSB gatekeeper to name just a few. But what they all shared in common was the willingness to do the very best they could with whatever fate put before them. Many were honored for expanding the life of Santa Barbara-activists who took on great causes-but others functioned in the normal toil of their lives with such grace and energy that all our lives were enriched without ever knowing why.
So we began a tradition, now in its 23rd year, of honoring our Local Heroes. The 2008 list is made up of people every bit as fabulous as our first. We all know we are blessed to live in a place rich in such natural beauties-our little paradise-but we are even more blessed to live with neighbors who truly are Local Heroes.
Justin Bosio
Benevolent Avocado Farmer
There is perhaps no more enduring lesson from this past summer's Gap Fire than the life-and-limb-saving importance of agriculture. While the heroics of firefighters and the luck of favorable weather patterns certainly helped keep the 9,000-acre inferno from burning straight into the neighborhoods of Goleta, it was the historic, well-watered, easily defensible ranches and farms on the outer edges of the Goleta Valley that sacrificed their fruits to the advancing flames-slowing its destructive march to an ultimately defeatable pace.
Located mere minutes from the hustle and bustle of Calle Real, Justin Bosio's family avocado ranch, at the northern end of Patterson Avenue, was exactly the type of protection that Goleta needed. Even more, Bosio, working alongside his family and close friends, provided around-the-clock protection of their property for days on end during the height of the fire, often unaided by professional fire crews, stomping out hotspots and actually pinching the flames via dozer lines and a borrowed water truck at the northwest corner of their 400-acre ranch. They prevented what appeared to be a certain run straight through to Maria Ygnacio Creek and the hundreds of houses below.
In the end, more than 10 percent of his avocado operation burned, putting a serious dent into the bottom line of his family-run operation. But Bosio remains upbeat about the whole experience, explaining that eventually his 125 acres of avocadoes "will probably look even better than they did before the fire," and that, more importantly, "people are finally coming together and realizing that agriculture provides buffer for fires."
Anna and Sarah Schwab
Sisters Saving Trees
Sisters Anna and Sarah Schwab aren't your normal teenagers. First of all, they're extremely bright-Anna, 14, attends New Hampshire's Phillips Exeter Academy while Sarah, 16, takes classes through Stanford University's Online Education Program for Gifted Youth. The two also scored perfect scores on the essay portion of the SAT, and scored higher than most high school seniors on the whole test.
Secondly, not only have they taken an interest in what is happening in their community of Orcutt, they've also become actively involved. Last fall, the two started Tree Amigos, a nonprofit organization about trees. After reading the Lord of the Rings series, Anna said, her love for trees grew and she and her sister decided to start the group. While Orcutt has no public parks, the two sisters fought to stop a development at Key Site 11, an open space slated for an apartment complex and retail development. "It's going to be bad for the environment," Anna said. Instead, they proposed, the area could be a commemorative tree grove where people could plant trees in honor of something special.
Through the process, the sisters talked to supervisors-"I don't think they took our advice seriously because we're not adults," Anna said-addressed the Orcutt Area Advisory Group, and gathered a petition of more than 1,500 signatures.
Their year-long fight paid off, when this spring the Department of Fish and Game stepped in and put a hold on the development, indicating they needed to do studies on any wildlife that lived there.
With their job completed at the moment in saving the open space, now the sisters are working on getting the Tree Amigos involved in area schools to teach students more about trees.
Adrian Spence
Chamber Music Champion
Adrian Spence-an outstanding flutist and indefatigable promoter of music, ideas, and dialogue-decided in 1990 that Southern California needed a new approach to classical music. Almost two decades later, his Camerata Pacifica has evolved into one of the world's finest chamber music organizations, and an exemplary instance of forward thinking in the presentation of the performing arts.
From September to May, Camerata Pacifica performs challenging and thoughtful monthly programs in four different venues ranging from the Huntington Library in San Marino to Zipper Hall in Los Angeles, Temple Beth Torah in Los Angeles, and their new permanent home in Santa Barbara, the Music Academy of the West's elegant Hahn Hall. At a Camerata Pacifica performance, Spence often plays, and always organizes, educates, cajoles, and jests, taking every opportunity to act the roles of impresario and provocateur. The atmosphere he has created for Camerata Pacifica concerts brings new meaning to the idea of listening closely.
While he excels as a teacher, it is in his recruiting of international musical talent that Spence has risen the highest in the estimates of classical aficionados worldwide. Already blessed by a longstanding working relationship with the remarkable pianist Warren Jones, in the past five years Spence has found a core group that includes the formidable talents of Irish violin virtuoso Catherine Leonard, American cellist Ani Aznavoorian, and international viola superstar Richard Yongjae O'Neill.
With this super group, Spence has been soliciting commissions of original pieces from composers around the world to feed the immense talents on hand. The initial offering of this was a Concerto for Violin and Chamber Ensemble by the Belfast-born composer Ian Wilson. Dubbed the "Messenger" concerto, this piece was performed both in Southern California and across America and the Atlantic in a tour that included the Morgan Library in New York, the Library of Congress, Wigmore Hall in London, and an emotional recital in Dublin.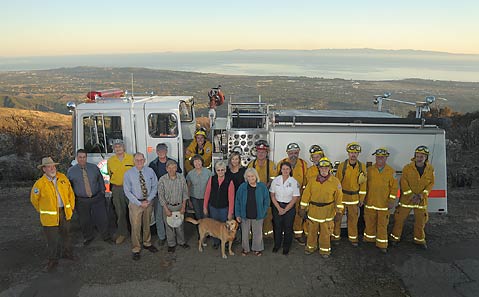 By Paul Wellman