On Thanksgiving Day in 1986, we published our first issue of The Santa Barbara Independent. It was also our first honor roll of Local Heroes, with stories of men and women who truly deserved our thanks for making Santa Barbara such an amazing place to live. They included people from all walks of life: a soccer coach and a science teacher, a traffic court commissioner and a philanthropist, a theater director and a human rights advocate, research librarians and a UCSB gatekeeper to name just a few. But what they all shared in common was the willingness to do the very best they could with whatever fate put before them. Many were honored for expanding the life of Santa Barbara-activists who took on great causes-but others functioned in the normal toil of their lives with such grace and energy that all our lives were enriched without ever knowing why.
So we began a tradition, now in its 23rd year, of honoring our Local Heroes. The 2008 list is made up of people every bit as fabulous as our first. We all know we are blessed to live in a place rich in such natural beauties-our little paradise-but we are even more blessed to live with neighbors who truly are Local Heroes.
Justin Bosio
Benevolent Avocado Farmer
There is perhaps no more enduring lesson from this past summer's Gap Fire than the life-and-limb-saving importance of agriculture. While the heroics of firefighters and the luck of favorable weather patterns certainly helped keep the 9,000-acre inferno from burning straight into the neighborhoods of Goleta, it was the historic, well-watered, easily defensible ranches and farms on the outer edges of the Goleta Valley that sacrificed their fruits to the advancing flames-slowing its destructive march to an ultimately defeatable pace.
Located mere minutes from the hustle and bustle of Calle Real, Justin Bosio's family avocado ranch, at the northern end of Patterson Avenue, was exactly the type of protection that Goleta needed. Even more, Bosio, working alongside his family and close friends, provided around-the-clock protection of their property for days on end during the height of the fire, often unaided by professional fire crews, stomping out hotspots and actually pinching the flames via dozer lines and a borrowed water truck at the northwest corner of their 400-acre ranch. They prevented what appeared to be a certain run straight through to Maria Ygnacio Creek and the hundreds of houses below.
In the end, more than 10 percent of his avocado operation burned, putting a serious dent into the bottom line of his family-run operation. But Bosio remains upbeat about the whole experience, explaining that eventually his 125 acres of avocadoes "will probably look even better than they did before the fire," and that, more importantly, "people are finally coming together and realizing that agriculture provides buffer for fires."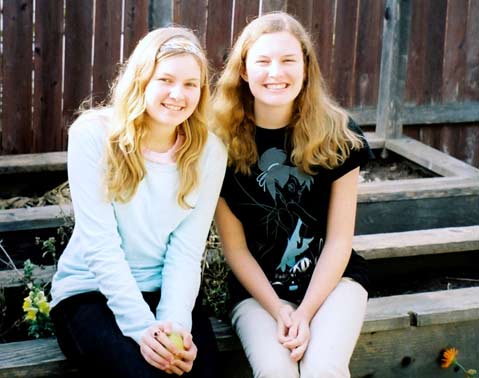 Anna and Sarah Schwab
Sisters Saving Trees
Sisters Anna and Sarah Schwab aren't your normal teenagers. First of all, they're extremely bright-Anna, 14, attends New Hampshire's Phillips Exeter Academy while Sarah, 16, takes classes through Stanford University's Online Education Program for Gifted Youth. The two also scored perfect scores on the essay portion of the SAT, and scored higher than most high school seniors on the whole test.
Secondly, not only have they taken an interest in what is happening in their community of Orcutt, they've also become actively involved. Last fall, the two started Tree Amigos, a nonprofit organization about trees. After reading the Lord of the Rings series, Anna said, her love for trees grew and she and her sister decided to start the group. While Orcutt has no public parks, the two sisters fought to stop a development at Key Site 11, an open space slated for an apartment complex and retail development. "It's going to be bad for the environment," Anna said. Instead, they proposed, the area could be a commemorative tree grove where people could plant trees in honor of something special.
Through the process, the sisters talked to supervisors-"I don't think they took our advice seriously because we're not adults," Anna said-addressed the Orcutt Area Advisory Group, and gathered a petition of more than 1,500 signatures.
Their year-long fight paid off, when this spring the Department of Fish and Game stepped in and put a hold on the development, indicating they needed to do studies on any wildlife that lived there.
With their job completed at the moment in saving the open space, now the sisters are working on getting the Tree Amigos involved in area schools to teach students more about trees.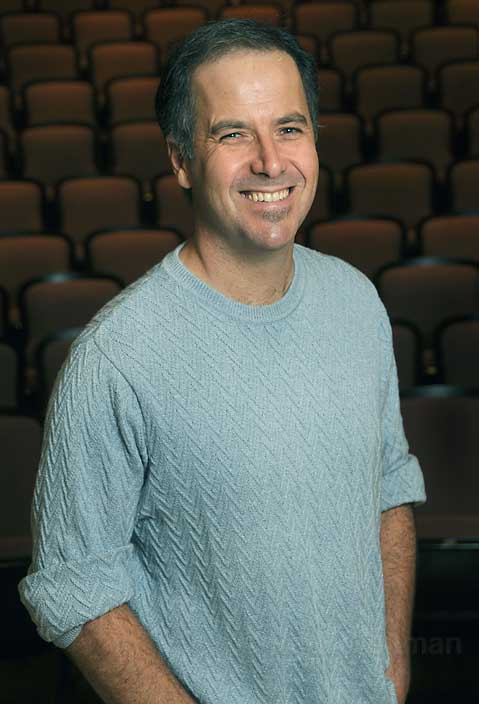 Adrian Spence
Chamber Music Champion
Adrian Spence-an outstanding flutist and indefatigable promoter of music, ideas, and dialogue-decided in 1990 that Southern California needed a new approach to classical music. Almost two decades later, his Camerata Pacifica has evolved into one of the world's finest chamber music organizations, and an exemplary instance of forward thinking in the presentation of the performing arts.
From September to May, Camerata Pacifica performs challenging and thoughtful monthly programs in four different venues ranging from the Huntington Library in San Marino to Zipper Hall in Los Angeles, Temple Beth Torah in Los Angeles, and their new permanent home in Santa Barbara, the Music Academy of the West's elegant Hahn Hall. At a Camerata Pacifica performance, Spence often plays, and always organizes, educates, cajoles, and jests, taking every opportunity to act the roles of impresario and provocateur. The atmosphere he has created for Camerata Pacifica concerts brings new meaning to the idea of listening closely.
While he excels as a teacher, it is in his recruiting of international musical talent that Spence has risen the highest in the estimates of classical aficionados worldwide. Already blessed by a longstanding working relationship with the remarkable pianist Warren Jones, in the past five years Spence has found a core group that includes the formidable talents of Irish violin virtuoso Catherine Leonard, American cellist Ani Aznavoorian, and international viola superstar Richard Yongjae O'Neill.
With this super group, Spence has been soliciting commissions of original pieces from composers around the world to feed the immense talents on hand. The initial offering of this was a Concerto for Violin and Chamber Ensemble by the Belfast-born composer Ian Wilson. Dubbed the "Messenger" concerto, this piece was performed both in Southern California and across America and the Atlantic in a tour that included the Morgan Library in New York, the Library of Congress, Wigmore Hall in London, and an emotional recital in Dublin.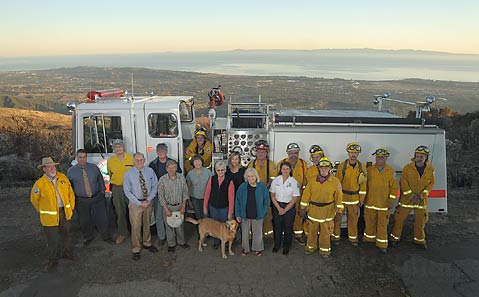 San Marcos Pass Volunteer Fire Department
Homegrown Firefighting
When the Gap Fire raged this past July, its flames charged practically unchecked toward the eclectic patchwork of homes along Old San Marcos Road. Luckily, communities like the Trout Club, Painted Cave, West Camino Cielo, and Windermere Ranch had a plan in place. Unofficially founded in the wake of 1977's Sycamore Fire, the San Marcos Pass Volunteer Fire Department has been the first and last line of defense for some 700 homes immediately east and west of Old San Marcos Road. When disaster struck in their backyard during the late afternoon hours of July 1, they, right in step with the U.S. Forest Service, were the first emergency units on the scene, battling around the clock until the threat subsided more than 48 hours later.
Born out of necessity 20 years ago, the all-volunteer department has grown-thanks in large part to its fiscal management agency, the Wildland Residents Association, formed in 1982-into a highly trained, well-outfitted, ¼ber-organized community-based fire brigade known throughout the state for its effectiveness and all-around bad-ass nature. Looking to fulfill the mantra of "planning, prevention, and preparation," all of the department's members are trained to federal firefighting standards, many are actual graduates of the state Fire Academy, train as a group on a monthly basis, have at their disposal two fire engines, two brush patrol trucks, cutting-edge structure protection gear, their own information radio station, and, most importantly, are armed with local knowledge.
It was the latter that no doubt played a major role in saving all of the area homes during the Gap Fire, despite fingers of flame reaching right up to the sides of some residences. As one of the department's founding members, Ted Adams, put it recently, "It's not their fault, but even the local county guys don't know the ins and outs of the community the way we do. : You just have to assume that nobody is going to be there to help you."
Steve Meister
Educator Extraordinaire
Pulitzer Prize-winning poet Mark Van Doren once said, "The art of teaching is the art of assisting discovery." To that end, educator Steve Meister has been inspiring the youth of Santa Barbara since he got his start at Dos Pueblos High School back in 1970, remaining there until he retired in 2001.
Graduating from UCSB in 1965 with a history degree, Meister went almost immediately into the profession that he would retain for the rest of his working career. After a couple years as a youth counselor with S.B. Parks & Rec, Meister was offered a full-time teaching post at DP. "In the early '70s, we all felt very fortunate to have a job, and everybody treated [their coworkers] as kind of an extended family," he recalled. "It was an amazing time. There were a lot of dedicated people, and it was a real joy to go to work. : It was just a really dedicated group of people."
For a little over two years, Meister taught history and coached the Dons football and basketball teams. But as the school began to grow, Meister was asked to become an administrator, a challenge that he gladly accepted. "I was dean of students for a long time and then vice principal. : I also taught leadership almost every year and I really enjoyed that," Meister said. He'd meet every day with the student body, spending time devising ways to boost school spirit through sports and pep rallies.
In addition to being a beloved VP (ask any of the folks who have worked with Meister and nothing but words of praise and admiration pour from their mouths), Meister instituted lasting DP traditions like the Sadie Hawkins Grease Pole Climb and the pre-All-School Talent Show rallies where teachers entertain the students with musical skits. And it's in these events that Meister's dedication and school spirit continue to inspire future students toward greatness, even in his post-graduation absence.
S.B. County Firefighters Alliance
Fire Departments' Fairy Godmother
There are too many heroes to count when it comes to the firefighters and others who battled the 1,940-acre Tea Fire for several days earlier this month, and for them we couldn't be more thankful.
Still, the devastation would have been far worse if it weren't for the more than 100 water drops that three Santa Barbara County Fire Department helicopters made throughout the first night of the Tea Fire. "Goodness knows how many more homes would have been destroyed had they not been up there flying through the night," Sheriff Bill Brown said the next day.
And goodness knows the chopper pilots would've been unable to complete their missions had it not been for night-vision goggles recently donated to the department by the Santa Barbara County Firefighters Alliance. The alliance, which has purchased $665,947 worth of equipment since 2005, works with the county and city fire departments in establishing a wish list of needed firefighting apparatus that falls outside of the tight departmental budgets-all the high-tech paraphernalia essential for battling fires in Santa Barbara County doesn't always squeeze into the budget. Through fundraisers and events, the alliance works to raise money to purchase the equipment.
The goggles weren't the only devices provided by the alliance that were used to combat the Tea Fire. The list of donations also included eye protection and wildland cargo pants for Hot Shot Crews, helicopter equipment, and flight suits for the helicopter crews. "If any fire department needs to be equipped, it's Santa Barbara," said alliance boardmember Erinn Lynch, whose statement needs no further explanation riding on the heels of the destructive Tea Fire.
Ernestine Ygnacio-De Soto
Chumash Historian
For the first 27 years of her life, Ernestine Ygnacio-De Soto regularly heard the Chumash language spoken around her as if it was no big deal. It turns out that her mother, Mary Yee, was the last native speaker of the language left on the planet. Much of the conversations Ygnacio-De Soto heard were between Yee and John Harrington, the pioneering ethnographer and anthropologist whose exhaustive work on the Chumash and their language remains the mother lode on the subject. "To the extent I gave him any thought at all, I thought he was a pest and nuisance," said Ygnacio-De Soto of her attitude toward Harrington.
But by the 1970s, Ygnacio-De Soto grew interested in unearthing her own Chumash roots. Ygnacio-De Soto-then a mother of five and a registered nurse-teamed up with John Johnson, a researcher with the Santa Barbara Museum of Natural History. Currently, they are working on a video version of a history Ygnacio-De Soto wrote that tells the story of Santa Barbara's past from the perspective of six generations of Chumash women. Ygnacio-
De Soto's mother left 47 notebooks of information about the family as well as the Chumash language; Ygnacio-De Soto's grandmother had also worked with Harrington, and from that collaboration, even more material was dredged. Combined, Six Generations provides a remarkable sweep of Santa Barbara and California history, told from the perspective of the colonized. Pending completion of the video, Ygnacio-De Soto herself has taken the Six Generations presentation on the road, giving it to school children and scholars alike.
Now 70 years old, Ygnacio-De Soto is taking another look at the contributions made by Harrington. She says a statue of Harrington needs to be erected outside the Hotel Riviera, where he lived in Santa Barbara. "If we didn't have Harrington, what would we have? What would we know of our history?" she asked. "There's nothing worse than being without your language and your history."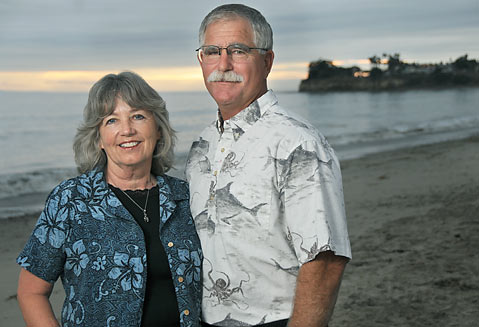 Shane and Genny Anderson
Inspiring Future Marine Biologists
Perched high atop the Mesa and packed with shelves of seashells and other oceanic curiosities, the home of Shane and Genny Anderson offers a sweeping view of the Pacific that has provided them with such a rich life. Genny has taught marine biology at SBCC for the past 36 years, and Shane has been the supervisor of marine operations at UCSB's marine lab for many years; both have spread their enthusiasm for all things marine to countless students throughout the years. Having been inspired by the same mentor-Bill Jorgensen, who taught marine biology at SBCC-when they were young, it's no surprise that Shane and Genny have devoted their careers to sharing their fascination for marine wildlife with younger generations.
Genny ended up taking over Jorgensen's job when he retired, and Shane worked for Western Marine Laboratories-a company Jorgensen created to supply audio visual aides for schools. "He knew we were younger and that he was phasing out, so he wanted to show us what he knew," said Shane. "We've done that, too. We've found young students who are really interested and opened doors for them."
Shane and Genny have professed their belief in the hands-on approach to teaching. Shane supplies live specimen for UCSB's marine biology classes-all of which are returned to the sea-and Genny takes her classes to the beach four times per week to see the marine environment for themselves. "When students are doing marine biology activities in their own backyard, it becomes more important to them," she said. Since Shane is semiretired and Genny will be retiring in a couple years, they hope someone who is inspired as they were will step up to the plate. Whoever it is will have some big, soggy shoes to fill.
Tracy Schmidt
Home Deliveries
Curled up comfortably on the family-room couch, surrounded by photographs of her husband and five children at almost every age and stage, Tracy Schmidt admits her foremost passion is her family. Next in line behind them is the miraculous, transformative process that turns couples into families in the first place-childbirth. In the 26 years she's been teaching childbirth education, prenatal and postpartum exercise, and serving as a doula, Schmidt has showed countless Santa Barbara couples that natural childbirth isn't only doable but joyful and optimal for forging abiding family bonds.
Her philosophy and approach aren't always in synch with conventional birthing practices today, a fact that is disconcerting to some but in the end only fuels her resolve to spread the word. She worries what effect today's high caesarean rate is having on society as a whole. "I feel like we're compartmentalizing birth and making it solely a physical nuisance in a way, and not something to look forward to : [or] an opportunity to bond with your partner and your baby."
Schmidt became a believer in natural childbirth after her first baby was born in the hospital. Fully intending for it to be natural, there was so much intervention, she said. The disappointment of that experience got her thinking and asking questions, ultimately opting to have the rest of her children at home with a midwife; each birth an object lesson in the rewards conferred through patience and trust.
Now she is helping other moms have the same kind of patience and to trust that their bodies know full well what to do. In the process, she earns new families' undying gratitude and appreciation. As she put it herself, "Childbirth can be one of the best experiences in the life of a family and certainly one of the biggest jewels in a woman's life."
Carina Powers
Lifesaving Server
Carina Powers thought she'd become a lifeguard when she moved to Santa Barbara to attend City College. When she got a job as a hostess at the Fishouse instead, she thought the lifeguard and CPR training she had spent every Saturday for three straight months learning would be wasted.
She was wrong. One evening in May 2008, Powers-then 18 years old-was setting up tables when she saw a man fall down in the kitchen area. She went over to check his vital signs, which were okay. Thinking the man got lightheaded and fell, she had someone call 911. Another man came over to help, but it was soon clear to her that he didn't know what he was doing. All of a sudden, the man on the ground, who was in his fifties or sixties, went limp, Powers said. He had no pulse, and there was no reaction when Powers tapped his face.
She got to work, giving him mouth-to-mouth and compression CPR. Just as she began the third round of each, the man was revived and breathed a "thank you" to her.
The victim quickly was whisked away by an ambulance, and to this day, Powers hasn't heard from him. She's tried the out-of-town phone number in the reservation book, and tried to get his information from the hospital, but to no avail.
While Powers's life-saving actions at the Fishouse are what drew us to her, she also had a more recent instance in her economics class, when the student in front of her had a seizure in class and she once again took the lead in ensuring the person's safety.
Suffice it to say, Santa Barbara should feel better knowing people like Powers are around.
Lindsey Leonard
Watching Over the Westside
The appealing atmosphere at the Westside Santa Barbara Boys and Girls Club owes a lot to its director. Since 2000, when she graduated from UCSB with a master's in education, Lindsey Leonard-whose duties range from fundraising to wall-painting-has been making sure the clubhouse is a stimulating, attractive, and safe hangout for kids of all ages and, from its standout soccer team to its dedicated staff, the club has plenty to brag about.
What makes Leonard proudest is when lots of kids show up. Because they can come and go as they please (except in the daycare operation), Leonard's first order of business is customer satisfaction, so she offers art, games, dance, tutoring, a computer lab, parties, field trips, camping, and an opportunity to help out with club operations. Perhaps most important of all is the presence of attentive adults for those young people who find themselves at loose ends after school. "I'm here for them," said Leonard. "We're here as mentors who are unbiased resources-who are not their parents, not their teachers, not their boyfriends. They can talk to us about life, about finding a job, about anything."
Leonard's goal is always to get young people more and more involved. As a trained educator, Leonard is on the lookout at all times for "teachable moments," but, above all, she said, "We try to make every moment fun. We try to make it a cool place to come."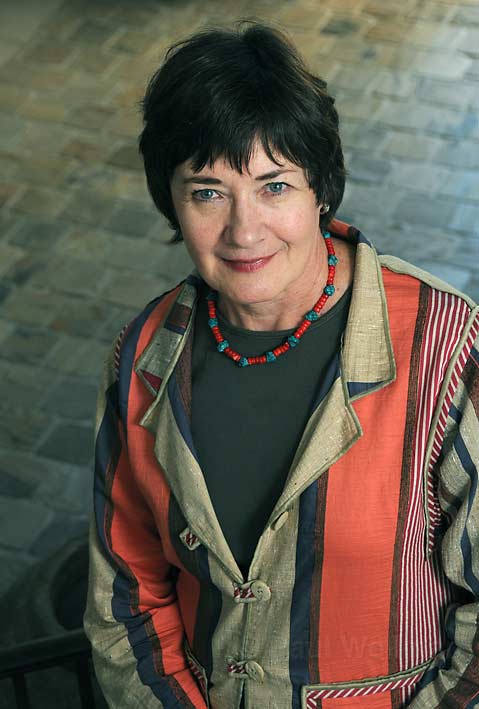 Jane Olson
Human Rights Watcher
When it comes to war, the fighting part is easy-so to speak. The hard part is cleaning up the mess that remains when the smoke clears. Few know that better than Jane Olson, who's worked for nearly 30 years on various humanitarian causes, from fighting the nuclear arms race to protecting displaced women in war-torn Yugoslavia.
Twenty years ago, Olson founded the California Committee of Human Rights Watch (HRW), the first outreach wing for the New York City-based organization; that led to the creation of another 13 such committees around the world. Six years ago, Olson became the chair of HRW, whose staff of 300 monitor human rights conditions around the world, conduct fact-finding missions in war zones, and work together with Congress, the United Nations, the World Bank, and, as Olson explained, "any international organization that can be used to put pressure on governments who abuse their citizens."
But HRW's work hits closer to home, too. "We've done some serious work here around issues that are important to Southern Californians," Olson said. That includes work on immigration policies, prison conditions, and women's rights, plus a heavy emphasis on juvenile justice regarding kids who are tried and jailed as adults. "We're throwing away these kids and saying they're incorrigible and can't be rehabilitated," said Olson, "but we're also denying them so many rights."
Olson also supports Survivor Corps, formerly the Landmine Survivors Network, and is active with the Pacific Council on International Policy, which she helped create 10 years ago as a West Coast version of the Council on Foreign Relations (to which she also belongs). But this mother of three and grandmother of eight is most proud of helping eager young men and women find humanitarian work. Olson has never seen the spirit of volunteerism in America be stronger, and she's more than happy to help others follow in her footsteps.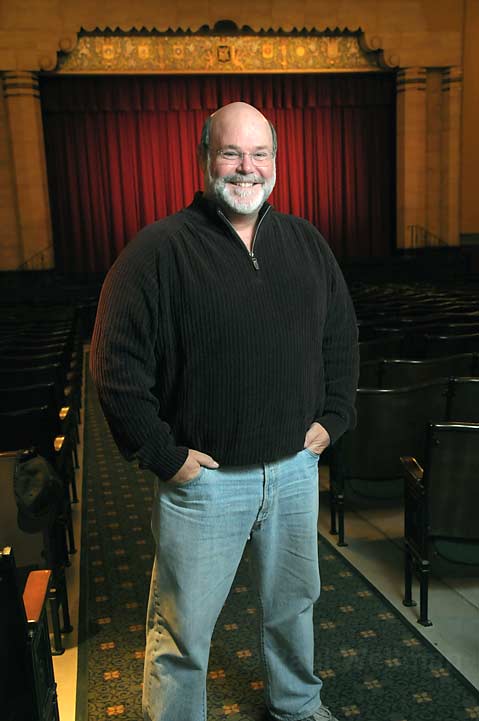 Rod Lathim
AIDS Awareness Advocate
Rod Lathim is the first person ever to be named a Local Hero twice. He will be familiar to virtually everyone who has been in Santa Barbara for any length of time, yet he may be known for entirely different things to different people. There's the Rod Lathim who put together the Marjorie Luke Theatre project, and the one who acts and sings and is a legend in the theater community. And those with a taste for another kind of local drama might know Lathim from a movie he produced in 2008-a documentary called Citizen McCaw. Although the Lathim list goes on-author, philanthropist, fifth-generation Santa Barbaran-it is yet another Lathim, one our readers may not know as well, and who was brought to our attention this year, whom we are honoring in particular. That is Rod Lathim in his role as the organizer of the Paradise Pit.
Paradise Pit is a special rest stop on the California AIDS/LifeCycle route. In AIDS/LifeCycle, an annual fundraising and awareness event, volunteers and riders travel 545 miles from San Francisco to Los Angeles on bicycles. Lathim sets up Paradise Pit each year in Santa Barbara, on crucial Day Six of the ride. He goes all out to make Paradise live up to its name, designating it a "Clif Bar- and Gatorade-free zone" and coordinating a team of volunteers who distribute ice cream, fresh strawberries, homemade cookies, and massages.
In an average year, the crew of Paradise Pit serve ice cream to 2,500 tired but happy riders. Lathim, who began doing Paradise Pit after riding in the first AIDS/LifeCycle event in 2002, has organized the Paradise every year since, and says that he would not miss a chance to participate in this "wonderful, magical, emotional day." Lathim, who will be stepping down as chair of the board at the Marjorie Luke Theatre this year, remains an enduring light shining in many directions, and always sending the same message-"this way to paradise!"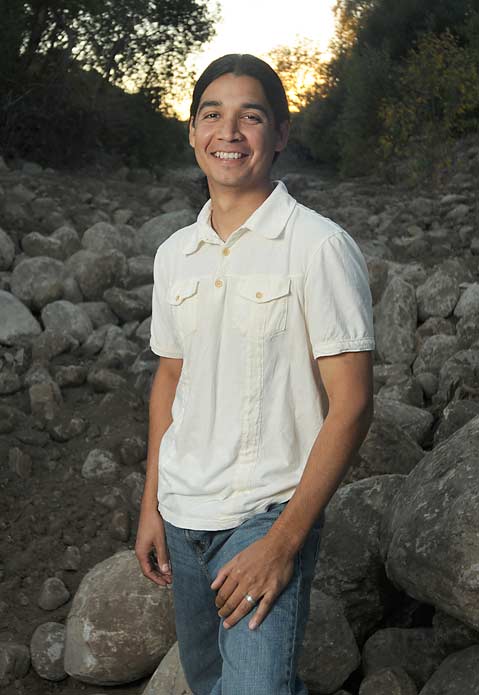 Mauricio Gomez
Keeper of the Steelhead
It turns out the guiding principle animating Mauricio Gomez is the reverse of "If you build it, they will come." For the past four years, Gomez has been conspiring to destroy a host of creek barriers that prevent steelhead trout-which, until 50 years ago, were found with remarkable abundance throughout the South Coast's watersheds-from making their way from the ocean to spawning grounds upstream. It's an undertaking that requires great patience, and this year that patience is paying off. Four major barriers along the Carpinteria Creek-which offers some of the most biologically inviting habitat for steelhead anywhere in Santa Barbara County-have either been already removed or are in the process of being taken down. These barriers-like the driveway gouged out of the creek 20-feet wide, 90-feet long, and 15-feet deep-effectively stymie the steelhead from making their annual spawning runs. Replacing them will be new bridges to provide humans safer and more reliable passage over the creek during turbulent winter storms. For the steelhead, these bridges open up two-and-half miles of unfettered creek access upstream.
A marine biologist by training, Gomez first got involved when he was hired five years ago by the Community Environmental Council (CEC). Almost immediately, he recognized the steelhead depend on public support as much as they do on sound science and public policy. To that end, Gomez organized the first two Steelhead Festivals, public celebrations of that creature's mysterious and amazing life journey. He also commissioned the construction of several large steelhead sculptures, which were exhibited on State Street for many months. Gomez has since left CEC, but he's still working to bring the steelhead back. As a biologist, he understands that if the steelhead can be brought back from the brink of extinction, that's profoundly good news for the watershed that sustains them. "If we can come to term with our past mistakes and fix them," he said, "then we're doing good work."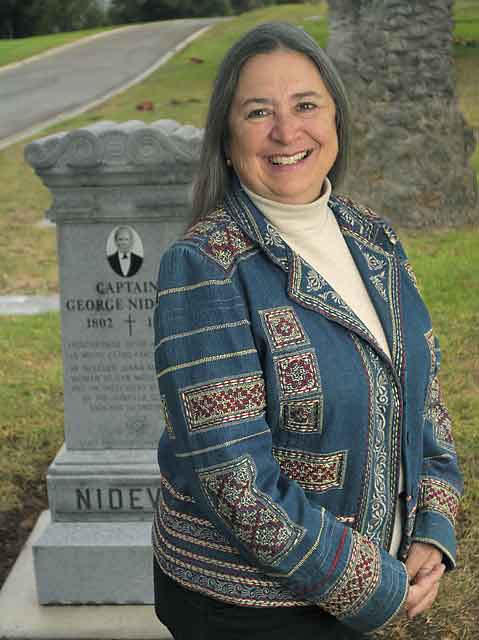 Marla Daily
The Island Archivist
The Channel Islands occupy a special chapter in Santa Barbara's storybook, and one woman has made it her life's goal to assure that the archipelago's rich and colorful past doesn't fade into the fog of history.
"We bring Channel Islands people to life," said Marla Daily, the executive director of the Santa Cruz Island Foundation, which she's expanded to encompass all eight islands, from San Miguel in the northwest to San Clemente in the southeast. "Each island has its own heartbeat," she explained enthusiastically. "I love getting to know them."
Daily's island love affair began in 1973, when the UCSB anthropology major spent the summer working on an archaeological survey of Santa Cruz Island. As that project's cook, Daily had the fortunate task of getting food from the ranch house, where she would chat with Dr. Carey Stanton, whose family had owned the island for years. They became friends, and she eventually started working as his archivist.
In 1985, Stanton started the foundation to protect the island's cultural history, but died suddenly two years later. That left Daily in charge, and, for the past 23 years, she's been amassing thousands of records, collecting countless artifacts from around the world, publishing papers and books, spearheading various historical renovations, and serving as a repository of Channel Island knowledge. Her magnum opus is a forthcoming online "islapedia," a collection of research that features more than 2,600 entries, ranging from the 28 pages just on abalone to William Zurmuhlen, who died in 1918 with $74.29 in his bank account.
"There's so much to do," said Daily, who last month was named a fellow in the prestigious Explorers Club. "It's just wonderful."
Dano and April Cavalheiro
Safe Haven for Skaters
Peek into Santa Barbara Skate Shop on any given afternoon and you'll see Dano Cavalheiro behind the counter joking with a mob of young skaters. Dano and his wife April have owned the shop for nearly two years, and it's quickly become a place for kids to hang out, eat, read magazines, tinker with their boards, and occasionally make a purchase.
Dano doesn't mind the loitering-it's more important that the skaters have "a place where they don't have to worry about the things going on around them, where they belong somewhere." With gangs, drugs, and other ills targeting children at increasingly younger ages, skateboarding is a healthy alternative-even if it's illegal in most of downtown. While the cops dole out expensive fines for skating, Cavalheiro's shop hosts barbecues, premieres new videos, and throws contests to give skaters a sense of community. "They're a good group of kids," said Cavalheiro, ever-ready to turn on new kids to skating. With his guidance, even the completely clueless can ride away with a quality board tailored to their style and ability.
Many of the younger skaters look up to Cavalheiro, who gives them rides home, lets them use the phone, sometimes cuts their hair, and always uses his influence to show the kids that there's more to life than urethane, steel, and maple. "We want to encourage young kids to discover who they are, not just as far as skating," said Cavalheiro, "but with other things like art, photography, or film." It's in this spirit that he's currently supervising a skate film made by and starring the younger kids, showing folks that while skaters remain outlaws to some, they've got at least one safe haven.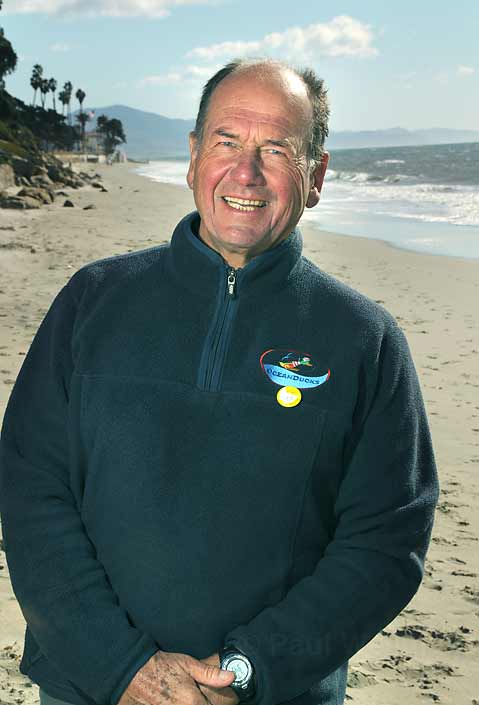 Emilio Casanueva
Swimming Sensation
Since he was a five-year-old living in the small Chilean village of Zapallar, Santa Barbara Ocean Ducks and Santa Barbara Channel Swimming Association founder Emilio Casanueva has been paddling the open waters. "The ocean introduced me to it," he laughed. "It was expected. When you swim, you swim in the ocean." Today, Casanueva, 69, has taken his childhood love and turned it into a full-time effort to promote physical fitness, self empowerment, and environmental awareness throughout Santa Barbara County.
A 10-year resident of S.B., Casanueva's Ocean Ducks evolved from a swimming group he helped put together. "It was not a decision," he recalled. "One day I just decided to give it a name." In its current incarnation, the collective holds weekday and weekend group swims, distance training, multiday swim clinics, races, relays, and international adventure trips to some of the world's most picturesque locations. A self-described noncompetitive type, Casanueva looks at open-water swimming as an activity he does for himself. Still, his annual cross-channel relay (aptly titled the BIG SWIM), now in its sixth year, has raised more than $100,000 for local ocean-minded nonprofits, including Santa Barbara Channelkeeper and the Environmental Defense Center. Next year's race will benefit the Santa Barbara Marine Mammal Center.
Likewise, it's Casanueva's work with the association that's earning him praise from both his fellow Santa Barbarans and his international peers. Currently, Casanueva is one of 14 nominees in the running for Open-Water Swimming Man of the Year. "I'm very honored to even be in the company of these people," he said. "The Channel Swimming Association is only two years old."
Still, it's Casanueva's passion for the open waters of his community that drives him daily. "This town is made for swimming," he passionately explained. "It's a bloody shame so few people swim here. : Santa Barbara could be a swimmer's paradise. I intend to make it the next English Channel-but bigger."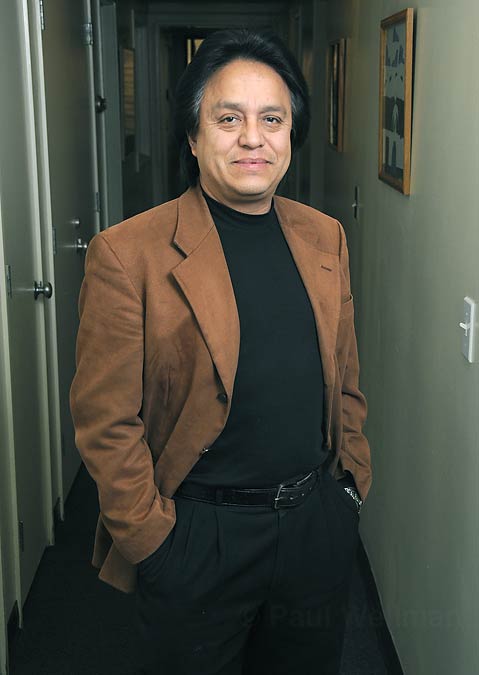 Jose Camacho
Psychologically Speaking
By the time you wind up in one of Jose Camacho's counseling sessions, chances are you're already in a fair bit of trouble. Luckily for you, however, spending some time with the coordinator of Zona Seca's domestic violence counseling program may be your last, best chance to get back on track. Remarkably, in the 10 years he has been facilitating both Spanish and English speaking court-ordered counseling sessions at Zona Seca, the 49-year-old Mexico native figures he has had no more than 15 patients sent back to him for the same situation or crime-a number that becomes even more impressive when you consider he averages about 100 clients a month. With a marked humbleness, Camacho summed up his work by saying simply, "My objective is to keep families together and to give them the opportunity to work. : It is just something I love to do."
A trained psychologist from the University of Mexico, Camacho and his wife-who is a practicing general medicine physician-moved to the Santa Barbara area in 1984. The father of three struggled at first to find work in his field, taking jobs in restaurants and working as a certified nurse assistant at Goleta Valley Hospital and Cottage Hospital before eventually landing at Zona Seca. After four years of running Spanish-speaking group and individual counseling sessions, Camacho-who credits his first-hand understanding of the concept of machismo as being instrumental in his success-was promoted to coordinator status. His approach focuses heavily on communication techniques and, most importantly, self-esteem issues. After all, as Camacho explained it, "If you want to love your family, you need to love yourself first."
Terri Allison
Haven for Homeless Kids
Even among the many Americans who don't have a roof to sleep under, homeless children suffer an especially sad fate. In addition to lacking the safe home that every child deserves, their very presence can deter their parents from working to remedy their unfortunate living situation. After all, where can the kids go when their caregivers head to work in an effort to make ends meet?
Young homeless in Santa Barbara, at least, have a solution: Storyteller Children's Center, a year-round program that allows children ages 18 months to five years a safe environment to learn and to escape the chaos that can plague homeless families. Terri Allison, Storyteller's executive director, has been involved with the organization since its inception in 1988, when, according to her recollection, a group of women noticed children living on the streets and campaigned to use federal funds to fix the problem. Now Storyteller serves just fewer than 100 children annually. Allison said the program does much to put families back on their feet. "There's a misconception about homelessness. It's not that people chose to be homeless or stop working, but they're hard-working families," she explained, noting that a condition for participation is that caregivers must be at jobs or in school in order to drop off their kids.
Jo Saxon, who nominated Allison as a Local Hero this year, described her as "the blend of professional and efficient with compassionate and calm," noting also that Storyteller's true gift to Santa Barbara children is "a calm respite [that] can make all the difference." Allison, however, humbly demurs such praises. "I'm not the hero. The families are the heroes. Single moms who go to bed hungry and scared every night and then bring their kids here while they go to work-they're the heroes. I'm just lucky enough to speak on their behalf."
Larry and Linda Buzzell-Saltzman
Growing a Greener Future
Apples and apricots, pomegranates and persimmons, lemons and loquats, blood oranges and blackberries-these are just a few of the nearly 100 fruit trees and other food-producing bushes growing in the relatively small yard of Larry and Linda Buzzell-Saltzman, a couple leading the fight for organic gardening, sustainable design, and simpler living in Santa Barbara.
The couple-he's a computer programmer for the county, she's a psychotherapist, and both once worked in the film industry-moved from Venice Beach to Santa Barbara in 1992 with the intent to live a little greener. But as they turned the grass lawns around their home into gardens, Linda explained, "We were frustrated that most people involved in gardening weren't interested in organics." So in 2000, they formed the Santa Barbara Organic Gardening Club, which now boasts several hundred members and hosts workshops on such topics as composting and seed buying. From there, said Linda, "We just kept getting more and more into this."
By that, she means the couple delved into permaculture, a practice that utilizes the laws of nature as guidelines for all sorts of design. "It's not just about agriculture," said Larry. "It's about sustainable communities." So they show off their garden to City College students and others interested in sustainability, and are using their expertise to help design a five-acre food forest at the Alpha Resource Center, which serves the developmentally disabled.
The couple is also leading the conversation about making Santa Barbara into a self-sustaining community, following the 12 steps recommended by the "Transition Town" model (transitiontowns.org). And that process, like the others, does not follow a traditional framework. It's, well, rather organic. "This is not about having an expert come to speak at you," said Larry. "It's members of the community figuring out their own futures."
Jack Bianchi
Running for Cancer Research
In 1992, Jack Bianchi was notified that he had advanced cancer hiding out in his tongue. An avid and accomplished long-distance runner, Bianchi-then 50 years old-had seemed the picture of health. But according to Bianchi's doctors, the odds of him surviving were only about one in five. His only prayer lay in a combination of two-a-day radiation treatments, chemotherapy, and ear-to-ear neck surgery.
Somehow, Bianchi managed to beat both the pain and the cancer. A year later, he was back racing, posting some of his fastest times yet. Many in Bianchi's circumstances would have tried to put such a harrowing ordeal behind them. That Bianchi chose to do otherwise has provided immediate and substantial comfort to thousands of cancer patients who've been diagnosed since then.
Bianchi harnessed the unstoppable energy of long-distance runners like himself to help raise funds for cancer research and cancer relief. In 1994, Bianchi and four other runners hosted the first of many races, generating $18,000 through hundreds of pledges. In the years since, he has raised $1.7 million through a multitude of races long and longer. The proceeds have gone to research cancer directly or to help take some of the disease's edge off. For example, thanks to Bianchi's help, the Santa Barbara Cancer Center has been able to vastly expand its Wellness Program, which offers a wide array of free classes and services-including massage, tai chi, yoga, exercise, support groups, and even glider plane rides.
In addition, Bianchi's fundraising efforts have helped underwrite the cost of two cancer research fellowships at UCSB. Bianchi claims he doesn't do that much anymore. But at a recent gathering of about 40 head, neck, and throat cancer survivors, his quiet warmth all but lit up the room as he shared his own story and offered encouraging words to those struggling to get through treatment. His goal? "Some day you will look in the mirror," he said, "and it will all seem like just a bad dream."
Meichelle Arntz
Foster Care Angel
Thirty-five babies with nowhere else to go have found loving homes through Angels Foster Care of Santa Barbara, founded just two years ago by Meichelle Arntz. The beauty of Angels is its ability to emphasize quality over quantity: Only one baby or set of siblings per foster family, and the baby stays until it is reunited with its birth family or is adopted by the foster parents.
A registered nurse and former manager of a high-risk pregnancy unit in a Las Vegas hospital, Arntz feels fortunate that she can donate her services as executive director. Her mission is to prevent the attachment disorders that affect so many foster children, who are often neglected to start with and then are almost certainly shunted from one foster placement to another. Strong bonding before age two, said Arntz, helps children blossom and thrive. "It's amazing what a difference it makes," she said.
The one-baby rule is a lot easier on the foster parents, too, said Arntz. Those in the public system are authorized to take as many as six foster children at a time, and can make a living by doing so because the per-child stipends add up. But they are also pressured to do so by social workers, who are desperate to place the 900 children countywide who are currently under their protection.
The absence of such pressure, and plenty of support, is one reason Arntz has been able to recruit so many new foster parents. Still, they had to turn away 43 babies last year alone, so they are always looking for more well-qualified angels.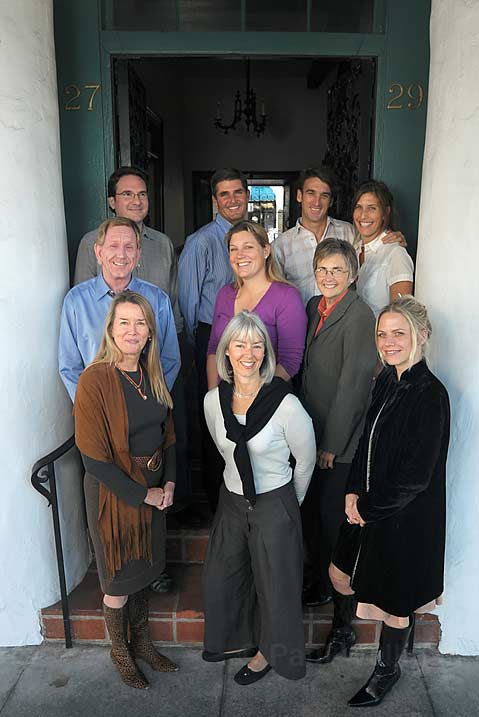 1st Thursday
Art Party for All
Take an evening stroll down State Street on the first Thursday of any month, and you'll notice an unusually festive spirit pervading the downtown corridor. You might hear live music on the patio of Borders, see breakdancers at Paseo Nuevo, or stop to watch a sandcastle workshop outside the Museum of Art. Many of the stores and galleries you pass will be packed with people sipping wine, checking out artwork, and learning about our community's rich creative culture. And all are welcome.
It hasn't always been that way, but thanks to the vision, hard work, and dedication of many Santa Barbarans, from gallery owners and artists to business people and politicians, we now have a roaringly successful, community-wide collaboration called 1st Thursday. Behind it all is the Downtown Organization, which began the monthly event in February 2007 after nearly a year of committee meetings and research into the art walks of other communities. The popularity of the S.B. Museum of Art's Nights party series revealed Santa Barbara's hunger for events that mixed socializing with culture, but the Downtown Organization wanted to offer something to the entire community. "We wanted 1st Thursday to be accessible," said operations director Jennifer Rose. "We wanted it to be free to everyone-art collectors, first-time viewers, college students, single parents."
Frank Goss, owner of the Sullivan Goss gallery, acknowledged that the program looks different from what he initially expected. "I think we had hoped that 1st Thursday would bring known art lovers into galleries and that they would buy something," he said, "but the offshoot is that unsuspecting people who were just looking to relax and enjoy the evening wander into the gallery, and art does its thing. It captures them."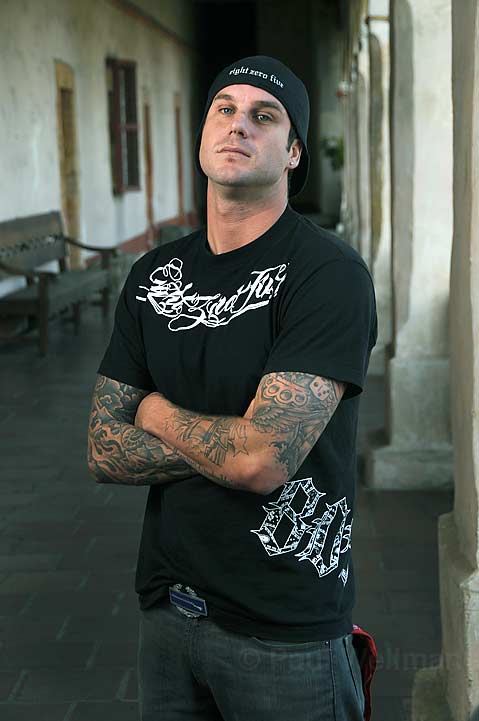 Jared Morales
Lifesaving Infantry Soldier
Born and raised in Santa Barbara, Jared Morales is a self-proclaimed "regular guy." He's always enjoyed the warm weather and inviting beaches of his hometown, but after the events of September 11, 2001, he left a budding career as a professional surfer to join the Army. "I was sick of people sitting there, saying what they would do if they were in Afghanistan, so I joined," he said. Morales made no bones about his desire to serve in the infantry, and eventually was deployed to Afghanistan with the 508th Parachute Infantry Regiment.
Going on regular combat patrols and enduring nightly RPG (Rocket-Propelled Grenade) attacks from Taliban troops, Morales found life as a grunt in Afghanistan to be very different from what he had known back home. Showers and sufficient sleep were rare occurrences. During his 15-month tour, he lost two of his closest friends in IED explosions and was involved in a few hairy firefights. "The first 10 missions I did, I was petrified, but after that it became second nature," he said. "Six months into it, I was like, 'There's no way I'm getting out of this [alive].'"
One night, when a patrol was coming back to their base, a luminary was ignited so they could see if there were any Taliban ambushes in their path. A truckload of Afghani soldiers were driving toward the gate at the same time. Morales said their man in the guard tower opened fire on the truck thinking it was the enemy, striking an Afghan National Army Commander and two of his men with 5.56-millimeter rounds. "[The commander] was hit in the chest and had a sucking chest wound," he said. Using his EMT and combat lifesaving skills, Morales and his team saved the lives of the three men, thereby avoiding a sticky situation with their Afghani allies.