If you think Arizona is all desert and high heat, drive or fly to the town of Show Low, then head for the tall pines. An hour's drive took us 8,500 feet into the White Mountains, where we jumped out of the car, climbed on horses, and soon were riding through grassy meadows into the ponderosa and aspen.
From a knoll carpeted with wildflowers we could see across the two million-acre Apache National Forest in eastern Arizona all the way to New Mexico. We kept an eye out for elk because our early autumn trip to the Hidden Meadow Ranch came during the rutting season. (Ever heard a bull elk bugle? Late at night or before dawn, when the forest is still, the eerie, high-pitched mating wail is a scream-like sound, odd coming from a beast that can average around 650 pounds on the hoof.)
This is also bear, deer, antelope, mountain lion, and wolf country. Wolves, long gone from this territory, have been reintroduced by the Forest Service and are said to be thriving. We never spotted one, but early one morning we had a close encounter.
Sue, camera at the ready, and I left our cozy cabin at 5 a.m. It was pitch black. We hoped to photograph elk returning to the high country from the Hidden Meadow Ranch meadow. Walking along a road, we followed the elk's bugling, our ears straining for the sound of approaching elk. Then, between us and our cabin, we heard the unmistakable cry of a wolf, back in the upland trees, an insistent baying and barking. It was unnerving.
Sound travels in the forest, and if we could hear elk, they could certainly hear Mr. Canis lupus. Needless to say, we heard nothing more from the bulls and carefully made our way back to our cabin. Sensing something behind me, I spun around. It was an animal, all right-the black and white ranch cat.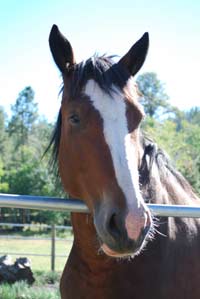 By Sue De Lapa